We're looking for more StarChild contributors! Here is our next item.


ITEM: Hair is one's crowning glory. Do you like your hair? How often do you cut your hair and do you have a regular hairstylist or barber? Do you like short or long hair?

Ever had a bad hair day? How often do you wash your hair? Do you have dandruff problems? If so, you can use an anti-dandruff shampoo. Does anyone know of any traditional remedy for dandruff? Try asking your parents.

If you can, would you like to colour your hair or sport an outrageous hairstyle?

Email your contributions to lifestyle@thestar.com.my by Oct 28. Please put "STARCHILD: My Hair" in the subject line of your email.

Scanned drawings should be in jpeg format, with a resolution of 200 dpi.

Your contributions must carry your full name, age (open to children aged 12 and below only), gender, phone contact, and address. Instead of handwritten letters, please type out your letters.
Did you know a ladybird can move faster than a child? Scientists from Britain's University of Hull have discovered that these insects, also known as ladybugs and ladybird beetles, can fly as fast as a horse runs - up to 59.5km an hour!
Ladybirds are beneficial insects and one of the greatest allies of farmers and gardeners.
Many species feed on aphids or scale insects, which are pests in gardens, agricultural fields and orchards. In simplified terms, ladybirds are nature's pest controllers and are more effective than poisonous pesticides.
Let's hear what Starchild readers had to say on the topic, Ladybugs.
Zhaara' Shariffullah, 8
Eight-year-old Zhaara' Shariffullah likes red ladybirds with black dots. "The scientific name of a ladybird is coccinellidae. Their colour protects them from the predators. They live for about three years."
Raja Hani Nadrah Raja Muhammad Zuha, 9
"I like to play with ladybirds because they are cute and beautiful. I can find them on my mom's bittergourd plant. I do not like to touch them because they produce yellow goo. Do you know that there are 5,000 species of ladybugs in the world? They go through a metamorphosis cycle to sustain their species," writes Raja Hani Nadrah Raja Muhammad Zuha, nine.
Chuah Seng Koon, 6
Chuah Seng Koon, six, thinks ladybugs are fantastic as they can pretend to play dead by protecting themselves. "Some ladybugs have no spots while others have up to 20 spots. Ladybugs are trees and other plants' best friends as they kill the aphids on their leaves. I enjoyed reading The Grouchy Ladybug by Eric Carle. The book is about a grouchy ladybug that protects plants by eating aphids."
"I like my backpacks with ladybugs designs. It looks nice and colourful. Ladybugs eat many aphids, scale insects and other soft-bodied insects. Ladybugs have many spots," says Wong Jie Ern, six.
Wong Jie Ern, 6
Older sibling Wong Cheng Yang, eight, says ladybugs are adorable. He wishes he could go to the land of ladybugs one day. "Ladybugs are found in temperate and tropical regions all over the world. Ladybugs can be different coloured, and they can be red or yellow. There are many spots on its shell." Sometimes, they land on my toys, walls and mats."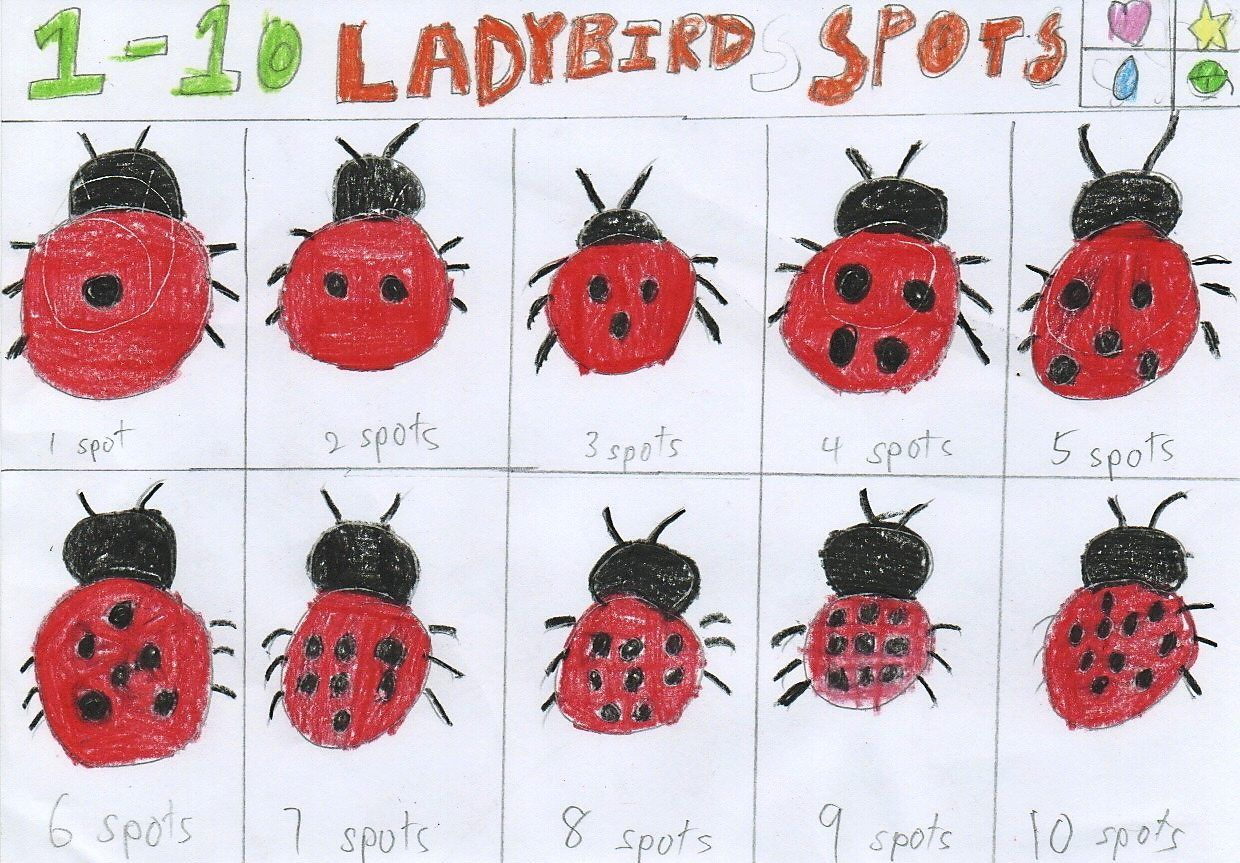 Wong Cheng Yang, 8
Nine-year-old Jayden Tan Li Sheng says: "My sisters have a few ladybug plushies. We have created many adorable ladybugs during our arts and crafts lessons. They are used as decorative items on our photo frames and cardboard pencil holders. I love these cute bugs. It is said that good luck will come our way if we find the bugs flying toward our home."
Anoushka Sri Viknesh, 7
"I love ladybugs because they are so cute. A ladybug's lifespan is three years. They secrete a smelly yellow substance to ward off predators," writes Anoushka Sri Viknesh, seven.
Find the hidden words!
Starchild readers' Ladybug drawings
---
Subscribe now to our Premium Plan for an ad-free and unlimited reading experience!