Guardians Of the Galaxy Vol. 3
Director: James Gunn
Cast: Chris Pratt, Zoe Saldaña, Dave Bautista, Karen Gillan, Pom Klementieff, Vin Diesel, Bradley Cooper, Sean Gunn, Chukwudi Iwuji, Will Poulter, Elizabeth Debicki, Maria Bakalova, and Sylvester Stallone.
How long has it been since people were saying that the first Guardians Of The Galaxy would be Marvel Studios' first big flop? Nine years? Yeah, well, since then, not only have the Guardians' movies become some of the Marvel Cinematic Universe' (MCU) biggest hits, they've also grown to be almost as big as the Avengers themselves.
Since their first movie in 2014, the Guardians have expanded beyond the five original members – Peter Quill/Star Lord (Chris Pratt), Gamora (Zoe Saldana), Rocket (voiced by Bradley Cooper), Drax The Destroyer (Dave Bautista), and Groot (voice by Vin Diesel) – to include Nebula (Karen Gillen), Mantis (Pom Klementieff), Cosmo the SpaceDog (voiced by Maria Bakalova), and Kraglin (Sean Gunn).
Following the events of Avengers Endgame and subsequently a cameo in Thor: Love And Thunder, the team have now made their home base in the floating head of a dead Celestial, called Knowhere, and are peacefully building a community around themselves.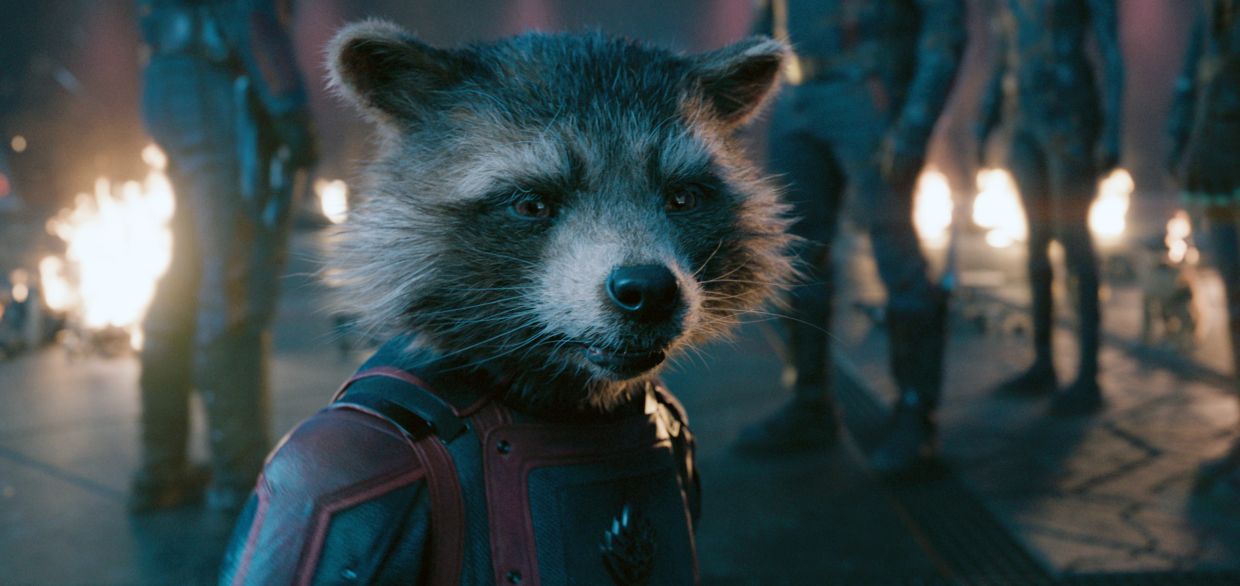 The team has to go on a desperate quest that is intricately connected to Rocket's origins.
However, an attack by the immensely powerful Adam Warlock (Will Poulter) of the Sovereign (the golden-skinned aliens seen in Guardians Of The Galaxy Vol. 2) leaves Rocket in a near-death situation, and triggers a desperate quest that is intricately connected to Rocket' origin story.
It also puts the Guardians at odds with the High Evolutionary (Chukwudi Iwuji), a deity-like mad scientist who creates entire civilisations through his genetic experiments.
If James Bond ever needs another villain, tell him the Man With The Golden Skin is here.
If there was one scene that proved that the Guardians Of The Galaxy are the Marvel Cinematic Unverse's most lovable yet most vulnerable heroes, then the opening scene of Volume 3 is it.
Accompanied by the acoustic strains of Radiohead's Creep, we see Rocket walking through the streets of Knowhere as his fellow Guardians go about their daily mundane tasks.
It is a scene that incites delight with every glimpse of each Guardian, highlighting their individual characteristics, and ending with the sad sight of a drunk Star Lord pining for the missing Gamora, whose absence in this sequence just serves to highlight her importance to this team.
After such a heartwarming prelude, seeing them being subsequently ripped apart by a raging Adam Warlock makes us feel even more for this team.
Star Lord pick-up line #3452: Are you hooked on a feeling yet?
The Guardians have always had a certain sense of vulnerability to them, and Gunn makes sure to keep us on edge by instilling the thought that any one of them could be potentially be taken off the board at any point.
In the first movie, it was their most powerful member, Groot, who was reduced to a tiny sapling (though he did came back in Volume 2 as Baby Groot). Gamora's death in Avengers: Infinity War was another major blow, and her subsequent 'resurrection' in Endgame changes the team's dynamic in Volume 3, keeping things interesting throughout the movie.
That in a nutshell is what sets Guardians apart from the rest of the MCU's heroes - you never quite know what to expect with this team. These guys aren't superheroes like Iron Man, Captain America or Thor. They're a bunch of misfits with different abilities who came together as a team and eventually became a family that fights together and for each other.
It's Gamora, but not the same Gamora. Keep up, will you?
Gunn has said before that GOTG was always going to be a trilogy, and Volume 3 will likely feature in many "Best third movie in a trilogy" lists for many years to come.
It's an endlessly fun and entertaining movie that has hardly a dull moment, and soundtracked by some iconic songs and music. It will make you laugh and groan at its silly, corny comedic moments and dialogue, and also tear up at the poignant, emotional moments.
And as for the action, well, let's just say Gunn has given us some of the most inventive and well shot superhero action sequences you've see in an MCU movie.
The High Evolutionary is a villain that makes Kang look like a petty street thug.
With such a large team, the danger is that there will be some who get sidelined. But it is to Gunn's credit that he never lets us forget any of the characters at any point.
Rocket may take centerstage in this movie, but there are also poignant and intriguing developments to each and every one of the Guardians (well, except maybe Groot. Then again, he IS Groot.).
The High Evolutionary will also rank high on future "Best Marvel villain' lists, as Iwuji plays him with a unhinged, psychotic narcissim that makes him one of the MCU's most despicable villains yet, and provides a genuinely frightening threat to our heroes.
Volume 3 is not perfect, of course. A weird detour to a the squishy organic space base of a mega-corporation seems completely unnecessary. But even that makes for a fun side quest that is entirely keeping with the Guardian's brand of goofy action.
It's no secret that stars like Zoe Saldana and Dave Bautista have already said this will be their last MCU movie, but watching how the Guardians' stories pan out here is a real emotional punch to the gut.
If this is to be Gunn's final Marvel movie (he is now the co-CEO at the rival DC Studios in charge of rejuvenating the DC universe), then this is a fitting sign-off for the maverick director and his eclectic characters.
Funny, poignant, action-packed and endlessly entertaining, Guardians Of The Galaxy Volume 3 may just be Marvel's best movie since Avengers Endgame. At the very least, it will definitely get you hooked on a feeling.
Summary:
Arguably Marvel's best movie since Endgame.
Subscribe now to our Premium Plan for an ad-free and unlimited reading experience!