Of late, it seems, every movie that comes out of Hollywood automatically has to become a franchise, churning out sequels, prequels and so forth. But despite the ever-expanding Star Wars universe, unstoppable Marvel films, and constant evolution of the James Bond movies, there are still bad franchises that are getting rebooted or given more films just because they earn a ridiculous amount of money in the box-office.
As much as we like the Fast & Furious films – really, who doesn't like seeing all that mayhem on the big screen? – we do not want another film that adds nothing to the series creatively, other than just setting up another jaw-dropping stunt.
The same can be said of the Paranormal Activity films, The Expendables, and even the Rocky series – these franchises went on for far too long.
Now, there is news of a Charlie's Angels reboot (scheduled for June 2019), with Elizabeth Banks helming it. The 2000 film starring Cameron Diaz, Drew Barrymore and Lucy Liu as the three private detectives was fun, but the second movie was not. Add a failed revival of a TV series, and it's enough indication that a reboot might not be the most logical next step.
In July, Spider-Man Home­coming arrives with a new face – Tom Holland, the third actor to put on the ­spider-suit since Tobey Maguire in 2002's Spider-Man. Hopefully this one will stick, because the idea of watching Uncle Ben getting killed one more time is just too upsetting for us.
These are just a couple of examples, the actual list – believe us – is far longer.
Here are 10 franchises that should take a step back (or two), or just be allowed to die, preferably quietly.
When we first met Jack Sparrow in 2003, he was awesome. By the second movie, he wasn't anymore. The latest instalment, showing in cinemas now, has actor Johnny Depp repeating the same schtick for the fifth time, with report of a sixth Pirates film in the near future. Just hit the road, Jack.
Transformers
The world only needed one Transformers film. Michael Bay however decided to curse us with four more. Please Mr Bay, leave our childhood (and poor Optimus Prime) alone.
Alien
Ridley Scott's 1979 film was brilliant. James Cameron's follow-up – Aliens – in 1986 was even better. Alien 3 (1992) and Alien: Resurrection (1997) each had its own set of problems, but they were nothing compared to the ones plaguing Scott's Prometheus (2012) and the recently released Alien Covenant. And don't even get us started on the two Alien Vs Predator films. Sigh ... and to think we've got to sit through one more film to finally complete Scott's Alien prequel story.
There are very few films where the sequel is better than the first film. In our opinion, James Cameron's Terminator 2: Judgment Day (1991) is just so much bleaker than his earlier Terminator (1984) and it helps that Linda Hamilton's Sarah Connor is no longer just damsel in distress. Then came the horrible Terminator 3: Rise Of The Machines (2003), and the reboots in 2009 (Terminator Salvation) and 2015 (Terminator Genisys), all of which never reaching the heights of the first two films.
Last we heard, the franchise will be rebooted once more with Cameron writing the script and Arnold Schwarzenegger starring once more. As promising as that sounds, the cynic in us wishes Skynet would rise up and put a stop to it once and for all.
Die Hard
Like the actor playing the main character in the Die Hard films, the franchise has lost its flavour after the third Die Hard film – we don't even remember what happened in the fourth and fifth films. And now comes talk of a SIXTH film, a prequel. Get ready for Bruce Willis to phone in his performance again. Ugh.
Ice Age
Back in 2002, the original Ice Age earned rave reviews for its heartwarming plot. However as the series went on, it introduced more and more new, over-the-top characters and kept flogging the same Scrat-acorn obsession storyline over and over and over again. In last year's Ice Age: Collision Course, they launched Scrat to space. Maybe it's time for this franchise to be put into deep freeze.
Child's Play
If there is anything worse than cockroaches, then it would be these Child's Play movies. Over the course of five movies, Chucky dies, comes back to life, gets a girlfriend, apparently has a kid, and is set to reemerge again in CGI form later this year in Cult Of Chucky, its SEVENTH film in total. What's next? Chucky finally becomes a real boy? No, please don't answer that.
Resident Evil
Just when you thought Alice's adventure in zombieland was over with this year's sixth film, Resident Evil: The Final Chapter, along comes news that the producers are planning to reboot the series with ANOTHER six films, without star Milla Jovovich and Paul W.S. Anderson, who wrote all six films and directed four. Instead, James Wan will be producing the first film of the reboot. As Jovovich herself said when she was told the news, "Good luck with that."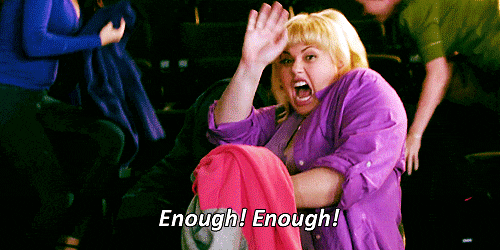 Pitch Perfect
The third instalment of Pitch Perfect, a film chronicling the (mis)adventures of Barden University's a capella group, is slated for release this December. But its second film saw most of its main cast graduating. What are they going to do now? Sing a capella at work too?
Smurfs
The first two Smurfs films were bearable only because their live-action element made for quite interesting visuals. But they got rid of the very thing that the film franchise had going for it early this year with the release of its fully-­animated reboot, Smurfs: The Lost Village. And no, we would rather not have another very Smurfy day, thank you very much.