HERITAGE: RUMAH PENGHULU ABU SEMAN TOUR
Venue: Badan Warisan Malaysia, Kuala Lumpur
Date: Sept 30 and Oct 1
This weekend, Badan Warisan Malaysia (Malaysia Heritage Trust) is organising a series of guided tours at the Rumah Penghulu Abu Seman, supported by the Ministry of Tourism, Arts and Culture (MOTAC).
Rumah Penghulu Abu Seman is located in the compound of the Badan Warisan Malaysia building in the heart of Kuala Lumpur. At this free admission heritage event (registration required), visitors can learn about Malay vernacular architecture as well as customs and culinary heritage in Malaysia.
Here's a chance to gain an understanding of heritage building restoration, functions, parts, and elements that make up a Malay house. The tour will not only focus on technical elements but also on the way of life, customs, traditions, as well as the environment of the kampung lifestyle. Not to be missed is a chance to taste different types of local traditional cuisine.
Rumah Penghulu Abu Seman, built between 1910 and the early 1930s, was once owned by the penghulu or village headman of Mukim Bagan Samak in Bandar Baharu, Kedah. In 1996, Badan Warisan Malaysia rescued, restored and relocated Rumah Penghulu Abu Seman to Kuala Lumpur.
More info here.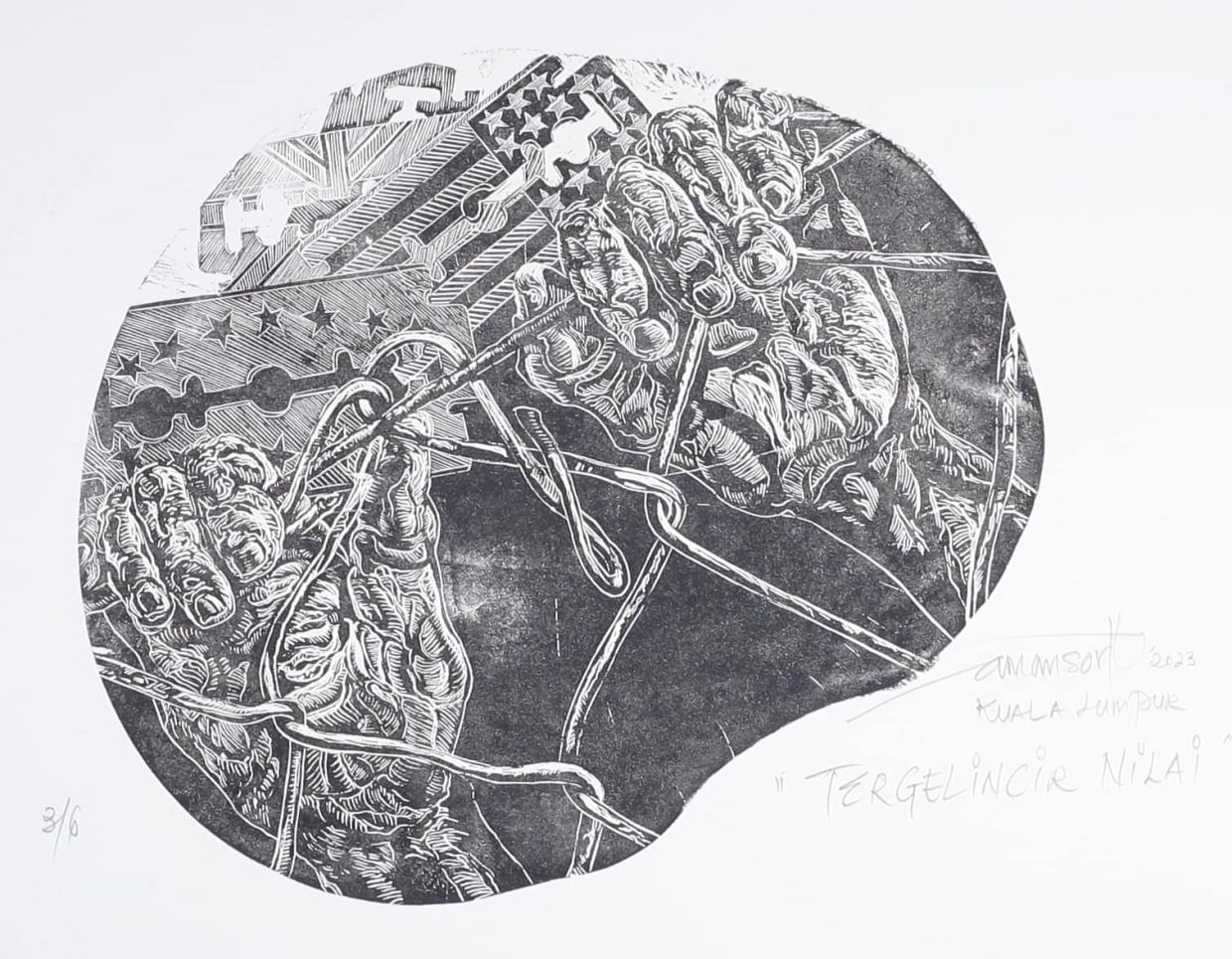 Abdul Mansoor Ibrahim's 'Tergelincir Nilai' (wood engraving on Incisioni paper2023) is one of the works at the KL Printmaking Open 2023 exhibition. Photo: Handout
KL PRINTMAKING OPEN 2023
Venue: HOM Art Trans Ampang, Kuala Lumpur
Date: ends Oct 11
With over 75 artists - homegrown and international - participating in the KL Printmaking Open 2023, it is clear that this event has evolved and grown into a successful and anticipated annual date in the printmaking scene's calendar.
The exhibition, presented by art galleries HOM Art Trans and Chetak 17, features a diverse list of Malaysian veterans and newcomers (even art students) in the printmaking scene, while the international line-up includes artists from the United States, India, Australia, Indonesia, Cambodia, Ukraine, Pakistan, Argentina, Poland, Austria, Serbia, Canada, Netherlands and the Philippines.
The local favourites this year include Abdul Mansoor Ibrahim, Juhari Said, Mad Anuar Ismail, Ilse Noor, and Fuad Pathil. When it comes to the various printmaking techniques, this exhibition doesn't disappoint with its broad range of styles, including linocut on paper, etching, drypoint on paper, woodcut, mezzotint on paper, screen print and others.
More info here.
A scene from 'Moon Over Malaya', an acclaimed 1957 film in the Nanyang Trilogy. Photo: Handout
FILM SCREENING: 'MOON OVER MALAYA' (1957)
Venue: Pusat Kajian dan Apresiasi Filem, Shah Alam, Selangor
Date: Sept 29, 8.15pm
As part of its "Nostalgia Citra Tanahair" series, Pusat Kajian dan Apresiasi Filem (Centre for Film Research and Appreciation) is presenting a screening of Moon Over Malaya (1957). The Cantonese language Malaya-era film was restored and published by the Singapore-based Asian Film Archive, as part of the "Nanyang Trilogy".
The film, directed by Chun Kim and Chor Yuen, stars Patrick Tse Yin, Nam Hung, Patsy Kar Ling, Keung Chung-ping and Molly Wu Kar.
Moon Over Malaya tells the story of Ngok Ming, an idealistic young man who wants to develop the educational standard in Malaya. He approaches a wealthy Chinese businessman to raise funds for building schools and meets the young heiress, Cho-lin. After a whirlwind romance, they get married.
However, Ngok Ming struggles to balance his passion for education and performing his duty of managing the family business. As conflicts between the characters escalate, Ngok Ming and Cho-lin make decisions that change their lives forever.
The film screening is a free admission event.
More info here.
The Free Hand – 3rd Malaysian Contemporary Composers Piano Festival will be showcasing 10 Malaysian composers. Photo: Handout
MUSIC: FREE HAND: 3rd MALAYSIAN CONTEMPORARY COMPOSERS PIANO FESTIVAL 2023
Venue: UCSI University Recital Hall, Kuala Lumpur
Date: Sept 30, 8pm
This Saturday, 10 Malaysian composers will be celebrated and showcased at Free Hand – 3rd Malaysian Contemporary Composers Piano Festival 2023.
The musical event will be exploring the wealth of contemporary classical piano music in Malaysia. Organised by the Malaysian Composers Collective (MCC), this is the third year the non-profit organisation is in collaboration with UCSI, Institute of Music for this contemporary composers' piano festival.
The 10 piano works will be performed by UCSI faculty and students. During the festival, two composers will be commissioned to write a new piano work which will be the set piece for Senior and Young Artist Categories for the UCSI University International Piano Festival and Competition in 2024. The artistic director for this concert is Adeline Wong (President of MCC).
For this year's Free Hand, MCC is collaborating for the first time with Sound World, a British contemporary music non-profit organisation. During the concert, Michael Ellison's 'Interlude On Todi' will be featured as an exchange work between MCC and Sound World.
There will also be a two-hour "Composers' Forum" before the concert at 3.30pm in UCSI Recital Hall where composers and performers can discuss their creative process through composition and performance.
More info here.
A view of one of Sanjitpaal Singh's tiger photography works from his 'Coming Into The Light' series, which is currently showing at the 'Eye On The Tiger' exhibition in Kuala Lumpur. Photo: The Star/Muhamad Shahril Rosli
EXHIBITION: 'EYE ON THE TIGER'
Venue: The Starhill and Lot 10, Kuala Lumpur
Date: ends Oct 22
The newly-opened Eye On The Tiger photo exhibition is offering a stunning visual journey that transports viewers into the heart of the wild, offering a rare and intimate glimpse into the world of these magnificent beasts.
This show, organised by Save Wild Tigers (a conservation organisation based in Britain), features a collection of photographs captured by 30 of the world's most talented wildlife photographers. The exhibition also features works from Malaysian photographers SC Shekar and Sanjitpaal Singh.
Each photographer speaks eloquently via their cameras with over 60 stunning pictures that bring global attention to the biggest and greatest cat on the planet, inspiring all who view these breath-taking images.
Profits from the event will be go towards the Malaysian conservation partners – The Habitat Foundation and RIMAU.
In a special collaboration, these exceptional photographers and producers will also share their captivating stories and experiences at the eslite Forum series at the eslite Spectrum bookstore in The Starhill. If you're curious and eager to learn about their remarkable wildlife journey, mark your calendar and secure your seats through the eslite MY app.
More info here.
A general view of the Junji Ito Horror House exhibition at LaLaport BBCC. Photo: The Star/Low Boon Tat
EXHIBITION: JUNJI ITO HORROR HOUSE
Venue: LaLaport BBCC, Kuala Lumpur
Date: ends Nov 30
LaLaport BBCC in Kuala Lumpur is presenting the Junji Ito Horror House exhibition, which is set to welcome visitors into the bizarre and disturbing world of horror manga maestro Junji Ito.
The ticketed exhibition features two halls where visitors can immerse themselves in terrifying scenes from the Netflix series Junji Ito Maniac: Japanese Tales Of The Macabre and Uzumaki: Spiral To Horror, a dark fantasy and horror manga series written and illustrated by Junji in the late 1990s.
The Junji Ito Horror House exhibition, licensed from Taiwanese anime distributor Muse License, offers thrill-seekers a glimpse into Junji's macabre universe from print to screen, with a series of exhibits and installations revealing his original scripts and drawings from his iconic anime and manga creations.
More info here.
Subscribe now to our Premium Plan for an ad-free and unlimited reading experience!