If you happened to walk through Kuala Lumpur mall Avenue K's concourse area earlier this month, you'd have noticed a mini exhibition titled Anak Syurga: Lai Lai Art Meets The Little Prince Exhibition.
Some of these artworks featured characters or elements from the Antoine de Saint-Exupéry story The Little Prince.
Avenue K was hosting the delightful pop-up You Ni Market, with the theme "The Little Prince" featuring all sorts of charming, quirky handmade items, and as an added feature, it put the spotlight on several works of art by 10 special artists – Alice Lee, Ong Yong Da, Danial Kushairi, Ng Yi Shen, Siew Zi Hong, Stephane Tam, Yap Hanzhen, Kirtaraw Subramanian, Andrew Chew and Lim Yu Heng.
These artists with autism were represented by contemporary artist Alice Chang-Guerra, who had last year conducted an art competition in conjunction with Autism Awareness month and chosen these winning artists to contribute their works to the Avenue K exhibition.
Also in attendance at the launch were the showcased artists and their family members, Chang-Guerra and her friends and supporters, Captain (Navy) Cesare Petruzziello, Italian Defense Advisor in Malaysia, and Dr Choy Sook Kuen, founder of Oasis Place, a multi-disciplinary intervention centre for children and adults with learning differences.
Stephanie Tam's artwork titled 'Exploring The Enchanted World'. Photo: Ann Marie Chandy
In her speech at the launch, Choy encouraged the audience to consider changing the narrative about autism and increase our awareness, acceptance and appreciation of the "Anak Syurga" as neurodiverse individuals.
"The term neurodiversity was coined in 1998 by Judy Singer, an Australian sociologist who defined it as 'the timeless and incontrovertible reality that every single living being is unique, and that no two human minds are the same'," said Choy.
"As we feast our eyes on each of the art pieces exhibited here, let us celebrate each of the artist's attention to detail, the methodical approach each has applied on the patterns, paint strokes or charcoal application used and marvel at each of the artist's distinctive imagination and expression of creativity in the colours they have chosen."
Chang-Guerra, who is Chair of IM GROUP Foundation and founder of Lai Lai Art studio in KL, was elated that the youth were able to feature some of their works to Malaysian audiences before their art pieces head off to Italy at the end of the month for an exhibition in Turin, organised by the IM GROUP Foundation in conjunction with Autism Awareness Day which will be celebrated on April 2 this year. Four of the artists will also represent the group at the exhibition in Italy.
Titled IM MORE | The Tigers Of Malaysia, the exhibition is part of IM GROUP's CSR to highlight that people with autism can not only contribute to society but have something "more" to add as they have an uncommon ability of seeing things differently. Twenty artworks by 10 Malaysian artists will be featured at the Turin show.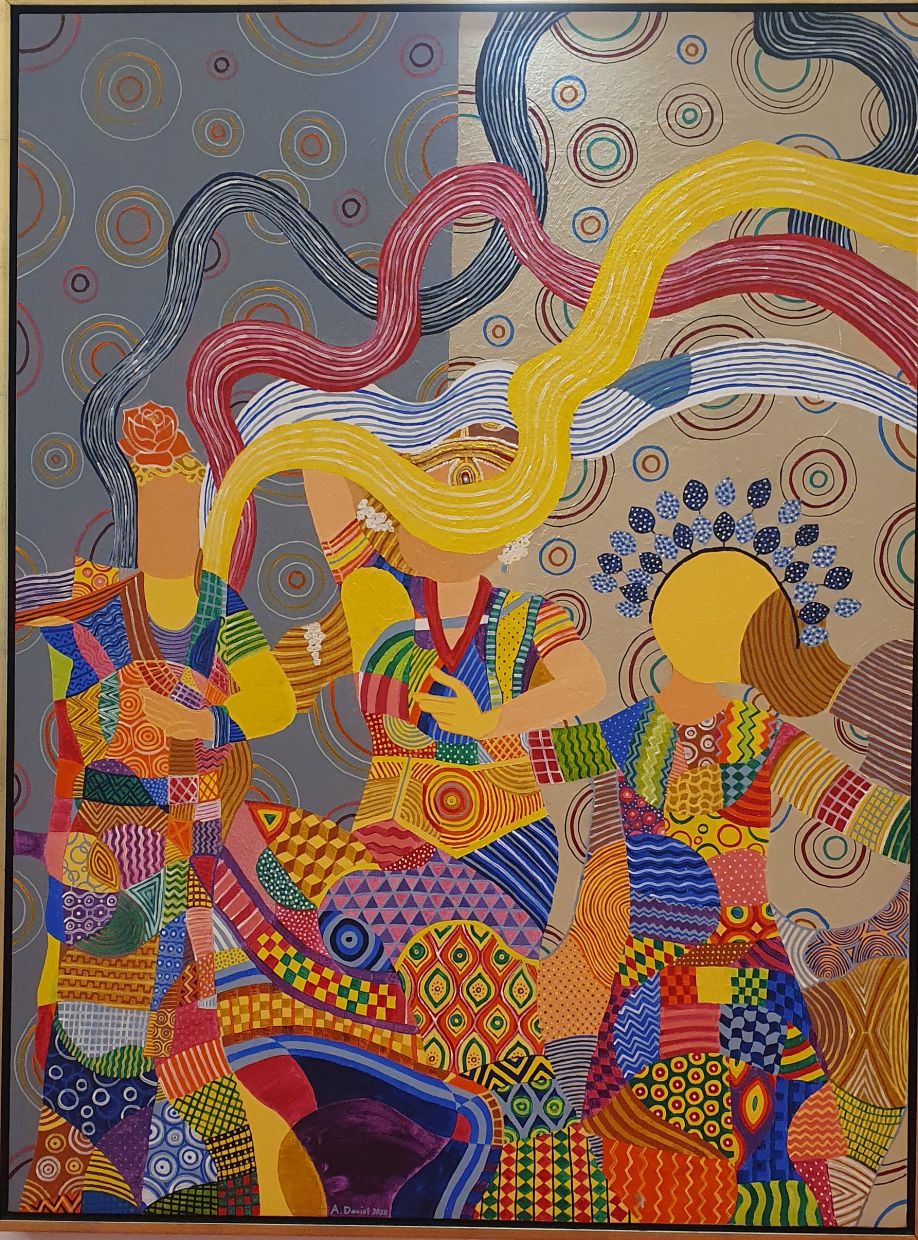 An artwork by Danial Kushairi titled 'Three Women Dancing' (acrylic on canvas). Photo: Ann Marie Chandy
Chang-Guerra said the the exhibition has been organised to highlight the potential of these special artists and give them a leg-up in the global art world.
"We believe this is a significant step towards empowering people that usually live on the margin of societies, as this exhibition will offer career exposure and growth opportunities to these artists," she said, adding that it was wonderful that Avenue K had also stepped up and offered them a space for the exhibition prior to their Turin trip.
"This way we were able to give these artists a chance to showcase a selection of their works to the Malaysian public too! And what's more, 10 pieces were snapped-up during the four-day exhibition ... that was just fantastic."
One of the artists featured, Ong Yong Da, 26, has shown a love for drawing since young, spending hours doodling with crayon and colour pencils, according to his mother Josephine Woo.
He started acrylic painting in 2006, and has since actively participated in many exhibitions and auctions locally and internationally organised by various charity foundations and NGOs to raise funds for and spread awareness of people with special needs. Two of Ong's paintings and a ceramic plate were featured at the Anak Syurga exhibition.
Ong Yong Da with two of his acrylic on canvas paintings 'My Only One, Unique Rose' and 'The Little Prince'. Photo: Brian Liew
Woo said that it has all been very exciting for both of mother and son.
"Though he has been involved in all sort of exhibitions for over a decade now, you can still see how happy he was by his smiles during the exhibition!"
Woo explained that Ong would not be able to travel to Italy because the long distance travel would be too taxing for him and his family, as he needs at least two caregivers to assist him.
She said: "We still glad and grateful that Alice has been able to arrange for his artworks to be shipped to Turin for the exhibition. We are truly proud of him!"
Subramanian Bandiloo, father of 29-year-old artist Kirtanraw Subramanian, who has Asperger's Syndrome, is equally grateful that his son's artworks will travel to Italy later this month.
"It has been a good opportunity for Kirtanraw exhibit his artworks in Kuala Lumpur and we are very excited about him being part of the exhibition in Italy too," said Subramanian.
Subscribe now to our Premium Plan for an ad-free and unlimited reading experience!