Step into a world of lush greenery and uplifting vibes in Miriam Omar's first solo exhibition at Zhan Art Space in Petaling Jaya. Inspired by her love for nature and vibrant colours, the show is a wonderland of imagination and daydreams that blurs the boundaries of reality.
Daydreams – a natural title for the show – was conceptualised during the pandemic lockdown, when Miriam, like many others, got restless from being cooped up indoors for an extended period of time.
Her art installation and mural projects were all put on hold during the pandemic.
"This period of time was a rollercoaster of emotions for me. I had trouble focusing on work and ended up staring into space a lot. As my mind wandered, an alternate universe, one that was safe and joyful, began building in my head. Daydreams is the result of such 'wanderings', a manifestation of what I was thinking of and longing for," shares Miriam.
Miriam's painting titled 'View From The Window' (acrylic on canvas, 2022). Photo: Zhan Art Space
In the face of deafening silence and an absence of distractions during the lockdown, she found herself, something she describes as her "true voice". Her nature-based printmaking works also found an audience during the pandemic, giving her the confidence to create.
"My perspective of life changed and I believe that impacted my work as an artist. I began creating for myself, and discovered many things about my art that I loved and wanted to share. The isolation also enabled me to focus on myself, something I have not been doing pre-pandemic as I was always focused on work," she says.
The Kuala Lumpur-based Miriam began creating this series in January this year. Daydreams presents 14 acrylic on canvas artworks and two digital prints on fabric. There are also 14 "mirro notes" artworks on display, a selection of quotes from a project she started during the lockdown to share snippets of her thoughts on social media.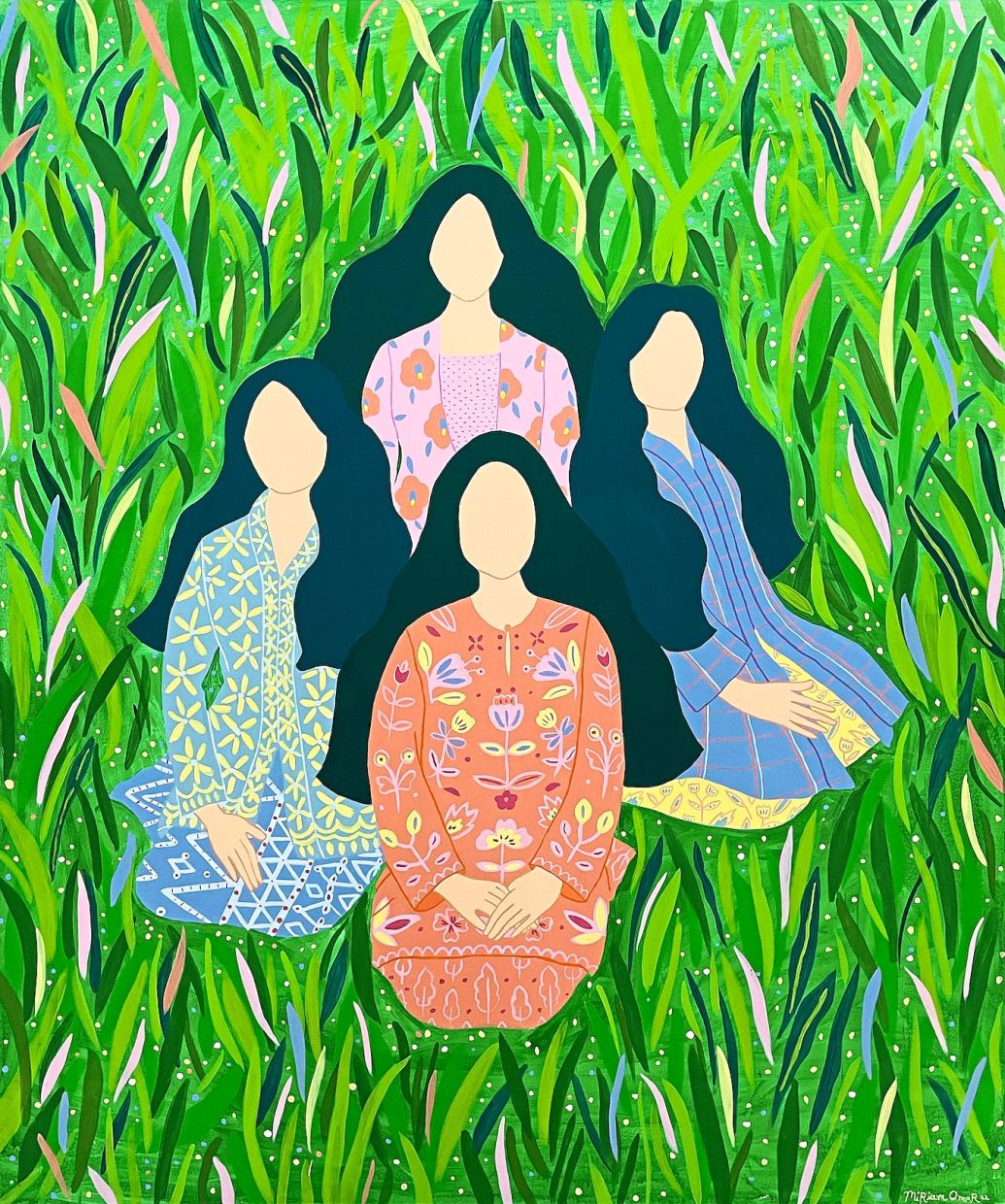 An artwork titled '4 Gadis Karib' (acrylic on canvas, 2022). Photo: Zhan Art Space
"My goal with Daydreams is simple, I want viewers to feel good and at peace upon entering the art space. I also want them to feel excited as they experience the beautiful world that I had built in my mind. Everything from the color palette, to the flowers, even to the colour of the carpet was considered as a whole and individually.
"I am inviting people to the world of beauty and peace through Daydreams. I hope they will look inward into their own daydreams and desires, and find relevance in the themes I speak about in my artworks. Self-love, rest, connection, home and self-reliance are important form of self-care, and I hope visitors will feel inspired after visiting the show." she says.
Miriam had worked in the marketing and retail industry for many years before becoming a full-time artist in 2018. She quit her job to go back to art school to study textiles, which was when her art evolved to what it is today.
Miriam's first solo exhibition 'Daydreams' is inspired by her love for landscapes, nature and vibrant colours. Photo: Zhan Art Space
She received her art training at Raffles Design Institute Kuala Lumpur and Singapore right to London College of Fashion and Chelsea College of Arts in Britain.
"I call myself an artist and entrepreneur because of Project Mirro, a brand I created to house all the products I have designed that aren't necessarily 'art' in the traditional sense, such as apparel, accessories, home goods and so on.
"Because of my background in e-commerce and retail, I find it is only natural for me to start my own business and brand after many years of working for other brands. I love being both an artist and entrepreneur," she says.
Miriam's 'mirro notes' series features themes of rest, love, growth and more. Photo: Zhan Art Space
Visitors to Daydreams will get a peek into this dual role at the exhibition where merchandise such as Mirro's Garden Journal, a wire-bound notebook made in collaboration with ana tomy and Zhan Art Space, as well as a limited edition scarf designed by Miriam, are available for purchase.
After focusing on Daydreams this year, Miriam is ready to switch it up next year with more collaborations and new projects.
"I will be releasing products I have never done before with new variations, and also partnering with new brands and participating in new campaigns. I am planning to travel and create at the same time, something I have never done before and am extremely excited to try out!" she concludes.
Miriam Omar's Daydreams exhibition is on at Zhan Art Space, Jaya One in Petaling Jaya, Selangor till Jan 7. More info here. zhanartspace.my.
Subscribe now to our Premium Plan for an ad-free and unlimited reading experience!