THE concept of business process outsourcing or BPO may be well known in Malaysia but a new moniker is making its way into the mainstream.
According to veteran technology professional Raymond Devadass, the moniker "global business services" or GBS is the new term that has replaced BPO.
"While BPO primarily focused on cost reduction, GBS emphasises an integrated approach to outsourcing that includes accessing new technologies and adding value to organisations," he told StarBiz.
But how is that achieved?
Devadass, the founder and managing director of soon-to-be listed Daythree Digital Bhd, said this is where companies like his have sought to harness the power of artificial intelligence (AI) and human intelligence, to unlock new opportunities, optimise processes, and deliver enhanced value to its customers.
As a tech-driven GBS provider, Daythree focuses on customer experience (CX) and lifecycle management services, in which it relies on a synergistic blend of cutting-edge technology and human expertise to drive innovation and achieve growth.
Devadass further explained that Daythree operates as a comprehensive customer experience centre rather than a conventional call centre, thanks to its in-house designed digital tools.
In this role, they manage all customer interactions, taking a broader approach to ensure a seamless and exceptional experience throughout the entire service journey.
"Typically, a conventional call centre's job is to attend calls and pass the information back to the service provider. But today, the job has changed.
"Hence, the job of a customer experience centre, like what we do, is not just to manage the transaction, but also the entire service journey," he said, adding that Daythree is an end-to-end customer service experience provider.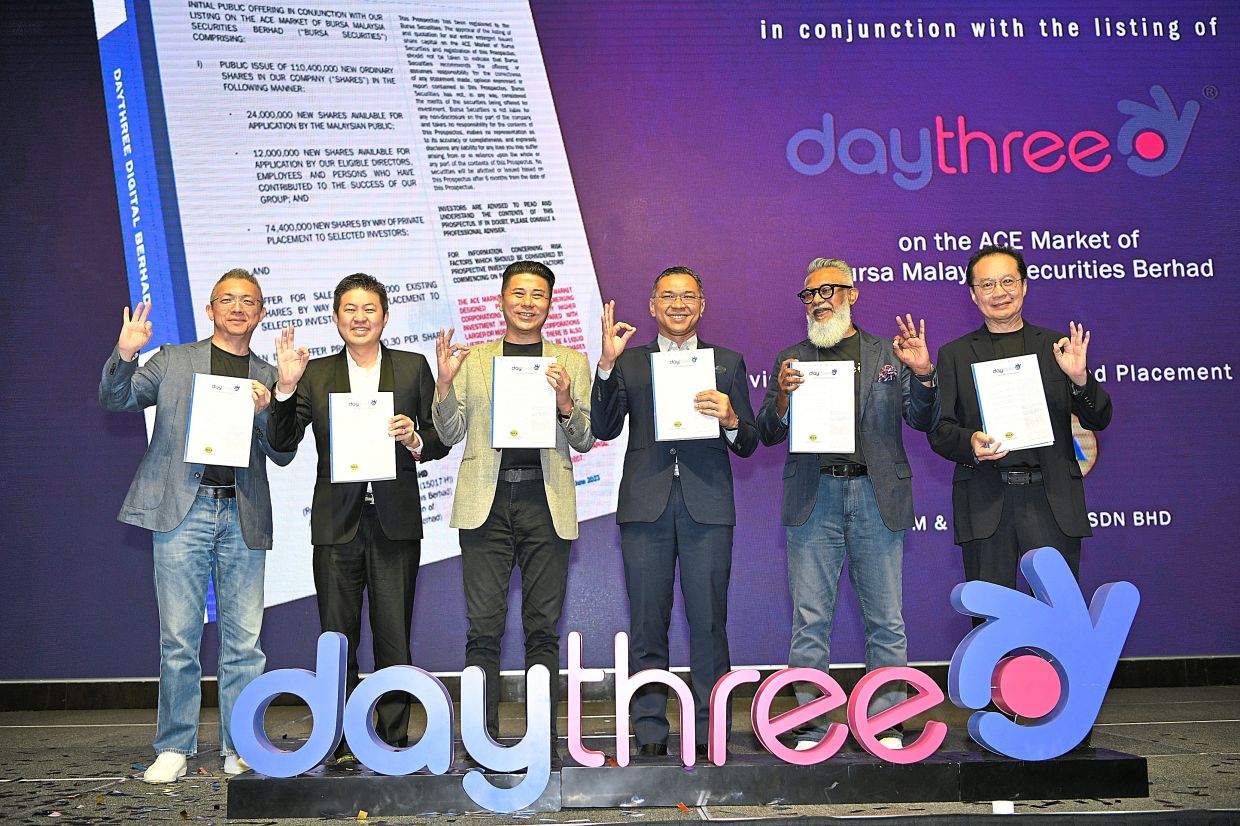 (from left): M&A Securities Sdn Bhd head of corporate finance Gary Ting, Hextar Group CEO Datuk Eddie Ong, M&A Securities managing director of corporate finance Datuk Bill Tan, Malaysia Digital Economy Corp CEO Mahadhir Aziz, Daythree Digital founder and managing director Raymond Davadass, and Daythree Digital chairman Datuk Ting Heng Peng
Enroute to an ACE Market listing, Daythree has outlined its strategy to expedite its expansion plans by utilising the proceeds from the initial public offering (IPO), where it is seeking to raise RM33.12mil.
Out of the entire IPO proceeds, RM14,70mil or 44.4% has been earmarked for working capital requirements, including the recruitment of an additional 380 CX executives.
This investment aims to bolster Daythree's capacity to service a growing number of contracts, as the group currently has around 1,800 CX executives.
Within the short to medium term, the group also plans to double its headcount from the 1,800 people currently.
"People cost is a significant component in our business and as such, we will channel a big chunk of the proceeds for working capital for our upcoming contracts. This is because the number and size of contracts that we can undertake at any point in time depend largely on the availability of our working capital," Devadass said.
Achieving more with less people
He explained that while customer experience is Daythree's core focus, technology is a significant differentiator for them.
"Our constant thinking is how we can achieve more with less people. Therefore, technology becomes a very crucial component in our service provision to further reduce dependency on people," he highlighted.
Raymond said that while they ensure all their employees are paid above the minimum wage, raising the minimum wage also impacts higher wages.
A further RM7.1mil or 21.4% of the proceeds will be used to part-finance the additional working space required for its growing customer base and the expansion of its headquarters to cater for the rising number of employees as well as to set up a multipurpose facility for internal training and meetings.
Devadass explained that the group has intentions to increase its current headquarters built-up area from about 4,000 sq ft, occupied by its management level employees, to 6,045 sq ft, in order to accommodate the current and additional management team.
The company also plans to set up two new CX delivery offices with an aggregate built-up area of about 12,000 sq ft and a multipurpose facility with a built-up area of approximately 6,000 sq ft to be used for internal training, meeting, rest and recreational purposes.
Another RM3mil or 9.1% of the proceeds will be allocated for capital expenditure, covering networking infrastructure, hardware, and software.
Additionally, RM3.02mil or 9.1% of the proceeds will be utilised for recruiting industry experts, enabling Daythree to capture growth opportunities within the local GBS industry.
According to Devadass, talent acquisition is a major challenge faced not only by Daythree but also the entire industry.
He said the proceeds will not only be utilised for talent recruitment but also for upskilling the existing workforce.
"I think the big component of retaining talent is being able to upskill them," he further explained.
Additionally, RM1.5mil or 4.5% has been designated for branding, marketing, and promotional activities and the remaining RM3.8mil or 11.5% will be utilised to cover estimated listing expenses.
Meanwhile, citing an independent market researcher Protege Associates Sdn Bhd, Devadass said the local GBS industry is expected to reach RM24.9bil in 2023 and projected to expand at a compound annual growth rate of 6.3%, to hit RM31.9bil by 2027.
In-house digital tools
Devadass believed the group is well positioned to leverage this growth, supported by three of its in-house designed digital tools.
According to him, all three of the group's in-house developed digital tools, namely Daisy, Faith and Saige, go hand in hand.
He explained that Faith is a platform designed to improve employee engagement by providing tools for streamlining scheduling, automating payroll processes, facilitating communication, and enhancing performance feedback within Daythree and its workforce.
Daisy, on the other hand, is a customer relationship management which is embedded with robotics process automation which makes it a game changer.
Proving it, Raymond describes a typical scenario in a contact centre where agents spend additional time after a call to create a case, contact engineers, and handle various tasks across multiple systems.
To streamline this process, Daythree has developed Daisy that sits on top of existing systems.
"After a call, agents only gather basic information, and bots take over the remaining tasks by sending information to relevant departments," he said.
Currently, Daythree operates a bot farm consisting of 60 bots that automate a significant portion of the tasks formerly performed by agents, resulting in time savings and increased productivity.
With this automation, agents can handle a significantly higher number of interactions in a given time period, Raymonds pointed out.
"Overall, the bots assist in deflecting routine and mundane tasks, freeing up human resources for more complex and critical work," Raymond said.
Finally, Saige, which serves as the group's business intelligence tool, gathers real-time data from every customer interaction and captures it within a unified analytics platform.
This allows for analysis, interpretation, and recommendations for improvement based on the collected data.
"We are always hungry to look for the latest technologies available to help us with the work we do for our clients," Devadass said.
Hence, even today, Daythree is dabbling with generative pre-trained transformers or generative AI to further improve efficiency.
Raymond said the challenge for service providers today is to achieve an omni-channel approach, which involves having a consolidated view of the customer across multiple channels, including in-store visits, social media interactions, and messaging platforms.
He emphasised the importance of technology in achieving this and providing a seamless customer experience.
By consolidating customer views, Daythree aims to anticipate needs and provide personalised assistance.
Meanwhile, Raymond pointed out that Daythree has started working with regional brands outside of Malaysia, expanding their customer base beyond local Malaysian companies.
He added that Daythree has secured projects with companies in the travel, hospitality, banking, and security management sectors.
This signifies a shift towards engaging with more global and regional brands, reducing their dependence on local clients over time.
Subscribe now to our Premium Plan for an ad-free and unlimited reading experience!