PETALING JAYA: The Real Estate and Housing Developers' Association Malaysia (Rehda) is urging the government to implement measures that can ease the impact of rising building material costs on the property market.
Rehda president Datuk N.K. Tong said the association has presented a wishlist to the government ahead of the revised Budget 2023, which will be tabled tomorrow.
"We have put forward in our budget wishlist proposals to review any levies or import taxes on imported materials. But the reality is that everything that we consume requires energy, especially construction materials.
"Unfortunately, if you look around the world, the cost of energy is going up and that is driving the costs of construction materials up," he said during a briefing yesterday at Rehda's property industry survey for the second half of 2022 and market outlook for 2023.
On the flipside, Tong cautioned that if there were price controls, it could affect the businesses of building material manufacturers.
"You have to be careful with what you wish for. What the government can continue to do is to make sure that everything is running very smoothly, whether it is construction, material costs or labour shortage.
"Remove any impediments that cause costs to go up and encourage competition. At the same time, hopefully, energy costs will continue to moderate although, given the global challenges, I'm not too optimistic," he said.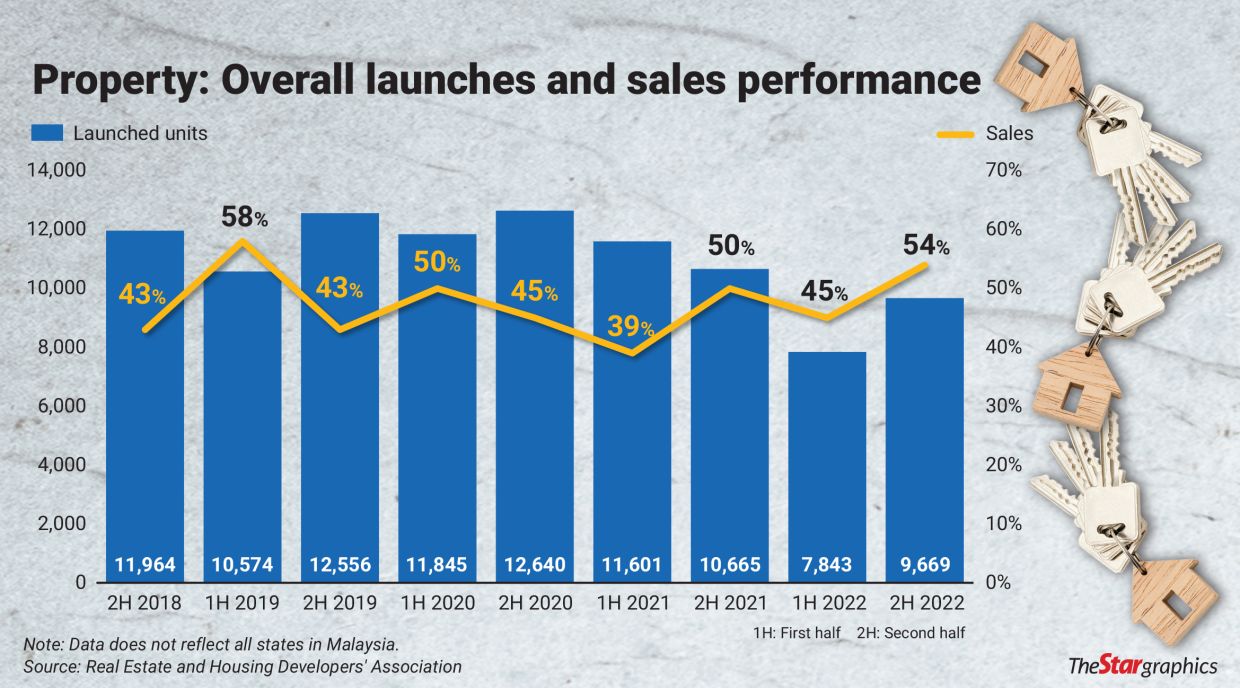 CLICK TO ENLARGE
Proposals under Rehda's budget wishlist include a rent-to-own scheme for first-time house buyers as well as a tax reduction on interest incurred during the construction period (also for first-time home buyers).
"We would also like to see compliance costs (charges imposed by utility companies or local authorities) to be reviewed or reduced," added Tong.
Meanwhile, according to Rehda's survey, which involved 136 participants, the second half of 2022 (2H22) saw improvements in terms of both sales and launched units.
"In 2H22, we saw the launching of 9,669 units, an increase of 23% from 7,843 units in 1H22," said Tong.
He added that 97% of these launches were residentials, mostly serviced apartments (2,670 units), followed by two-to-three storey terrace and apartment condominiums, with 2,610 and 1,748 units, respectively.
Going forward, Tong said 63% of the respondents planned to launch their projects in 1H23.
"However, the majority (85%) of respondents with future launches were anticipating their sales performance to be 50% or below," he said.
Tong said this was because many developers believe that it will take time for the market to fully recover.
"Many developers believe that end-financing is still an issue for many home buyers.
"Also, depending on the location of their projects, many developers feel that the market isn't quite there yet or hasn't reached the sales price that would make sense for them to launch."
Tong said rising inflation is also a concern for many developers.
"Some developers may not be able to anticipate how much the cost increase is going to be, so they may prefer to wait and see before making a decision on how much they want to launch.
"Also, as cost increases, developers may realise that incomes are not keeping up within the affordability of future homeowners."
Tong said rising interest rates also continues to worry developers.
"To be fair, I think the government is trying its best to manage the situation, given the fact that some countries around the world have hiked rates extremely."
As an example, Tong pointed out that the Reserve Bank of Australia had hiked interest rates eight times in eight months.
"In Malaysia, it's been a lot more moderate. People are absorbing it in their stride and on one hand, that could be seen as a headwind.
"On the other hand, there are also tailwinds. You have the economy opening up and you have a new (unity) government that is very focused on doing it right for the rakyat."
Tong said respondents to the Rehda survey are more optimistic about conditions in 2H23.
"When the economy opened up after the pandemic (last year), there was an instant impact on restaurants, travel and shopping.
"But with real estate, it takes a longer gestation period for people to be more confident about the market."
With better political stability seen only at the end of last year after the elections, Tong said people are still adopting a "wait-and-see" approach.
"Homebuying is not immediate. It's also about sentiment. As sentiment continues to improve, so will the house-buying trend.
"That is why developers are more optimistic about 2H23, because with improving sentiment, more people are willing to commit to a long-term investment."
Separately, Tong said market forces should be left at work to help clear the property overhang situation in the country.
He noted that developers that built in locations that were "less-than-desirable" will have to find ways to manage the situation.
"For instance, if it's a commercial property, they could re-purpose it for other uses. If it's residential, they may have to look at a more realistic pricing to attract buyers.
"It's like the unemployment rate, for example. You want it low but you don't want it too low, otherwise the market becomes tight. With the overhang situation, there will always be some and it's up to the market to decide how to manage that situation."
Based on data from the National Property Information Centre, the level of overhang in the country has been easing on a quarterly basis.
At the end of the third quarter of 2022, the country's property overhang had dropped to 29,534 units (valued at RM20bil) compared with 34,092 units (valued at RM21.7bil) at the end of the first half of that year.
An overhang is defined as units that have received their Certificate of Completion and Compliance but remain unsold for more than nine months after launch.
Subscribe now to our Premium Plan for an ad-free and unlimited reading experience!