PETALING JAYA: The current slowdown in the global economy is the best time for local firms to build their brands, said Media Prima Bhd

TV networks group chief executive officer Datuk Seri Farid Ridzuan.
"During difficult times like these, local companies have a chance to build their brands so that when the economy recovers, they can bring their businesses back full swing," he said yesterday at an event to promote the Global Brand Forum.
"In the global economy, only the strongest brands will survive and if Malaysian companies ... are to survive, branding is crucial." he said.
Farid called on local corporate leaders to attend the upcoming forum where they would get guidance from professionals.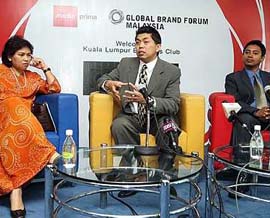 "Use this forum as a means to build your brands and learn about branding from the speakers," he said.
Presented by Media Prima with the participation of The Star, New Straits Times, The Malaysian Reserve and TV station Astro

Awani, the event will debut in Malaysia on Dec 4 and 5 at the Palace of The Golden Horses hotel in Seri Kembangan, Selangor.
Speakers include Ivanka Trump, vice president of Trump Organisation; Martin Lindstrom, the world's leading youth marketing guru; Steward Butterfield, founder of photo sharing website Flickr and Joanne Ooi, creative director of Shanghai Tang.
Tickets are priced at RM4,800 nett but early birds get a RM500 discount.
 MEDIA :  [Stock Watch]  [News]
For latest MSEB indices, charts and other information click here