Malaysia:
* 94.8% of eateries comply with hygiene requirements, says Lukanisman
* No harassment of LGBT community will be allowed, says Anwar
* Fruitful visit to the US, says Anwar
* RM500mil in Amanah Raya 'waiting to be claimed'
* Pelangai polls: Unity government has failed to care for people's welfare, says Muhyiddin
* Perak flash floods due to extraordinary rainfall, says DID
* Customs Dept seizes over 2 million illicit cigarettes, busts syndicate
* MACC likely to seek Radzi's statement over book-printing project claims
* Don't leave them high and dry: Cabinet ministers urged to not go on holiday abroad during flood season
* Riot in Kanowit not related to race, says National Unity Minister
* Bursa Malaysia likely to trend lower this week amid cautious market sentiment
* Ringgit to linger around RM4.67 to RM4.69; likely in range-bound trading on downside bias this week
China's Xu Jiayu celebrates after winning the the men's 100 meter backstroke final during at the 19th Asian Games in Hangzhou, China, Sunday, Sept. 24, 2023. - AP
Singapore:
* King cobra toils for at least seven hours to eat snake at Singapore's Mandai Wildlife Reserve
* Most Singaporeans aged 50 and above support raising re-employment and retirement age: Survey
* Singapore is Japan's top property investor in 2023, report says
* Hong Kong loses pride of place in economic freedom league table to rival Singapore for first time, after 53 years at top
* Singaporean actor Nick Shen shares his painful experience of battling shingles
Indonesia:
* Indonesia consortium invests RM6.1bil in country's new capital Nusantara
* Indonesian foreign minister Retno Marsudi discusses Myanmar issue with ICRC president
* Indonesia against turning South-East Asia into 'pawn of rivalries', Retno tells United Nations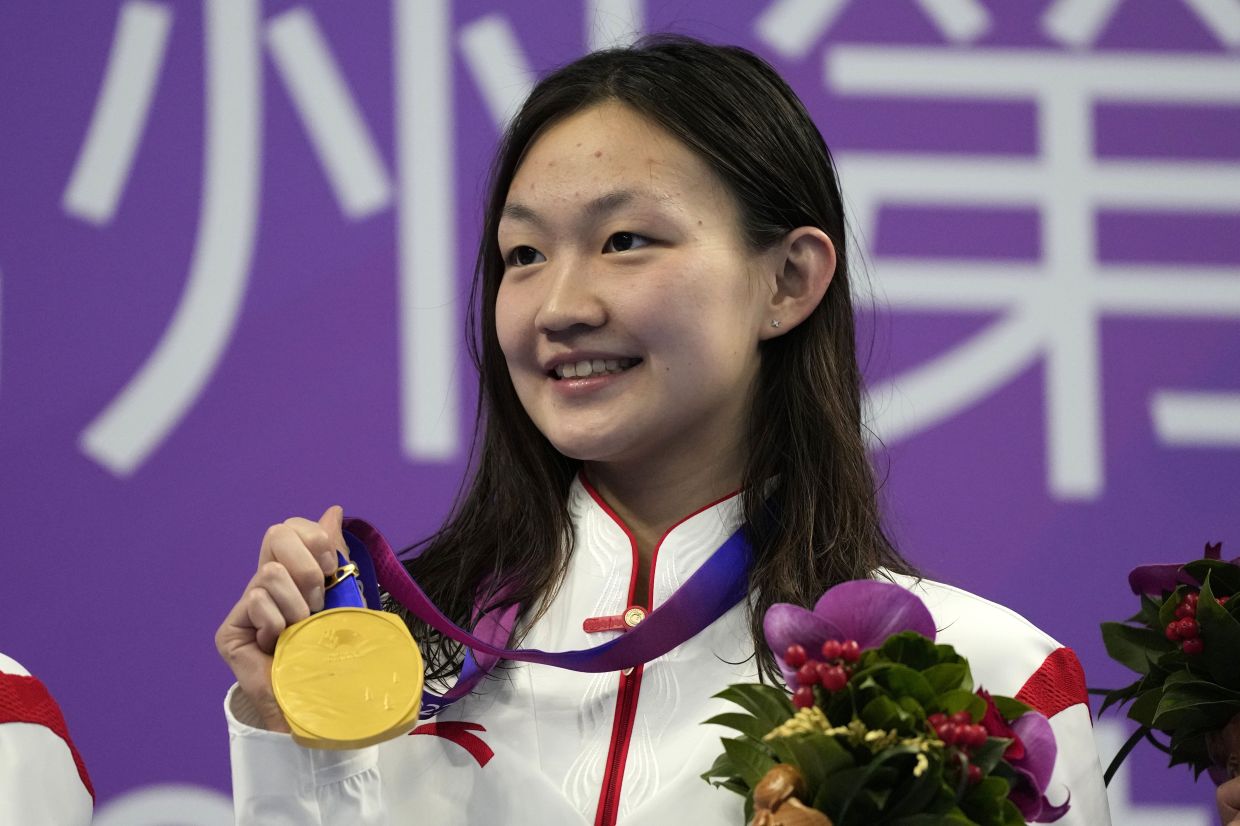 China's Li Bingjie celebrates with her gold medal during the victory ceremony for the women's 1500 meter fast heats at the 19th Asian Games in Hangzhou, China, Sunday, Sept. 24, 2023. - AP
Thailand:
* Unesco listing sparks surge of tourists to Sri Thep in ancient city in Thailand's Phetchabun province
* Thailand expects Tesla, Google, Microsoft to invest $5 billion -prime minister
* Thailand: New leader for Move Forward
Philippines:
* Manila urges peaceful settlement of dispute in South China, Philippines tells UN
* Philippines condemns Chinese 'floating barrier' in South China Sea
* Elections firm suing Fox News linked to bribe charges
Asian Games - Hangzhou 2022 - Swimming - Sports Centre Aquatic Sports Arena, Hangzhou, China - September 24, 2023. Gold medallist China's Qianting Tang gestures after winning the Women's 50m Breaststroke final. - Reuters
Vietnam:
* Vietnam's much-liked tuna exports in August hit year's highest levels
* Nineteen Vietnamese citizens injured in factory explosion that killed nine and injured many others in Taiwan
* Biden aides in talks with Vietnam for arms deal that could irk China
Myanmar:
* Magnitude 5.1 quake rattles Myanmar's Yangon on Saturday night, says USGS
* 12 people missing after boat capsizes in Myanmar
* Myanmar eyes more corn exports to China this year
China's Guo Zongying in blue fights North Korea's Jon Susong in the Women's -48Kg Judo bronze medal match for the 19th Asian Games in Hangzhou, China, Sunday, Sept. 24, 2023. - AP
Cambodia:
* UN chief Guterres praises Cambodia's strategy alignment; says it is in line with its own SDGs
* Cambodia FDI grows 42% in H1 in spite of downturn
* Cambodia and Australia pledge continued cooperation, resolving differing viewpoints
Laos:
* Laos confirms first case of monkeypox, Ministry of Health issues guidelines as warning for people
* Laotian deputy PM calls for multilateralism to tackle global challenges
Brunei:
* Senior Brunei Tourism ministry official to go on trial for graft in May 2024
* Brunei King Sultan Hassanal Bolkiah announces that compulsory schooling to begin at age five
Nepal's Tamang Bimala tries to score during the women's preliminary round handball match between China and Nepal at the 19th Asian Games in Hangzhou, China, Sunday, Sept. 24, 2023. (AP Photo/Louise Delmotte)
AseanPlus:
* Measures to secure Malaysia's food security / It's a wheat of a problem
* China off to golden start on first day of Asian Games
* China rowers win first gold of Asian Games
* China's young star Pan is the fastest swimmer in Asia; sets new Asian record to win men's 100m freestyle gold
* China's PLA warns cadres against socialising with the wrong people
* Smooth ride so far for 'robocabs' in China, but mainstream use still years away, say experts
* Where are the expats? Hong Kong's talent drive fails to bring back foreigners, and it's worrying some experts
* Hong Kong's bid to bring back the city's nighttime buzz to its people and tourists
* New China-Nepal trade route to open soon as Tibet facility gets green light
* China's Navy seeks graduate students to fly warplanes
* A Chinese military blockade of Taiwan would likely fail and nothing easy about an invasion: Pentagon
* Hong Kong illegal structures: Luxury-house owner in Redhill Peninsula scandal facing second prosecution for ignored orders on another home
* First batch of non-local doctors recruited overseas to start working in Hong Kong public hospitals this month
* Alibaba Pictures acquires concert producer Damai as it eyes offline, live entertainment business
* Taiwan raises concerns about situation 'getting out of hand' with China drills
* 'Double check': Google's chatbot Bard can now fact-check its answers
* Sri Lanka beat Pakistan to set up India in women's cricket final at Hangzhou Asian Games
* Rugby-Ireland come out on top of bruising clash with South Africa
* Asia Olympic council 'looking into' Indian athletes' China visa issue
* If the 2023 Rugby World Cup is anything to go by, then get set for a smashing, roaring 2024 Paris Olympics
* Motor racing-Red Bull take constructors' title as Verstappen wins in Japan
* Motor racing-Red Bull operating on another level thanks to the Max factor
* Motorcycling-Bezzecchi wins Indian Grand Prix as Bagnaia crash opens up championship
Subscribe now to our Premium Plan for an ad-free and unlimited reading experience!