The coronavirus had been largely under control in China for months, until a handful of Nanjing airport workers tested positive.
They had cleaned a plane that arrived from Moscow with an infected passenger on board.
Less than three weeks later, the outbreak has spread to at least 17 provinces, fuelled by the highly transmissible Delta variant and amid the busy summer travel season.
Do you have questions about the biggest topics and trends from around the world? Get the answers with SCMP Knowledge, our new platform of curated content with explainers, FAQs, analyses and infographics brought to you by our award-winning team.
While the case numbers are relatively low – about 700 infections so far since July 20 – health authorities are on high alert, seeing it as their biggest challenge since Wuhan at the start of the pandemic.
Vice-Premier Sun Chunlan told officials on Wednesday to make it their top priority to stop the spread of the Delta variant, saying the situation was "uncertain" and a nationwide inspection of pandemic controls in places like hospitals and clinics would look for any weak points.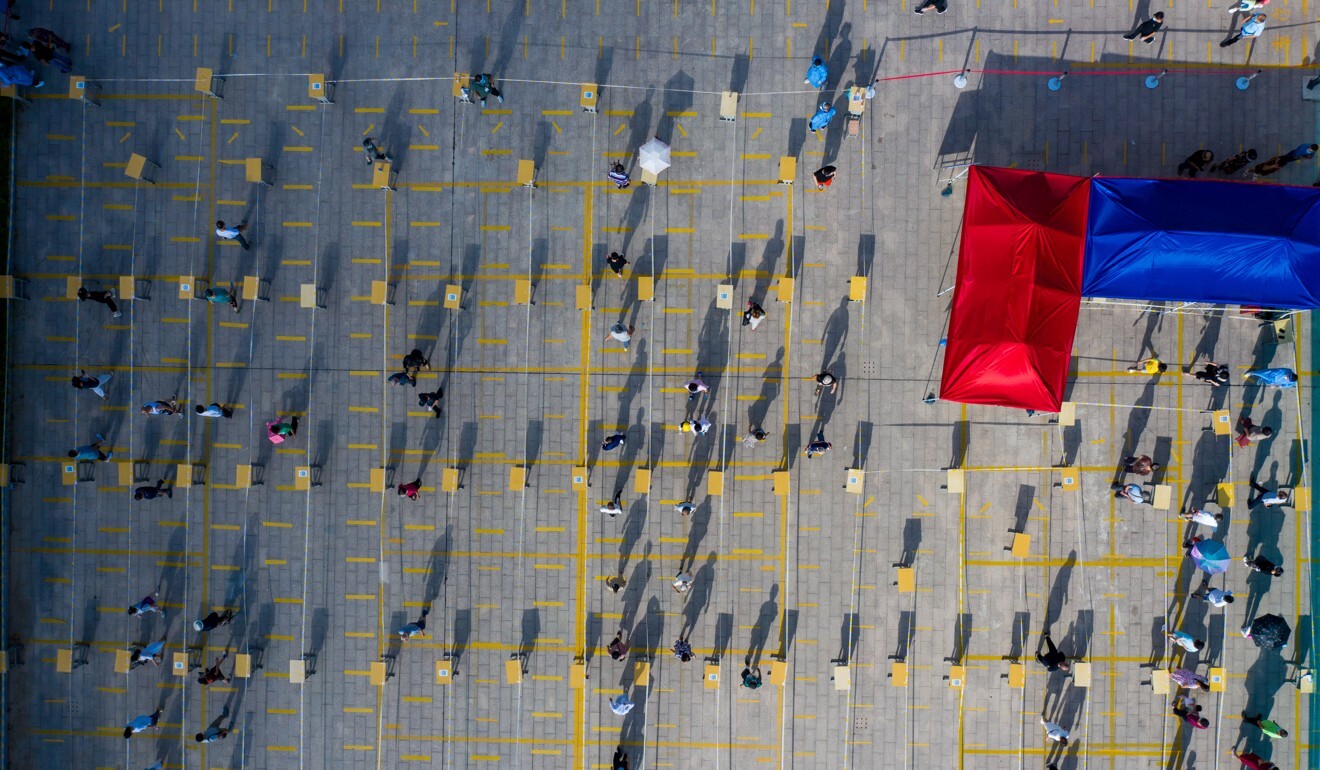 The Delta strain is putting China's zero-tolerance or elimination strategy to the test, as authorities try to keep case numbers low by quarantining arrivals, mass testing, vigorous contact tracing, lockdowns, travel curbs and other measures – an approach also taken in places like Australia and New Zealand.
Given the rapid spread of Delta, which is now the dominant strain in many countries, questions have been raised over whether zero tolerance is really a long-term solution in China.
The latest outbreak has also dampened hopes of China's borders fully reopening in the near future, as entire cities again get tested, transport is disrupted and residents of hotspots are locked down. Meanwhile, countries that have chosen to limit Covid-19 disruptions are starting to open up.
Virus gets 'fitter'
Delta has been described by the US Centres for Disease Control and Prevention as more transmissible than the common cold and influenza, and as contagious as chickenpox.
Stuart Turville, an associate professor at the Kirby Institute's immunovirology and pathogenesis programme at the University of New South Wales, said the virus had become "fitter" in its ability to bind to and fuse with cells, causing infection. "It looks like Delta is certainly spreading far more efficiently in the real world and has raised the bar for all of us and our responses," he said.
While National Health Commission official He Qinghua has spoken of "large-scale containment measures", "strict blocking" and "fast interception" to contain the latest outbreak – saying the strategy used to contain more than 30 outbreaks in China will continue to work – epidemiologists say this will be a challenge given how contagious the Delta variant is.
"The incubation period – from the time they're exposed to the time they become infectious – is at least one day shorter. Just what do you do when you do contact tracing if you have three days to find everybody as opposed to five days? It's much harder to do," said George Rutherford, a professor of epidemiology at the University of California, San Francisco.
Some public health experts are now asking whether it is time to ease the tough pandemic controls in China and learn to "live with the virus".
In Shanghai, Zhang Wenhong, head of infectious diseases at Huashan Hospital, said in a Weibo social media post that the latest outbreak had shown the risk of Covid-19 will always be there and the challenge was to "have the wisdom to live with the virus in the long term".
[Coexistence] is China's only option, given the failure of the global community to stop the virus from becoming endemic
That is something other countries are starting to do and China may have to follow suit, according to Nicholas Thomas, an associate professor in health security at City University of Hong Kong.
"Other states, whether by choice or circumstance, are moving towards coexistence with the virus. While such a policy will entail higher death rates and greater long-term disruption, it will also enable those states to regain lost economic ground faster," Thomas said. "Realistically this is China's only option, given the failure of the global community to stop the virus from becoming endemic."
He said China could not afford to wall itself off as the world tried to recover from the pandemic. "Even though the lockdown policy works and will continue to do so, the cost of that policy is increasing relative to the lost opportunity costs," Thomas said. "At some point within the next six to 12 months – barring a significant variant of concern emerging – those costs will be unsustainable for China."
Some countries are opting not to eliminate Covid-19 cases but to minimise disruption through a mitigation strategy to reduce severe illness and deaths rather than case numbers. Singapore is one of them, switching from a "zero case policy" in June so it now treats the virus as endemic, like flu or chickenpox – though it still stepped up its response during a recent spike in cases.
Britain – which has one of the highest death tolls from Covid-19 in the world – has gone further, relaxing most restrictions, including a mask mandate, in mid-July despite a surge in cases. About 73 per cent of the country's adult population has been fully vaccinated, and in the week to Saturday there were more than 188,000 cases but deaths were relatively low at 627.
Rutherford from UCSF said the goal was to "minimise death and hospitalisation, which we believe the vaccine does". "To achieve this, we will have to tolerate some amount of infection. The Delta variant makes this calculus more difficult, but we're trying to cope with it through lower-level interventions, like mask wearing, and not go back to stay-at-home orders and business closures," he said.
'Soften the impact'
New Zealand epidemiologist Michael Baker, a professor of public health at the University of Otago, said countries that relaxed control measures after achieving relatively high vaccination coverage – such as Britain, the US, Israel and EU nations – had seen a sharp rise in cases, but the vaccines had been highly effective in preventing hospitalisation and death.
"From a public health perspective, it would be reckless to allow widespread transmission of this virus before a country has reached high vaccine coverage, particularly for vulnerable groups. Even then, the evidence is that it is important to maintain public health measures to dampen down transmission," Baker said. "These countries all have good health infrastructure and capacity, which is also helping to soften the impact of these rising case numbers," he added.
That could be a problem in China, where there are 3.2 intensive care beds per 100,000 people. In the US, the number is 27 and it is 24.6 in Germany.
There are some ... who think that we should not necessarily 'learn to live with Covid-19' until we know more about the long-term effects
Baker also noted that the Delta variant had added pressure to disease control efforts and delayed reopening plans being made in countries and regions as more people got vaccinated.
Australia, for example, has said 80 per cent of the adult population must be fully vaccinated before it can consider reopening its borders, while New Zealand will set out whether and how the government plans to open its borders this week.
Baker said the elimination strategy had strong support in New Zealand. "There are some, including myself, who think that we should not necessarily 'learn to live with Covid-19' until we know more about the long-term effects of this virus on human health," he said.
In China, Feng Zijian, president of the Chinese Preventive Medicine Association, told China Newsweek magazine last week that the country would need to maintain strict control measures – at the border and when there is an outbreak – until it reached a high vaccination rate.
Some 1.77 billion vaccine doses had been administered as of Saturday in the country of 1.4 billion, according to the Chinese Centre for Disease Control and Prevention.
Feng said China would have to make a decision on adjusting controls once more people were vaccinated, but noted it was difficult to assess the impact of mass vaccination given the low number of Covid-19 cases. He also said the health care system would need to be prepared for any changes to the measures to avoid its hospitals becoming overburdened.
Thomas from City University said another problem was that China's two main vaccines, made by Sinopharm and Sinovac, were not as effective as others against Delta, which could leave the population more at risk if the country reopens its borders.
"It is ... having large segments of the population sick and unable to work or travel that will be economically and politically challenging for the government," he said. "It is feasible for China to live with the virus but there are several challenges that it must address before it can do so safely."
More from South China Morning Post:
For the latest news from the South China Morning Post download our mobile app. Copyright 2021.
Subscribe now to our Premium Plan for an ad-free and unlimited reading experience!