PETALING JAYA: The water you buy from vending machines may not be as clean as you think.
Twenty-nine samples of water were drawn from such machines throughout the Klang Valley – and almost all were contaminated.
There were harmful E. coli, Coliform and Clostridium perfringens microbes – the same kind of bacteria found in untreated sewage.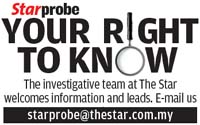 Coliform and Clostridium perfringens are also the same bacteria found in human and animal faeces.
These bacteria can cause cramps, diarrhoea and other gastrointestinal problems.
The Star conducted the tests together with Forum Air Malaysia, an organisation formed to assist the National Water Services Commission.
Forum Air Malaysia tested 14 samples in April while The Star screen 15.
The samples were from vending machines here and in Subang Jaya, Cheras, Klang and Kuala Lumpur.
Under Malaysia's Safe Drinking Water Act, there should not be any trace of Coliform or E. coli in drinking water.
Forum Air research and policy executive Jesslyn Pek said it was worrying that many of the samples did not have traces of free chlorine or fluoride, which are chemicals needed to kill bacteria in water.
"From the tests on the 14 water samples, six were found to have either Coliform or E. coli – and did not contain any free chlorine or chloride," she said.
"Free chlorine must be present, because it is a disinfectant," Pek said.
"There are standards to determine how much free chlorine is needed to be used to treat water, but as it cannot be detected at all in these samples, it shows that an insufficient amount was used."
In the tests conducted by The Star with an accredited lab, all 15 samples tested positive for Coliform and Clostridium perfringens.
Water vending machines are found in office and residential buildings and universities or colleges.
People prefer to buy this water as it costs only about 20 sen a litre compared to bottled water, which can cost more than RM2 for the same amount.
According to an industry source, the Health Ministry began a nationwide effort to license owners of water vending machines last year.
However, to date, many have not responded.
To obtain the licence, operators need to fork out RM450 per machine and send water from the machines for quality tests at the Department of Chemistry.
They also have to pay a licence processing fee of RM130.
A two-year licence costs RM150.
Regulation 360 (c) (for "vended water") was added to the Food Regulations 1985 in August 2012 to regulate water vending machines.
The ministry has requested for full water test results after being alerted by The Star.
Related stories:
Experts: Filtration system must be serviced regularly
No signs these machines dispense clean water
Subscribe now to our Premium Plan for an ad-free and unlimited reading experience!