One of Huawei's suppliers has threatened to fine its staff if they buy an Apple iPhone at any time in the next three years, in a bizarre show of support for the beleaguered Chinese technology giant.
Menpad, a Shenzhen-based LCD display maker, said it will punish any employee that buys the popular American smartphone by fining them by an amount equivalent to its market price.
Japan latest country to exclude Huawei, ZTE from 5G roll-out over security concerns
In an apparent show of nationalistic pride and support for its troubled counterpart, it also said it will cease to buy any American products such as office equipment, computers and cars, and will reward staff who buy Huawei or ZTE phones by giving them a 15 per cent subsidy.
It doesn't stop there. It will double the sales commission to any employee who manages to sell its products to the US, it said in a statement on its website on Monday.
Menpad may be the first Chinese corporation to announce measures to support Huawei, which has been rocked by the arrest in Canada of its chief financial officer, who stands accused of violating US sanctions against Iran.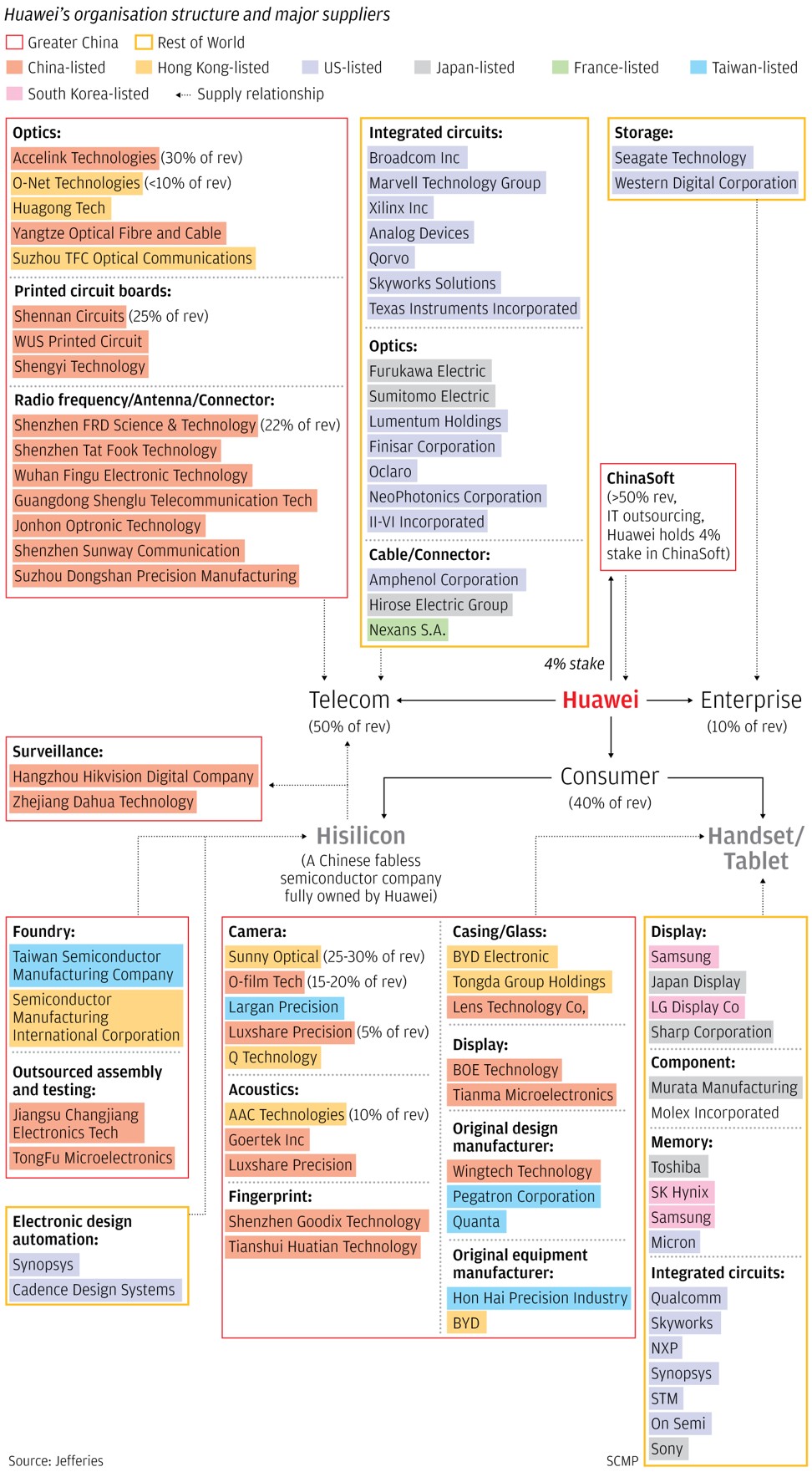 "If employees buy any iPhone for themselves, the company will impose a 100 per cent penalty on the basis of the phone's market price, " the statement said.
It unveiled seven specific measures, including giving chips made by Huawei-owned HiSilicon priority over others in all of its products.
To distributors of its products, Menpad also promised to "double the rebate" if they obtain a product order from the US.
All the above measures will be valid for three years, effective from December 7, it said.
Menpad, founded by former Konka president Liu Dan in 2015, makes LCD display, video-conferencing systems, and touch-screen query machines. It owns six subsidiaries and has annual revenue of 300 million yuan, with net assets surpassing 60 million yuan, the company said on its website.
It is part of Huawei's huge global network of more than 2,000 suppliers, with core suppliers including Qualcomm, Broadcom, Intel, according to research by Chinese brokerage Guosen Securities.
On December 6, Huawei issued a public letter to its suppliers all over the globe, criticising the US for "pressuring a company by all means" and calling for "continued support" from its suppliers.
The Chinese central government, Shenzhen's city government, state media, and some trade associations have all called for Meng Wanzhou's release and expressed their support to Huawei, after Canada confirmed it had arrested her in Vancouver at the request of the US.
The US is seeking Meng's extradition on suspicion of conspiracy to defraud banks and violating sanctions on Iran.
For the latest news from the South China Morning Post download our mobile app. Copyright 2018.
More from South China Morning Post: