Taman Sari BrasserieHotel Istana73 Jalan Raja Chulan50200 Kuala LumpurTel: 03-21419988 ext 3667Business hours: Daily (6am to 1am).
Head to the Taman Sari Brasserie in Hotel Istana, Kuala Lumpur for a wide selection of food this Ramadan.
There are over 100 local favourites, Asian and international dishes to try.
Hotel Istana is also adding a touch of the Middle East with its Lebanese specialities.
Dig into specially prepared Lebanese dishes at the live cooking station by the hotel's guest chef featuring Falafel, Spinach and Sheefa Samosa, Shawarma Beef, Lamb or Chicken, Roasted Lamb and Rice, Grilled Chicken with Vegetables and Rice as well as Whole Fish of the day with Arabic Spices.
A grand mixture of local favourites including Rojak, Pecal, Nasi Kandar with Beef Massala, Lamb and Vegetable Dalca, Fish Head Curry and Chicken Negro, Otak-Otak, Pulut Udang, Roti Canai, Murtabak, Claypot Assam Pedas, Chicken and Fish Percik, Laksa Assam, Mee Rebus, Laksa Johor, Nyonya Curry Laksa, Fried Kway Teow, Bubur Lambuk, Lamb Rendang, Lemang with Gulai Daging Campur with Umbut Pisang and Tomato Muda await food lovers.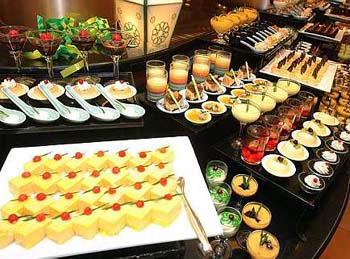 For Asian and international offerings, try the Vietnamese Spring Rolls, Sashimi, Maki, California Rolls, Tempura, Sushi and a selection of seafood on ice.
Prawns, Squid and Crabs as well as Mongolian Barbeque with home made sauce, Roasted Whole Lamb or Beef are also available.
The desserts include Pavlova, Black Forest Cake, Jelly, Caramel Custard, Creme Brulee, White Chocolate Mousse, Apple Tart,
Honey Dew Sago, Bread and Butter Pudding, Ice Kacang, Banana Tiramisu, Pengat Ubi, Bubur Kacang, Cekodok Pisang, Goreng Pisang and Goreng Sukun.
Chef Mohd Fauzi Basir said that preparations begin very early in the day.
"We make everything ourselves, even the lemang. Our famous dish is the Gulai Kawah, which takes at least seven hours to cook as the meat must be soft.
"The cooking reflects the authen­tic Malay dishes but there is certainly a mixture in the spread.
"Even our venison rendang, which is not so common in many places is cooked for five hours to get the correct taste and texture," he said.
Prices range from RM99++ per person (during 1st and 4th week) to RM115++ per person (during 2nd and 3rd week).
For early purchase of vouchers, the price will be RM90++ per person throughout Ramadan.
Did you find this article insightful?
% readers found this article insightful