Photos by ONG SOON HIN
THE Selangor government is looking into the possibility of providing discounts or waivers for welfare organisations for certain payments, said Selangor Welfare, Women's Affairs, Science, Technology and Innovation Committee deputy chairman Gan Pei Nei.
"We're doing a study to see if we can give them a nominal rate or discount for payments like quit rent to help non-profit organisations.
"We're trying to identify the welfare organisations that are registered under the state's welfare department.
"The present figures we have are outdated, hence we need to reregister the welfare organisations to get the accurate data," said Gan, when opening Rumah Hope's Open Day.
Kampung Tunku assemblyman Lau Weng San, who was also at the event, said: "I've spoken to the management of the welfare centres in my constituency of my intention to write in to the relevant departments to help them apply for any payment reductions, like quit rent, assessment rates, licence fees and electricity tariffs.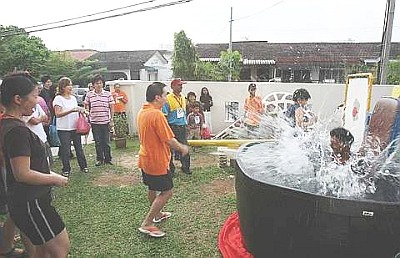 "I will bring the issue up at the local council and state levels so that other welfare organisations can enjoy the same benefits, and also apply to the Land Office to allocate part of my constituency development fund to welfare homes."
The main purpose of the event, themed Give Love Give Hope, was to raise funds to buy a minibus to replace the home's old van.
"The van which we've been using to ferry the children around is already 15 years old and breaks down often. We're targeting to raise RM80,000 to buy a minibus," said Rumah Hope chairman David Ramoo.
On this issue, Gan said she would bring it up with the committee chairman (Rodziah Ismail) and discuss how the state can help with the funding.
"We sent invitations out to companies and individuals who've supported Rumah Hope in the past to take up stalls at the open day," said Ramoo.
"We have over 30 stalls today set up by corporations, colleges and church groups selling food and trinkets, as well as games and jumble sales."
Shaun Khoo and his friends from Universiti Tunku Abdul Rahman, called the MAD (Making A Difference) group, were among the volunteers helping out at the event.
"We're here as part of our university's CyberCare programme. We've managed to raise RM3,570 from the event's coupon sales, and proceeds from today's sales will go towards the home," said the 24-year-old psychology student.
The MAD group ran the face-painting and games stalls, and entertained visitors with their musical performance.
Another volunteer who helped run a food stall was 18-year-old Doris Lee Wan Yi, a Rumah Hope "graduate" who won a scholarship to pursue a graphic design course at Sunway University College.
"Since I came in, I've learnt to be responsible and independent by doing my daily chores and taking care of the younger kids," said Lee, who coordinated the event's opening song-and-dance performance.
"The adults here are like parents to me, and they're constantly encouraging and motivating me to do better."
She has a passion for painting landscapes and wants to become a successful graphic designer.
"I hope to set a good example for my three sisters and the other kids at Rumah Hope, and I'm planning to come back to help out whenever I have the time."
The home was started in 1994 as an outreach of Good Hope Church in aid of five poor children and as a sanctuary for abused, neglected and underprivileged children aged between five and 17.
After four years, the home moved to its present premises in Paramount Garden, Petaling Jaya, and has since expanded to two blocks of three-storey buildings that houses 70 children.
Join our Telegram channel to get our Evening Alerts and breaking news highlights