SUCCESS in the business world comes not from doing things bigger but rather, doing it better.
That was the wise advice given by Hunza Group of Companies founder Datuk Seri Khor Teng Tong, a prime example of a small-town boy who made it big.
His vision, determination and entrepreneurial spirit have enabled him to overcome adversity to become one of Penang's most recognisable real estate and property development figures.
Teng Tong (12th from left) with dignitaries, family members and special guests at his 82nd birthday celebration, which doubles as the company's 45th anniversary celebration. — Photos: ZHAFARAN NASIB/The Star
"I started from zero but I think I did all right," he quipped during his 82nd birthday celebration at the Setia SPICE Convention Centre in Penang.
In attendance were some 1,500 guests who included current and former state leaders, foreign consuls, prominent business figures and members of the extended Khor family from across Malaysia and other countries such as Taiwan, Macau, Hong Kong, Indonesia and Singapore.
"I'm deeply touched that everyone took time off from their busy schedule to be here for my big day. I can't believe that decades have flown by so quickly.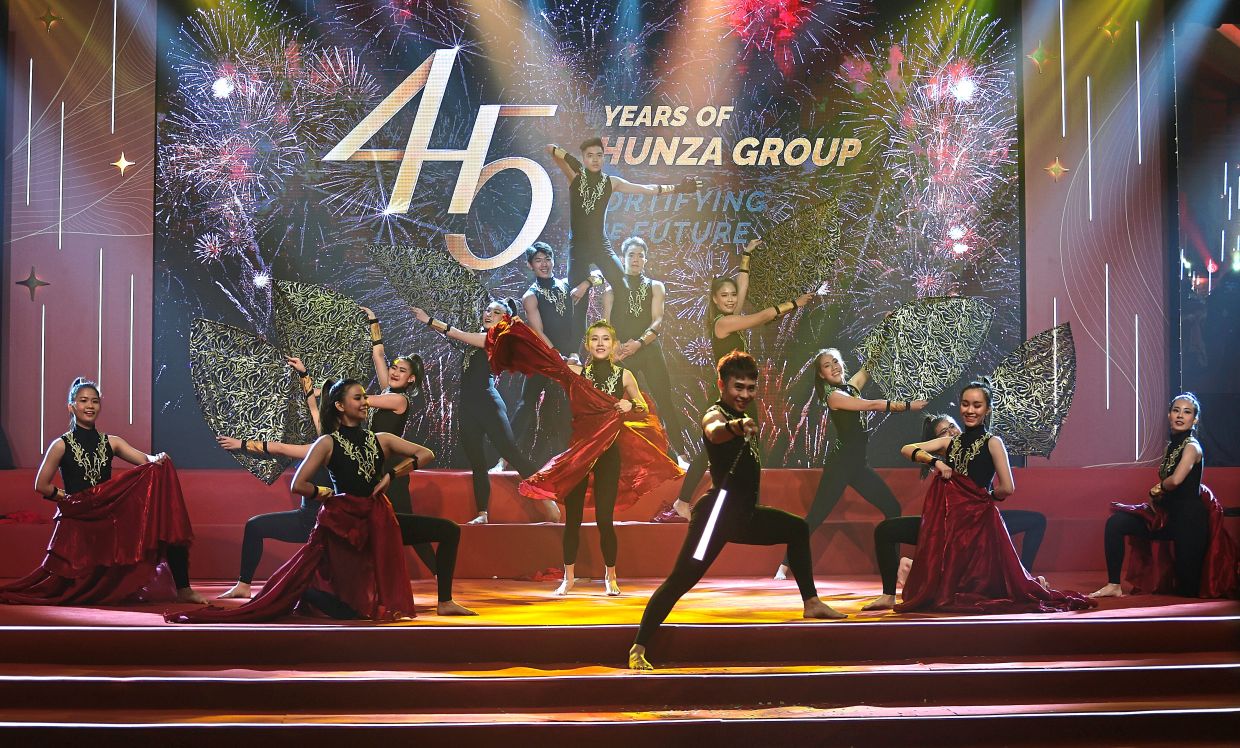 The Euphoria dance troupe entertaining dinner guests.
"It seems like only yesterday that I started my first business venture," recalled Teng Tong at the black-tie event.
He grew up poor, the son of a fisherman in Kuala Kurau, Perak, and left school at Standard Six to work.
To support his family, he sold his father's marine harvests, first to nearby towns and later to big cities across the country.
After amassing enough capital, he and several siblings set up a small factory in 1970 to freeze the seafood for export.
"I knew how to maintain seafood at a better quality than others. It was hard work but it allowed us to penetrate the Western market and generate good returns."
Teng Tong (right) and Chow (left) leading dignitaries into the ballroom venue.
He moved to Penang in 1978 so his children would enjoy better education. He needed a new venture and saw opportunity in real estate.
"I had relatively small capital by today's standards but I resolved to build better and to do it with heart," said Teng Tong, who also launched his autobiography titled Expressions of Life at the event.
The book offers insights into his experiences to inspire those hoping to follow in his footsteps.
While the first edition was distributed to guests that night, the second edition is expected to hit local bookstores next year.
The event doubled as Hunza's 45th anniversary celebration.
Penang Chief Minister Chow Kon Yeow hailed Teng Tong as an inspirational figure who had been key to the company's longevity.
"I've known him for over 20 years, back when I was a newcomer to the political arena. While we were players in different fields, we were both toiling away quietly.
"Since then I've witnessed how the group has grown from strength to strength under his leadership, establishing itself as one of the top multi-award- winning developers in the country.
Teng Tong (right) launching his autobiography with transcriber Bryan Lai.
"But despite that success, he has never forgotten his humble beginnings and always gives back to society," Chow said, referring to the newly established Khor Teng Tong and Hunza Charity.
During the dinner, it was announced that RM3.38mil had been raised so far – consisting of a pledge of RM2mil by Teng Tong, with the remainder coming from the public.
Hunza Group managing director Datuk Khor Siang Gin shared how the company's early undertakings like Alila Homes and Marina Bay have since led to high-end award-winning projects like Infinity Beachfront Supercondominium, Gurney Paragon Mall, Alila2, as well as the ongoing Bandar Putra Bertam and flagship Penang International Commercial City (PICC).
"All of these achievements can be credited to the wisdom and vision of our founder, who is also my dear father.
"As he celebrates this important moment in his life, I pledge to continue his legacy in delivering excellence.
"He built the company with strong fundamentals that allow us, the next generation, to stride forward with confidence."
Executive director and the dinner's organising chairman Khor Tze Ming expressed similar sentiments about the founder.
"He is the man who made everything in Hunza possible.
"A philanthropic entrepreneur who walks his talk and is generous in sharing life wisdom while being a caring father who's devoted to ensuring a better future for his family."
The night ended with a cake-cutting and toast ceremony, long-service awards for Hunza staff and a surprise performance by Teng Tong who sang Heaven on Earth.
Subscribe now to our Premium Plan for an ad-free and unlimited reading experience!