Taman Maluri residents in Kuala Lumpur want a squatter settlement next to their neighbourhood relocated for health and safety reasons.
They claim that rampant open burning occurs at the site, which is located along the border of Taman Maluri and Pandan Jaya in Selangor.
They highlighted that the illegal act of open burning there was even more dangerous because the settlement sat directly under high-voltage transmission cables.
Residents complained that open burning had been taking place at night as they could see smoke billowing from the site.
An acrid smell would then follow and last until the next morning, they said.
Open burning, the residents said, had been occurring at the site the last couple of years.
Long-time resident Frankie Chong, 60, said such activity was making people in the neighbourhood feel uneasy.
"The open burning is polluting the air.
"Many senior citizens in the area enjoy walking and exercising at a small park that is situated between the neighbourhood and the squatter settlement.
"But many would cancel their activities at the park for the day if the acrid smell was detected there, as they feared it could be a health hazard," he said.
Choong has placed a barrier to prevent people from parking in front of his house and blocking his entrance.
According to residents, the squatters are also causing parking problems in the area, especially for folk living in Jalan Pria 2.
Residents on this street complained that the road would often be blocked by vehicles, particularly when an event was taking place at the settlement.
Bearing the brunt of this problem is Peter Choong, 53, who bought the corner-lot house in 2020 as it was next to a deadend.
His home, as it turns out, is closest to the settlement's entrance.
A small road links Jalan Pria 2 to the squatter settlement, which has been there for more than 40 years.
He said vehicles belonging to the squatters and their visitors were often parked in front of his house, blocking the entrance to his home.
"This neighbourhood is a beautiful place to raise a family.
"My mother and wife love the park, which is why I bought the house.
"I did some renovation work in 2020 and that was when my trouble with the squatters started," said Choong.
Sometimes, he was unable to enter or exit his house as a vehicle was blocking his gate, he said.
"There have been many altercations with squatters over this.
"They often ask me to wait for their event to be over, which I find is an unreasonable request.
"There is also an empty space outside my house where I am not allowed to park because a squatter claims that they have been parking their vehicles there for a long time and so, I had no right to the space," he said.
Chong says many park-goers are concerned about the bad smell and smoke from the open burning activities at the squatter area.
Choong said these problems had delayed the move-in process for his family.
Perturbed by the issue, the father of two took steps to prevent those going to the squatter area from blocking his entrance.
He built a brick barrier outside his house and parked his old car near the gate permanently.
"I am also rearing a dog in my compound to show that the house is occupied," he said.
He also suspected that drug activities were taking place at the squatter area.
"In 2020, I helped the police catch a drug addict who was escaping from the squatter settlement.
"Several days after that incident, my house was broken into three nights in a row.
"Since my house was under renovation at the time, only renovation tools and equipment were stolen," he said.
Choong said that despite servicing a bank loan for the last three years, he had yet to move into the house.
"I plan to move in this year but I am thinking about taking security measures before my family settles into the place," he added.
A narrow road that leads to a squatter settlement from Jalan Pria 2.
Relocation in the works
The squatter settlement in Pandan Jaya will not be demolished until a suitable relocation site has been finalised, said Ampang Jaya Municipal Council (MPAJ).
Council president Dr Ani Ahmad said MPAJ was aware of the situation and had carried out a census in 2020 to determine the number of households.
The census found that 158 households were at the site.
However, MPAJ would hold off demolition until relocation was finalised.
"It will take time as we need to find a replacement site or offer units under Rumah Selangorku, for example.
"We cannot make rash decisions and need to fine-tune plans so that it does not result in more problems.
"We need to take this issue to the state authorities before making any decisions," she said after a MPAJ full board meeting.
Ani added that MPAJ had found a possible location but the local council was still in discussion with the state on its suitability.
In a media statement, MPAJ explained that the squatter settlement was one of the few that failed to be relocated by the Selangor government during the zero-squatter campaign.
It also said the land was under Tenaga Nasional Bhd's (TNB) rentice and Hulu Langat Land and Mines Office's (PDTHL) jurisdiction.
MPAJ, it added, had conducted a series of joint operations with PDTHL and TNB.
Many residents enjoy going to the Taman Maluri neighbourhood park. — Photos: YAP CHEE HONG/The Star
Several notices were issued to the squatters for encroachment on government land and construction of structures without approval.
A number of demolition operations on new structures were also conducted during enforcement action, which were preliminary measures taken to solve the squatter relocation matter permanently.
The statement also clarified that it was aware of the nuisance caused by the squatters, including complaints on open burning activities.
MPAJ enforcement officers, it said, had been taking periodic action to stop open burning there.
The council was also monitoring the site based on complaints and demolishing any new structures on site.
In 2021, MPAJ said TNB built a 300m wall separating the squatter settlement from the residential neighbourhood to reduce social disturbances.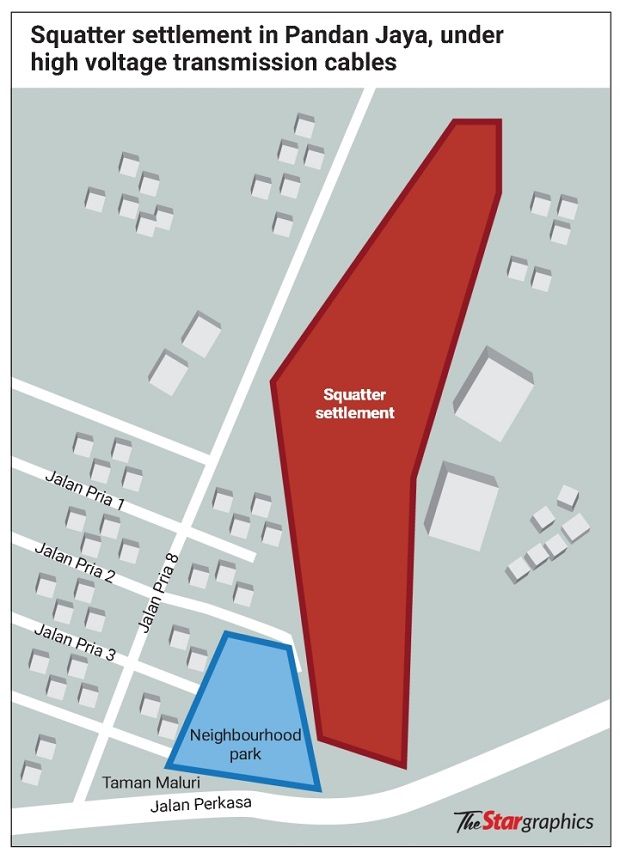 However, the wall could not prevent other problems from cropping up.
When contacted, TNB, in a media statement, said the company did not allow any building of permanent structures or the establishment of squatter settlements under its right of way (RoW) or rentice.
"Since the rentice area in Pandan Jaya is owned by the government, the national electric utility corporation has been working closely with the local authorities for holistic enforcement to curb such activities.
"In addition, TNB conducts regular or scheduled patrolling in the area to prevent prohibited activities in its rentice.
"In cases where unauthorised activities are detected, TNB issues stop-work notices to those involved to ensure the safety of the public.
"The public is advised not to engage in any activities within its RoW, unless with TNB's prior written approval and by strict adherence to several stipulated conditions," it said.
TNB also said the risk for engaging in activities without TNB's approval include loss of lives, damage to TNB's equipment, and disruption to the national grid system's power supply.
"Any unauthorised activities within TNB's RoW may result in legal action being taken under the Electricity Supply Act 1990 (Amendment 2015), Section 37(12)(a)," added TNB.
Subscribe now to our Premium Plan for an ad-free and unlimited reading experience!