Tiga
No.27, Jalan Bijeh Timah, Ipoh
Business hours: 6pm to 1am on Tuesdays, Thursdays and Sundays; 6pm to 2am on Fridays and Saturdays.
Reservations: 019-396 1931
Buttery and I Know It – Tiga Bar
The bar was set up as a cosy place for close friends and acquaintances to meet.
The decor was inspired by the 1950s bar scene, where locals would socialise over drinks while listening to jazzy tunes.
Signature cocktails here include Market Club – a classic twist of Clover Club cocktail – made from pandan-infused gin, gula Melaka, Framboise liqueur, lemon and egg white.
Those with a sweet tooth can try local dessert-inspired cocktails such as Clarified ABC comprising gin, hazelnut liqueur, rose water, corn milk, grass jelly and red bean while those with a taste for creamy cocktails can delight in Buttery and I Know It – creamy, hot peanut butter foam tops a whiskey sour twist with raspberry liqueur, bourbon, maple syrup and lemon.
The bar is expected to relocate on July 1 to No.44, Jalan Sultan Iskandar.
Huang Jin Chu Bei at Caina Bank.
Caina Bank
No.60B, Jalan Bandar Timah, Ipoh
Business hours: 6pm until 12.30am
Reservations: 014-944 7287
Combining both Chinese and Western influences in its interior, Caina Bank is decorated with red lanterns, and uses drums and safe boxes for tables and seats.
Its choice of furnishing lends insight into the bar's name.
Coined using a combination of East and West, "Caina" refers to Chinese or Chinese culture while the word "bank" points to the Western culture.
A signature cocktail is 5000 BC, a concoction comprising Ipoh's famous white coffee, whiskey and white chocolate liqueur offering a balanced taste of coffee and chocolate.
Guests also can try cocktails such as Cai Na Yin Hao – a tea cocktail with gin, lemon and hibiscus, or 60 Hao Dang Pu that's tangy and made with gin, yuzu and umeshu.
Most drinks on the menu go by their Mandarin names.
Imported drinks at Kikilalat.
Kikilalat
No.27, Jalan Bijeh Timah, Ipoh
Business hours: 6pm to 1am Sunday to Thursday, 6pm to 2am on Fridays and Saturdays
Reservations: 019-396 1931
This is Ipoh's first craft beer bar serving imported beer and local brews such as tuak and toddy.
It borrows the name Kikilala from a well-known children's clothing brand.
"Kiki" is also slang in the US for "let's drink, gather and gossip" while lalat (Malay for "fly") refers to a barfly.
The bestsellers are namely Fizzy Todi, which is palm wine, and Don't Kakajiaojiao (meaning "do not disturb"), a tuak cocktail. Yuzu beer and Salt and Lime, a hard seltzer, are also popular.
Imported beers from Taiwan, China and Japan, lagers and Indian Pale Ale are sold here too.
There is also a fun matchmaking notice board at the back of the bar where visitors can write their contact details.
Thrift Store Hipster at Atas.
Atas
No.37A, Jalan Theatre Taman Jubilee, Ipoh
Business hours: 6pm to 1am daily except Tuesdays
Reservations: (Required) 012-778 7365
With its warm and dark palette, this speakeasy is where velvet meets satin.
Atas aims to appeal to industrial magnates and young upmarket Ipoh trend-setters. Mixologists deliver seasonal menus that change every six months.
Locally sourced ingredients are paired with house-made syrups and bitters on a variety of alcohol bases such as gin, whiskey, rum and even mezcal.
Its signature cocktail, Thrift Store Hipster is a concoction of Tequila Blanco, hazelnut liqueur, pineapple juice, homemade spearmint syrup and lime juice.
Another signature is the White Rajah, a concoction of vodka, tuak, ginger syrup, lime juice, lager and nutmeg.
Patrons are put to a test to find the bar's mysterious entrance.Bars to take in scenic views.
Lumi's interior is illuminated with neon lights.
Lumi Cocktail Bar
D-1-7, Soho Ipoh 2, Jalan Sultan Idris Shah, Ipoh
Business hours: 5.30pm to midnight daily, except Sundays
Reservations: 010-2753226
Lumi aspires to be a glowing beacon among cocktail bars in Ipoh.
The bar has a great view of the famous Ipoh landmark – the Sultan Yussuf roundabout, which Ipoh folks fondly call "the Luminous Cup" and that inspired the bar's name.
A neon cocktail sign marks the entrance.
Rojak Feeling at Lumi.
The hidden cocktail space, with velvet drapery and neon lighting, is a suitable location for conversations over classic cocktails with a modern flair.
Its cocktail menu is centred on '80s disco-era drinks that are updated with cheeky names.
Signature drinks include the spirit-forward Rojak Feeling, which is a sesame-washed rum, jackfruit-infused whiskey, sweet vermouth and Campari.
Beet The Nibs is a mix of cacao nib-infused whiskey, beetroot-spiced honey syrup, lemon juice, smoked whiskey and port wine.
Expect old school funk, acid jazz or French house music to accompany the night.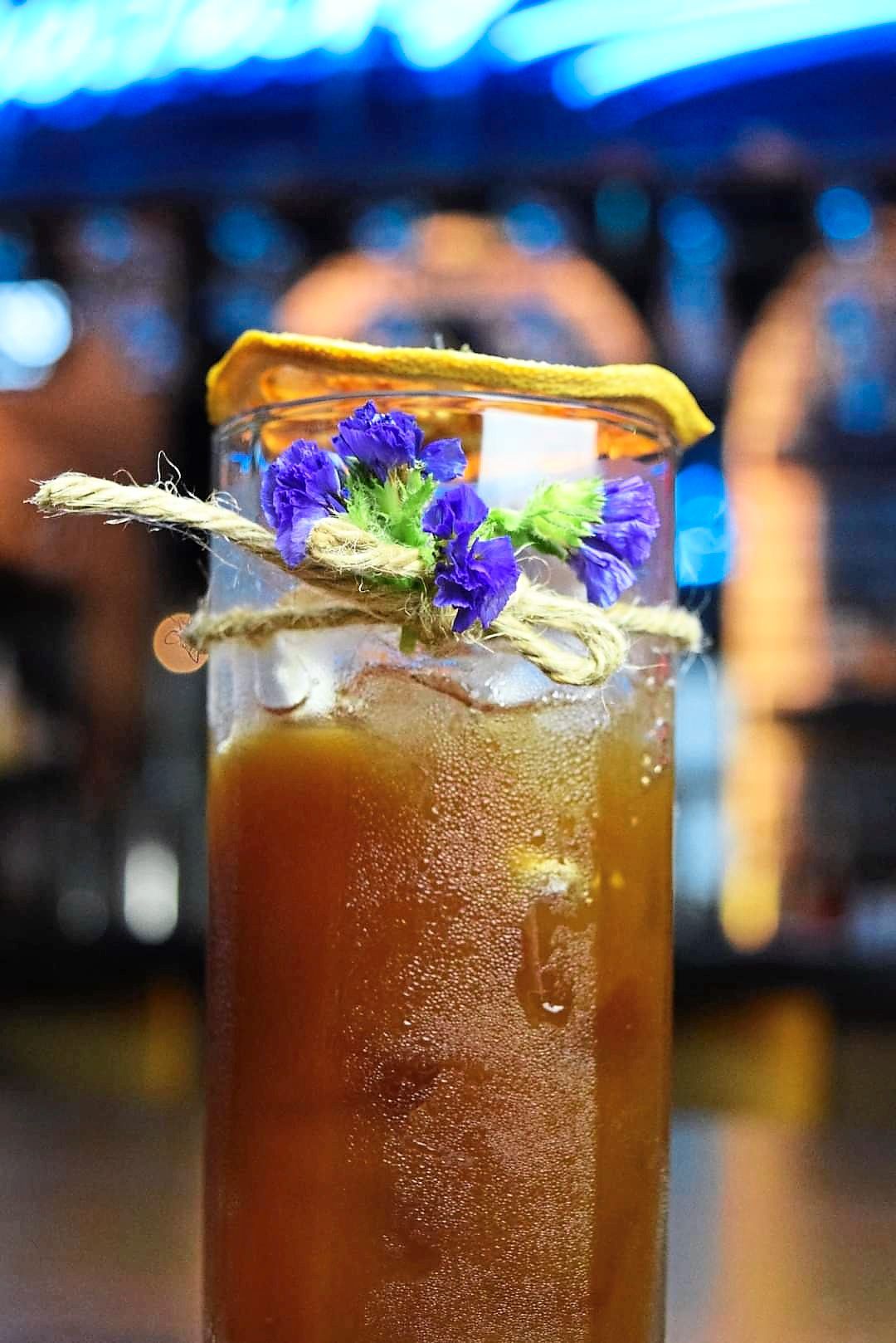 Johnnie Walker Dynasty Ming at The Deck.
The Deck
Weil Hotel
Jalan Sultan Idris Shah, Ipoh
Business hours: 4pm to midnight, Monday to Saturday
Reservations: 019 5228290
This rooftop gastro bar with an outdoor cabana by the infinity pool offers an unparalleled view of the Ipoh city skyline and its picturesque limestone hills.
Aside from the wide variety of dining options, the bar's creative cocktails give guests lots for cheer.
For this month, three signature cocktails are crafted with the Johnnie Walker Black Label Whiskey.
Try the Johnnie Walker Adiamo Bananas that combines whiskey, banana, bitters and brown sugar.
The Johnnie Walker whiskey sour pays tribute to the traditional cocktail but adds a spin: it's a combination of whiskey, Aperol, sugar syrup and fresh lime.
The more spirit-forward Johnnie Walker Dynasty Ming infuses whiskey with Liu Bou Chinese tea and is mixed with apricot, sweet sake and grapefruit juice.
There are also plenty of Asian-Western fusion foods to accompany your drinks.
Subscribe now to our Premium Plan for an ad-free and unlimited reading experience!