Traders relocated to new shoplots in Taman Desa Mutiara PPR say building lacks water supply, electricity
PETTY traders affected by a relocation exercise in Johor Baru are pleading for a bigger space to run their food business.
The traders at Taman Desa Mutiara people's housing project (PPR) are required to relocate to single-storey shoplots built by Johor government.
ALSO READ: State govt to set up food court for Taman Desa Mutiara PPR traders
The illegal roadside stalls the 20 traders operated from earlier along Jalan Desa Mutiara were demolished on May 20.
They have yet to start operating from the new premises due to several issues.
Called Gerai PPR Desa Mutiara, the 40 new shopslots were built seven years ago opposite the road where the earlier stalls were located.
Space constraints: Maimunah Othman, 57, setting up her stall after relocating to Gerai PPR Desa Mutiara. — Photos: THOMAS YONG/The Star
However, due to the small size of the new shoplots, the traders refused to relocate then.
Now with their illegal stalls demolished, they are in a quandary.
Desa Mutiara Petty Traders and SME Association chief Sazali Ahmad told StarMetro that he had been running his food business for 15 years at the site prior to the demolition.
"The new lots are just 3.04m by 3.04m compared to our earlier stalls that were 6.09m by 9.14m in size.
An excavator clearing up rubble after the demolition of illegal stalls once occupied by the traders at Taman Desa Mutiara PPR in Johor Baru.
"Rental is RM150 a month. We cannot fit even one table inside these shoplots for customers," he added.
The 63-year-old said the major problem right now was with the Johor Housing Development Corporation (PKPJ), which had promised to provide them with basic amenities once the traders relocated.
"I admit that our previous stalls were built illegally, and we all had whole-heartedly accepted that they would be torn down on May 20.
"But where are the amenities promised to us? The toilet does not even have a water tank and the lots do not have electricity or water.
"They even promised to remove the demolition debris within a week, but until today the rubble is still there," said a visibly upset Sazali.
The 20 traders who are members of the association have now lost their main source of income, he stressed.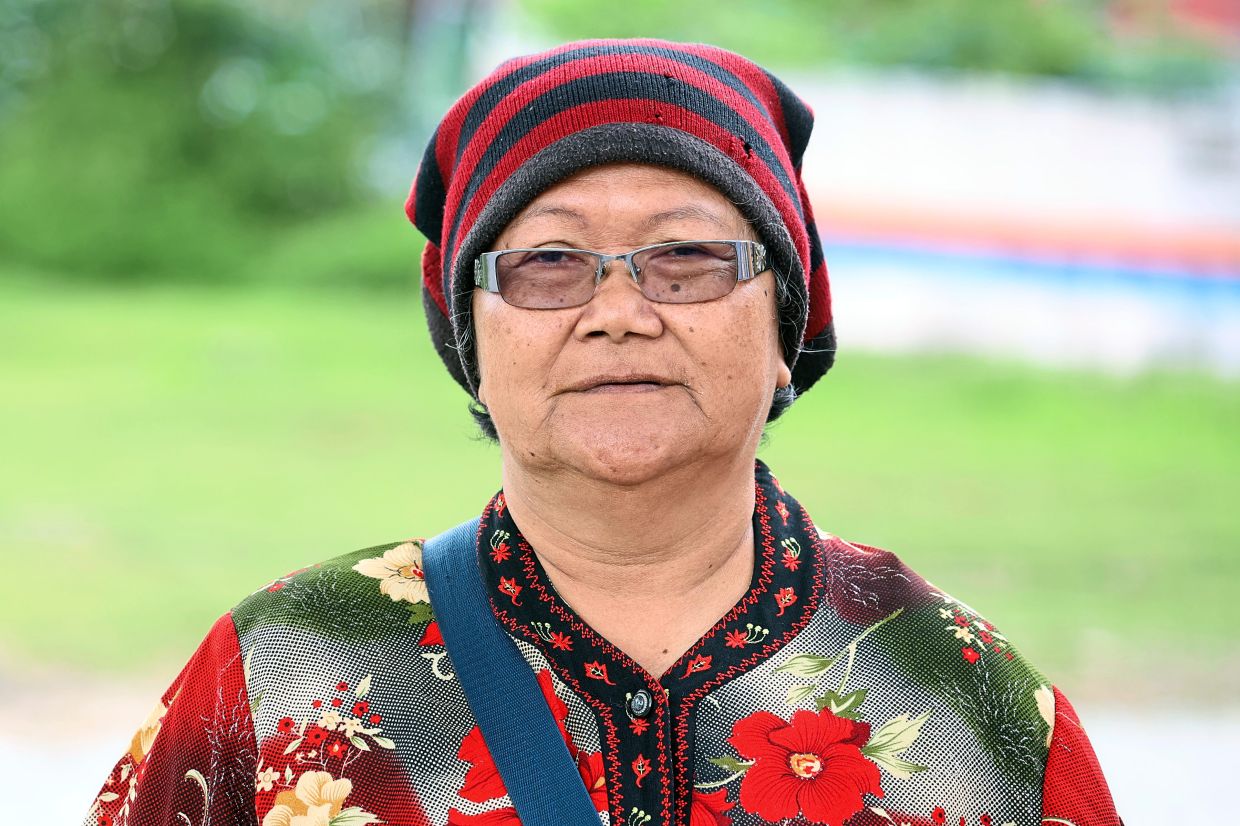 Maimunah worries she will be unable to service her weekly loan premium payment.
One of them is 57-year-old Maimunah Othman, who is worried about repaying her weekly loan to Amanah Ikhtiar Malaysia (AIM).
"I need to pay around RM400 per week, but now I am unable to do so because I cannot operate my eatery without water and electricity supplies.
"They (the authorities) should have ensured that the premises they directed us to, is fully equipped and functioning so that we can continue our business immediately," she said.
Maimunah said the traders, who were mostly already in their 50s or older, had no means to continue earning a living.
She said they were not well-off and that the income from their business was only sufficient to support themselves.
The mother of four wants PKPJ to provide water and electricity at the permanent stalls.
Gerai PPR Desa Mutiara was left abandoned after it was built seven years ago. The traders are now required to relocate here.
Maziah Mohd Hassan, 48, raised concerns about the lack of space separating each lot therefore posing a fire hazard.
"We are only separated by a thin wall. In case of a fire, all the shops would be destroyed," she worried.
She said the cramped space would also make it difficult for customers to move about.
She also said that their kitchen utensils had to be left outside the shop due to lack of space, and the stall operators fear the items could be stolen.
Mohd Baharani was glad friends helped to salvage his belongings before his stall was demolished when he was away in Kelantan.
"I have to set up the tables and chairs outside to make way for my refrigerator and stove," she added.
Another trader, Hamzah Alias, 64, said the lots were designed without any care for the vendors.
"If you look at the first 16 shops, eight of them are facing the road, while another eight are facing the surau at the back.
"How can the traders at the back do business if people cannot even see them?
The rubble after the demolition of illegal stalls at the PPR.
"Some traders are selling their goods online, which is why their shops are empty, while some are overloaded with furniture and kitchenware.
"PKPJ officers should have met with the traders for feedback before handing them the keys," he said.
Hamzah said there should be a re-evaluation process to prioritise the 20 traders who were relocated.
The Gerai PPR Desa Mutiara built by PKPJ, which the traders say has no water supply and electricity.
He said all the problems could have been avoided if the association had taken the proactive action of renting the land from the state and building the lots according to the traders' needs.
"We could have operated from cabins, and the association could charge RM500 per month as rental fee and pay it to PKPJ. Everyone would be happy," he said.
As for Mohd Baharani Yaacob, 49, the day his stall was demolished was extra significant because his father died on the same day.
"I had to rush back to Kelantan when my father passed away. I received news from association members that my stall was going to be demolished.
"Luckily, some of them helped to salvage my things," he said, calling for PKPJ to be fair to them.
Subscribe now to our Premium Plan for an ad-free and unlimited reading experience!