Directing can be a daunting task; imagine, then, what it's like when your first movie stars Angelina Jolie. 
Maleficent is Robert Stromberg's first directing job.
He's never had the opportunity to helm a theatrical work, but he comes to the job with plenty of experience having been the production designer on the visual-effects heavy Avatar, Tim Burton's Alice In Wonderland and Sam Raimi's Oz: The Great And Powerful. His work in Avatar and Wonderland earned him Academy Award wins for Best Art Direction.
Stromberg talks about the ups and downs of finally being the man in charge.
What surprised you most about directing?
To be honest with you, as boring as it sounds, nothing. I mean I feel like I've been ready to do this for a long time and it was really a matter of getting the opportunity. I don't mean it to sound the way it does, but I looked at this film and going into it with excitement not fear. The world itself was the least of the excitement going in.
It was really about that I finally get to play with all of the toys. I finally get to emotionally attach and work with actors. And that was really the one thing I was really looking forward to and then tying that together with the thing I already know, which is creating the world.
How much work did you have to do with Angelina Jolie for her to find the character?
The pleasant thing that I discovered was that she brought this emotional depth to it, and such a deep understanding of what the character should be, and then she brought that to the sort of visual thing and it became all of a sudden this really powerful explosion, it just felt like something special.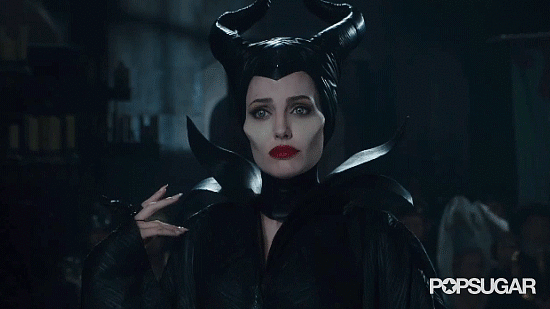 What was Jolie's approach to playing the character?
She wanted to have fun with this character. It wasn't just tragic and bad. It was really important to be playful with the evilness. So that was part of the interesting thing to her and it's also a healing point in her where she's discovering fun again on her way back to discovering what love is again.
How concerned were you with how intense the film could be?
I entered into this wanting to make a film I could take my own
seven-year-old daughter to see. There will be arguments about what is too dark for some and others.
Some kids are probably more mature than others. It's a delicate line. What I wanted to do was to make a film that families could come to. It's a terribly hard line to walk and keep interesting especially in the days of video games and everything else. Kids kind of expect fast-moving excitement.
There's no gratuitous anything. But, if you look back on the classic Disney films there are some dark moments in dealing with death. They just happen to be cartoons. The fact we are dealing with realistic things could heighten that because it feels more real. At the same time, people are more adapted to these things these days.
What do you want moviegoers to get from your movie?
If you were to boil down this version of Sleeping Beauty, what it really is is a search for the truth about love. What is true love? I think you walk away saying that maybe love isn't that 16-year-old boyfriend that I think love is.
Maybe I'm looking in the wrong place. Maybe it's the person I'm not being nice to. Maybe it's a parent. I want people to examine their own life, who they love and what they think true love is. – The Fresno Bee/McClatchy-Tribune Information Services
Maleficent is in cinemas now.