Four people with disabilities have put Malaysia on the world map after clinching five medals at the 10th International Abilympics held in Metz, France from March 23-24 recently.
The International Abilympics is a skills-based competition for Persons with Disabilities (PWDs) from different countries. There were a total of 16 participants from Malaysia at the competition.
The Malaysian contingent participated in 14 out of the 45 categories, including floral arrangement, painting, embroidery, cooking and photography. There were 420 contestants from 22 countries, including Australia, Japan and Finland.
The word "Abilympics" originates from the phrase "Olympics of Abilities" to showcase the potential capabilities of PWDs and encourage an increase in employment opportunities.
Anis is living proof that people with disabilities have a chance to excel to earn a living and live independently.
Muhammad Hanif Naufal Mohd Mazni, 22, who has a learning disability, walked away with a bronze medal and an excellence award in the restaurant service category.
Deaf artist Nur Amiratul Farahin Ab Rahman, 25, won a silver medal in the painting and waste/reuse category, while deaf baker Wan Muhammad Hafizunif Wan Roslan, 27, clinched a bronze medal in the cake decorating category.
Deaf crafter Anis Humairah Riduwan, 21, took home an excellence award in the embroidery category.
These individuals are living proof that people with disabilities have talent and potential and can achieve great things with the proper training and support. They have shown that a disability is not a limitation but a challenge that can be overcome with determination and hard work.
'I feel proud that I have showcased my talents to the world,' says Wan Muhamad Hafizunif.
Nur Amiratul dedicates her medal to her family, friends and Malaysia.
"I am very proud and honoured to have won second place in this competition. This medal goes out to everyone, and most importantly, it is a win for our country. Everyone with disabilities has the potential to succeed and prove their talent.
"However, people with special needs require constant effort. My advise to them is to never give up easily nor lose hope," said the freelance artist in an email interview recently.
Her winning artwork, The Anger of Mother Earth, stole the judges' hearts because it touched on environmental issues like pollution, deforestation and global warming.
"I want to convey an important message regarding global pollution. In my artwork, I described Mother Earth's rage towards pollution. Colours like orange and red were used to represent anger and danger. In addition, garbage and plastic elements were incorporated into the artwork to indicate the burden and pressure borne by our planet.
"This was the first time I used waste material as a medium in my paintings. Using these materials was a challenge as I am a painter, not a collage artist. To perfect my skills, I practised for months using many types of waste materials and different techniques," said the artist from Kota Tinggi, Johor.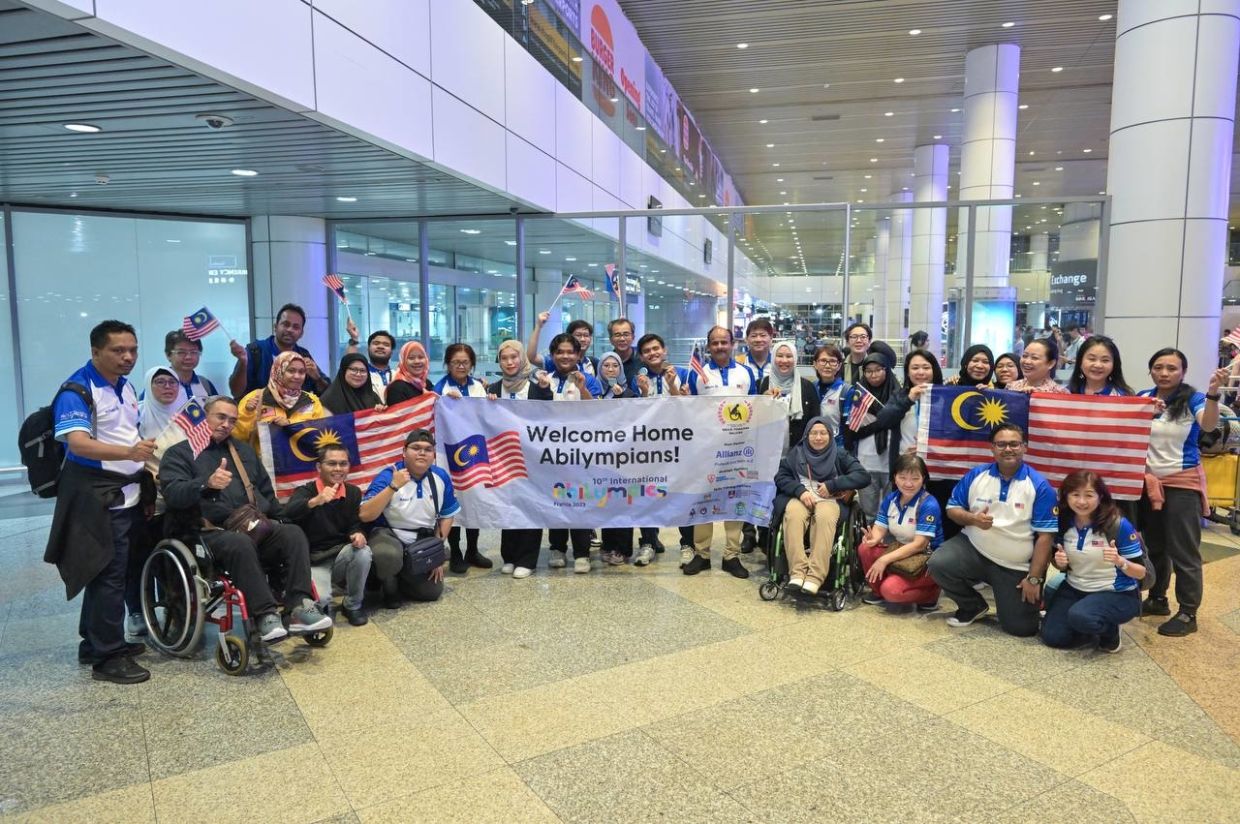 The delegation comprising talented PWDs received a warm welcome on March 29 upon their return from the competition held in France.
To prepare for the competition, she underwent intensive art training at Pasir Gudang's Ibrahim Sultan Polytechnic.
Nur Amiratul also won first place in the painting category at the Malaysian Council for Rehabilitation's (MCR) Abilympics Malaysia competition in 2018.
The competition was put on hold for a few years due to the pandemic. MCR is the coordinating body responsible for organising the national skills competition for PWDs.
Wan Muhamad Hafizunif is also thrilled with his win, stating he had never expected to walk away with the bronze medal in the cake decorating competition. The graduate from Politeknik Tuanku Syed Sirajuddin in Perlis created a stunning five-tier cake inspired by James Cameron's sci-fi fantasy movie Avatar.
"Praise God. This is the first time I have participated in an international event. I feel proud that I have showcased my talents to the world."
His success at the Abilympics serves as an inspiration to others with disabilities. It also reminds them that they can achieve their dreams if given the right opportunities and support.
"It is important for deaf people to work towards their dreams. Patience and commitment are vital in attaining success," said Wan Muhamad Hafizunif, who runs a bakery in Padang Besar, Perlis.
Subscribe now to our Premium Plan for an ad-free and unlimited reading experience!