When T. Sim does his regular brisk walks around Zaaba Park in Taman Tun Dr Ismail, Kuala Lumpur, his eyes will be scanning the ground for something others may not even take a second look at – stinking toe fruits.
Produced by West Indian Locust trees, the fruits are actually brown seed pods shaped like a toe. When the outer shell is cracked open, there is a foul smell emitted, much like stinky feet, hence its name.
However, inside the shell is a sweet powdery pulp that Jamaicans like to use to make juices and bread.
But Sim isn't interested in preparing blended drinks from the pulp. Instead, the architect paints the pods and secretly installs them on trees all around the park as part of his effort to enliven the green space.
Sim prefers to remain anonymous as he installs his handpainted stinking toe pods in the park.
"I enjoy painting the pods because it's fun. Plus, it allows me to tap into my creative streak. I'm also trying to brighten up the park with these creative installations," explains Sim during a chat at the park recently.
Based on the natural shape of each pod that he comes across, Sim transforms them into various designs including animals and tribal motifs.
A few are inspired by the characters from the video game Angry Birds while there is another that mimics the guards in the South Korean dystopian TV series, Squid Game.
This creation is inspired by the henchmen in the South Korean TV series, 'Squid Game'.There are some that somewhat resemble Indian spiritual guru Sadhguru too.
The eye-catching designs can be found along the pathways in the park. Some are perched on tree branches while others are placed in secret locations. It's like a treasure hunt to find the pods as Sim hides them in tree hollows and crevices.
The characters have unique names too, like Mr Yam Seng, The Three Sisters and Kama Kamaleon.
"Ms Sweet Eyes has beautiful eyes while Mr Antler Floss has dental floss as antler replacements. Mr Camo was deliberately painted to resemble lichens on a tree trunk," explains the friendly crafter.
Ms Sweet Eyes has mesmerising eyes.
Sim, who is in his 50s, adds that his profession requires him to be well versed in drawing and designing, which has helped him in his creative pursuit.
"When I look at a pod, I must be inspired by it. It just takes a bit of imagination to create different characters for each pod.
"From one angle, a stinking toe pod can be painted into a bird. And if you turn it around, it can be painted to resemble a mango. Essentially, it boils down to giving new life to them," he shares.
Doing his part
A father of four, Sim has been placing the installations in the park since 2020. It all started during the movement control order when he used to accompany his mother for walks around the park.
Along the way, he noticed hundreds of stinking toe pods scattered on the ground and thought of doing something with them.
In the past two years, he's taken hundreds of pods home and decorated them using acrylic paint. It takes him between five minutes and an hour to paint each pod.
Sim's tools include paint, brushes, an electric drill, glue gun, and jig saw, which are stored in several boxes.
Colourful painted stinking toe seeds left to dry.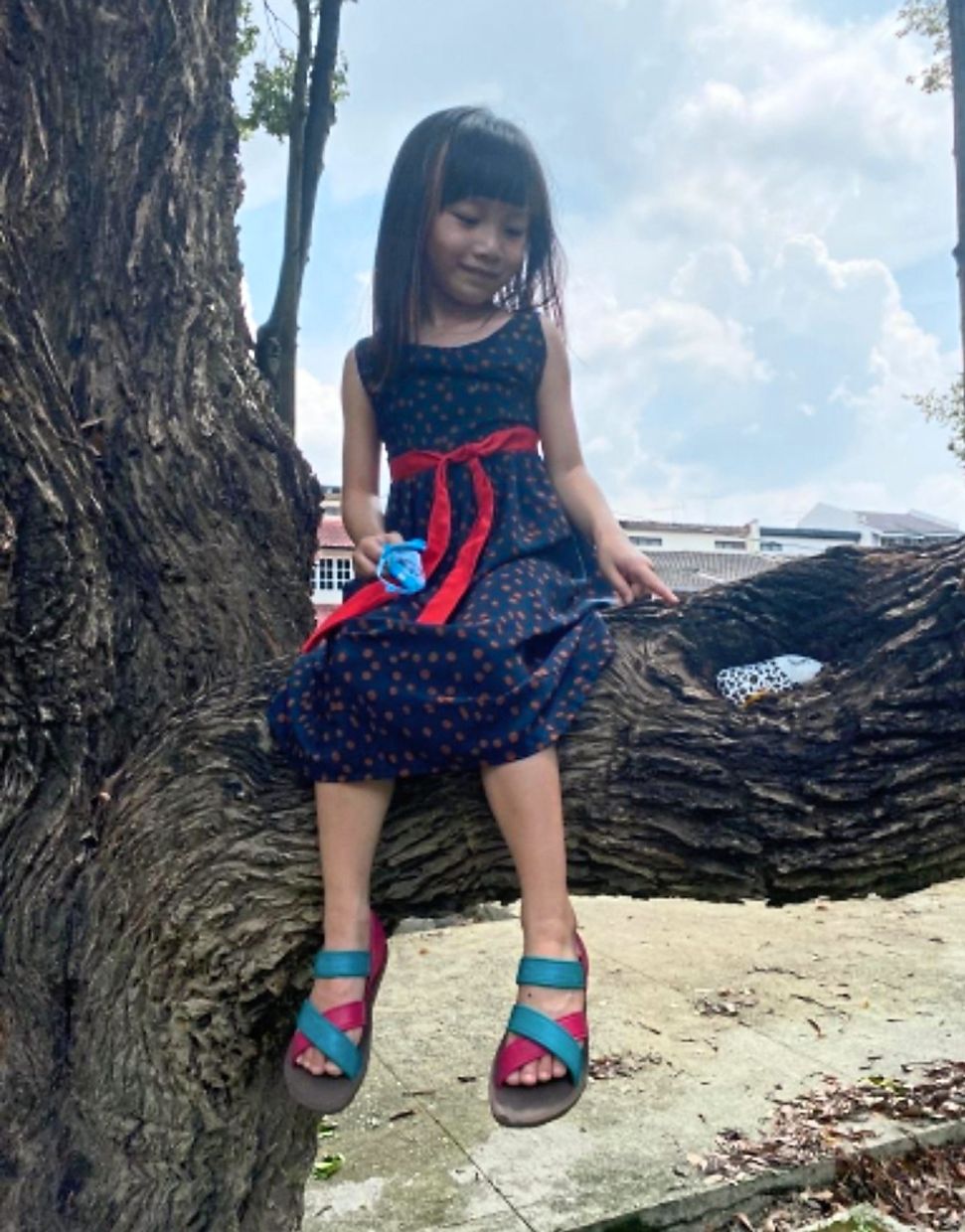 Cara with one of her father's handpainted creations which is nestled within a branch.Usually, his youngest daughter Cara, six, keeps him company while he engages in his artwork.
"Cara is my ardent supporter (laughs). She loves to colour the pods with chalk markers. I'm happy because by painting these pods, Cara can further explore her creativity," says Sim, who turns to social media platforms like Instagram, Pinterest and TikTok for inspiration.
Often, he adds a playful touch to the pods, sticking buttons and tea candles as eyes. Twigs and wire strips double up as legs, while used bottle caps, coffee pods and soap pump dispensers serve as hats for other creations.
Using such items is part of Sim's upcycling efforts.
Here, push pins are used for the character's eyes.
"I use whatever I have at home. Sometimes, push pins are used for the characters' eyes. One of my creations has 'hair', which is made from strings taken from face masks," he says.
Sim points to one of his works, a pod painted blue with two scallop shells stuck on it.
"These shells are leftovers from my dinner," he explains, adding that he uses epoxy clay to shape the eyes and mouth because the material is waterproof and long lasting.
To date, Sim has installed over 100 painted pods all around the park, which is just five minutes away from his home. Some are tucked in tree hollows, while others are nailed onto tree branches and tree barks.
A used bottle cap serves as a hat for this colourful character.
"Many of my handpainted pods, especially those placed in tree hollows, have gone missing. Thankfully, those nailed to trees haven't been stolen... yet. In total, there are only about 60 of my creations left in the park," says Sim.
However, he isn't upset that many of his creations are lost. Whenever one goes missing, he replaces it with a new one, silently praying they will remain.
"With these installations, the park is much more vibrant and interesting for young kids.
Many parents have thanked me for the installations on Instagram (stinkytoe.ttdi), saying their children love my painted pods. It's nice being acknowledged for my work," shares Sim, who also makes pen holders and fridge magnets from the pods, having given away hundreds as gifts.
His work has inspired others to place their painted stinking toe pods in the park too.
Mr Camo was deliberately painted to resemble lichens on a tree trunk."Judging from the artworks, kids most probably painted the pods. The installations are placed at lower parts of tree hollows because these kids can't reach the higher spots. I am pleasantly surprised to come across other installations."
Sadly, due to weather conditions, the painted pods don't last more than two years.
"Pods in shaded areas last longer than those exposed to the sun, which tend to crack and shatter. The acrylic paint discolours over time too. I always feel sad to pick up my damaged pods and place them to rest along with the others that have retired," says Sim, who has created a "resting ground" in the park for the pods.
But that only spurs him to continue doing what he loves and come up with new designs.
So the next time you are in Taman Tun Dr Ismail, do drop by Zaaba Park and see if you can spot Sim's handcrafted stinking toe pods.
Sim's creative installations add more colour to Taman Zaaba.
Creative installations
---
Subscribe now to our Premium Plan for an ad-free and unlimited reading experience!