A new funding boost for the European Space Agency (ESA) will mean more rocket launches and more damage to the Earth's atmosphere.
But the launch plans of commercial space tourism operators pose a far greater threat, experts warn.
As humankind explores the final frontier, there is clearly "an urgent need to develop environmental regulation to mitigate damage from this rapidly growing industry", says a research team led by Robert Ryan from University College London.
They calculated that three years of space tourism could be enough to double the amount of climate-damaging emissions produced by all scientific space missions put together.
In both categories, however, rockets burning hundreds and thousands of tons of fuel during launch are way worse culprits than planes.
"Rocket launches are routinely compared with greenhouse gas and air pollutant emissions from the aircraft industry, which our work is proving to be wrong," says Ryan's project partner Eloise Marais.
In reality, launches produce harmful nitrogen oxides that disproportionately accelerate the depletion of the ozone layer and global warming.
Simulations showed that soot particles from burned fuel in the stratosphere are about 500 times more effective at heating the Earth than near the ground. Although rockets only make up 0.02% of global soot emissions, they already account for 6% of soot-related global warming.
The scope of scientific flights is still small, even after ESA's 22 contributing states agreed in November to hike its budget by 16.6% to the equivalent of almost US$18bil (RM77.5bil) in 2023-25. The wild card remains the commercial sector looking to open the heavens for private space travellers.
Knud Jahnke from the Max Planck Institute (MPI) for Astronomy in Heidelberg, Germany, gives a blunt assessment: "Such space flights are harmful to the climate and a sheer waste of resources, just because a few rich people have discovered this as a status symbol."
Going forward, it is hoped that all rocket users will be mindful of the adverse effects of the technology.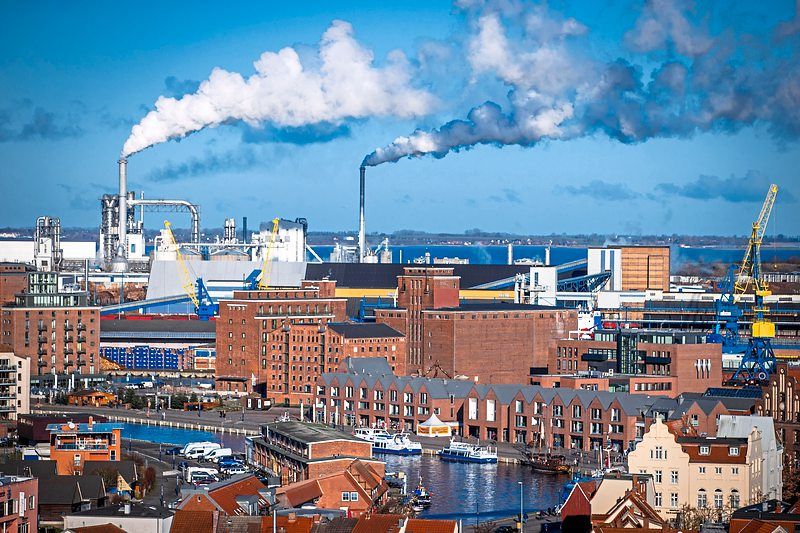 In 2020, some 240,000 people in the European Union died due to the effects of air pollution. Photo: Jens Buttner/dpa
"We hope that commercial ventures like SpaceX, Virgin Galactic and Blue Origin, and their associated engine manufacturers, will take these effects into account in future designs," said researcher Dimitris Drikakis from the University of Nicosia in Cyprus.
He and his colleague Ioannis Kokkinakis took a closer look at the rocket exhaust plume. The effects of the combustion products change significantly depending on the altitude, they reported in the journal Physics Of Fluids.
This is because the chemical composition of the air changes, mainly because the density decreases enormously. At an altitude of 70km, a modern rocket emits as much carbon dioxide (CO2) in a 1km flight segment as there is in 26 cubic km of air at this altitude.
At an altitude of up to 6km, higher air pressure keeps the rocket's exhaust plume condensed and hot. This forms enough nitrogen oxides (nitrogen monoxide and nitrogen dioxides) in the rocket trail to be hazardous to human health.
Meanwhile, there is also increased scrutiny of the carbon footprint of the world's astronomers, or space researchers, as they meet for conferences that often address these pollution and climate issues.
Scientists led by Jurgen Knodlseder from the University of Toulouse, France, estimated the amount of greenhouse gases released into the atmosphere by the activities of astronomers at around 20.3 million tons of CO2 equivalent each year. That's 36.6 tons per person.
If you consider that nature on Earth can only compensate about 2 tons of CO2 per person per year, the astronomy community is currently 18 times that.
MPI researcher Jahnke and his colleagues also determined the CO2 footprint of their institute. For 2018, they came up with a value of 18.1 tons of CO2 equivalent per astronomer. Almost half came from the more than 1,000 official plane flights he and his colleagues completed that year.
"We are a small scientific community and we have to work together internationally," says Jahnke about the high number of flights. However, the coronavirus pandemic has shown that many face-to-face meetings can be replaced by video conferences.
Other major items in the institute's carbon footprint are electricity consumption, especially for calculations on supercomputers, and heating its buildings.
"It's good that we now have these figures, because only what is measured can also be managed," says Jahnke. – dpa
Subscribe now to our Premium Plan for an ad-free and unlimited reading experience!