John Wick: Chapter 4 boasts 14 major action sequences, four times more than the previous films.
In this latest instalment, audiences will see a whole lot of creative camerawork, ingenious use of gorgeous places around the world and some really intense action at iconic locations.
And of course our favourite (anti-)hero John Wick fighting a whole bunch of people in his futile attempt to get back to his retired life.
John Wick's leading man Keanu Reeves, who is also an executive producer of the movie, is responsible for some of those awesome action scenes in the film.
During StarLifestyle's Zoom interview with Reeves, we ask if he and director Chad Stahelski sort of sit around and chat how they can take the action to the next level?
"Yes. It starts with ideas like, for example, I don't know if you saw John Wick: Chapter 3, but there was a knife fight, it started with the idea of Chad saying, 'What would it be like to have a knife fight that's like a snowball fight?'
"I had the idea of like, 'Well, what if John Wick rode a horse, you know?' And so, we start with the idea.
"In John Wick: Chapter 4, we wanted to bring the cars back.
"So then, you know, Chad was like, 'Well, what if we had a gun fight in the middle of the street? And what if it was around the Arc de Triomphe (in Paris)? What if we had this top shot that followed John Wick through these different rooms? What if he had nunchucks?'
"So, it starts with the kernel base of an idea and then it gets expressed."
Not only does the action get bigger in Chapter 4, the scale of the movie does as well with Wick travelling from New York City to Osaka, Paris and Berlin.
Similarly, the production team travelled to Jordan, Japan, Germany and France to film on location.
Did Reeves manage to take in the scenery at all of these beautiful locations around the world?
"Yes. In Paris, certainly. We filmed on the streets of Paris quite often.
"And we filmed in front of Sacre Coeur – if you've been there, you know, it's a wonderful, very iconic church – and the view high up in Paris, and being on the staircase that's next to Sacre Coeur...," says Reeves to StarLifestyle in a Zoom interview.
Some of the iconic locations around Paris seen in the film are the Louvre, the Louis Vuitton Museum, the Trocadero (with a view of the Eiffel Tower), the Sacre Coeur, the 222 stairs at Montmartre, Arc de Triomphe, the St Martin Canal and Metro Porte des Lilas subway station.
Reeves continues: "We were in Jordan, by the desert, by Aqaba. You just look around and you want to pinch yourself.
"You're like, 'I'm making a John Wick movie, and I'm riding a horse in Aqaba,' you know.
"It sounds so exotic and it's like a thing of a dream. And so, for me, I'm filled with gratitude."
Keanu Reeves (left) the star of 'John Wick: Chapter 4', and the film's director Chad Stahelski at the LA premiere. Reeves and Stahelski are wearing blue ribbons in tribute to the late cast member Lance Reddick, who died at age 60. Photo: AP
With close to 40 years of working in showbiz, Reeves has proven again and again he has the star power.
Not only is he endearing on the big screen, Reeves is charming whenever he appears on talk shows and fan conventions.
And those who have worked with him only use positive adjectives like friendly, humble, hardworking, kind and respectful to describe him.
Scott Adkins, who appears in Chapter 4, shares in a making-of video: "He lives up to everything you've heard about him. Obviously, he's just such a nice guy.
"I remember coming to the set one day, and he was doing action all night, you know, and he decides to offer me his seat... That's the kind of guy he is."
His willingness to make fun of himself in films – like comedy Keanu, rom-com Always Be My Maybe and in Zach Galifianakis show Between Two Ferns – and being OK as the subject of hilarious memes on Internet only make fans love him even more.
When we spoke to Reeves in 2011, he said that he loves acting and feels lucky to be able to have a career so far.
"Sure, when we take time to reflect, we'd think, 'how did we get here?'
"When I do, I just think I have been very fortunate that I can continue. I hope I get to make films that I love and I hope to make films that people enjoy," he said then.
At this present interview, we ask him what he's been surprised about his longevity as an actor.
"It's all kind of surprising every day, isn't it?" he starts.
"I mean, we can have expectations, hopes and dreams. And I guess what's surprising is if you have the opportunity to realise any of your hopes and dreams. And in the past, I've been fortunate.
"And so hopefully now I do have, you know, it's always what's next and what can you do and what can you continue to hope and strive for?"
More contemplatively, he adds: "I think the modern world has been surprising; the world has changed so much (in terms of) communications and the technologies.
"But how we make movies and who we are as artistes and people is just us, right? So, every day is a gift."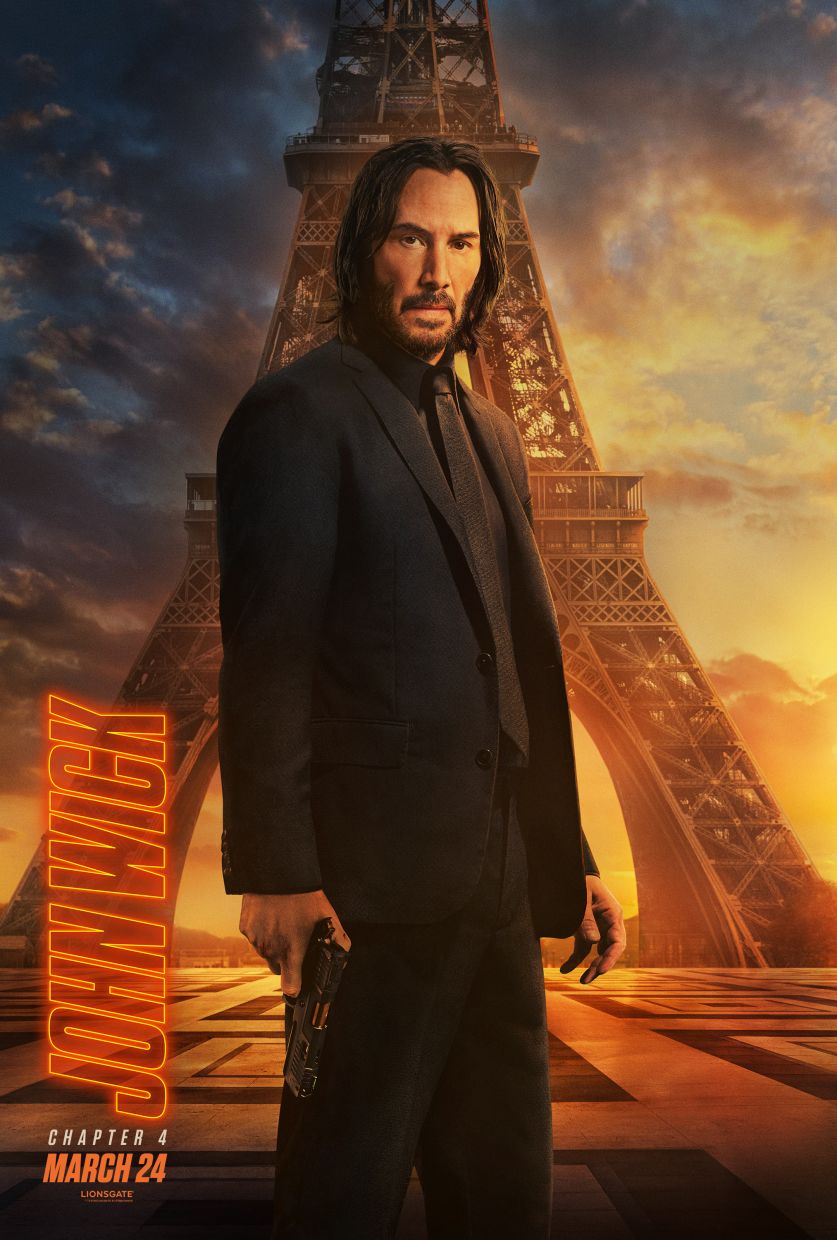 ---
John Wick: Chapter 4 is showing at cinemas nationwide from March 23.
Subscribe now to our Premium Plan for an ad-free and unlimited reading experience!