"These fragments I have shored against my ruins" is one of the more recognised lines from T.S. Eliot's poem The Waste Land.
The line talks about collecting fragments in order to preserve them against the decay of time – which is exactly what audio exhibition A Wasteland Of Malaysian Poetry In English aims to do.
Curated by Brandon K. Liew – a doctoral researcher at the University of Melbourne who lectures about Malaysian history, literature and emerging cultural productions across the Asia-Pacific – the exhibition's title was inspired by the poem, said to be one of the most important poems of the 20th century and an early Modernist influence on Malaysian poets.
A Wasteland Of Malaysian Poetry In English is taking place at Hall 1, Jetty 35, George Town in Penang until Nov 29.
The (free admission) exhibition's third iteration marks its return to our shores, having been held in Melbourne this past October. The exhibition also coincides with George Town Literary Festival 2023.
For the record
"The audio exhibition is really an archival project at heart," says Liew. Since the first iteration at Pentago House in Kampung Attap in Kuala Lumpur last August, he hasn't stopped recording poets or collecting older, out-of-print material from the 1950s up to 2000s.
"I feel the burden only getting heavier; since (poet) Wong Phui Nam's passing a mere few weeks after the exhibition last year, the importance of our recordings together really dawned on me," he adds.
Since then, Liew has archived writers like Lee Kok Liang and Ee Tiang Hong, and even republished their early work, while also finding mentors, supporters and friends along the way, such as Anna Salleh, who has shared her private cassette recordings of her father Salleh Ben Joned with Liew.
A Poets' Roundtable session seen at the first Wasteland exhibition at Pentago House in Kuala Lumpur last August. Photo: Imran Sulaiman
"Chasing literary ghosts leads me to all sorts of strange places. The legacy of Lee Kok Liang, Ee Tiang Hong and Salleh Ben Joned during their time in Australia led me to hold the exhibition in Melbourne, where I found a few of their original texts," says Liew.
"Their encounter with the Australian way of life shaped the way they reflected on being inherently Malaysian – that was rather profound to me. I basically invited all the Malaysian writers in Melbourne to respond to it and to read their own stuff in the same space," he adds.
While the collection of recordings has grown, Liew's vision for the archive/exhibition remains the same.
"I just want Malaysians, particularly writers of my generation, to have access to this wealth of material, these words, this tradition from our writers in English."
"We've seen a burst of interest and activity in the literary scene in the past decade, but it seems that not many are familiar with our writers from before – many who come through are kind of astonished by it. I'm always sad when they ask me for books, because I usually only have one out-of-print copy and nothing more."
Building a community
While the exhibition has garnered some interest overseas, Liew shares that bringing it back to Malaysia has a sense of completeness to it, like coming home after a voyage.
"I started this project to exhibit hard-to-find Malaysian works in English to a wider public. Not just texts that are out-of-print, but a lot of contemporary work that might not be in circulation yet," says Liew.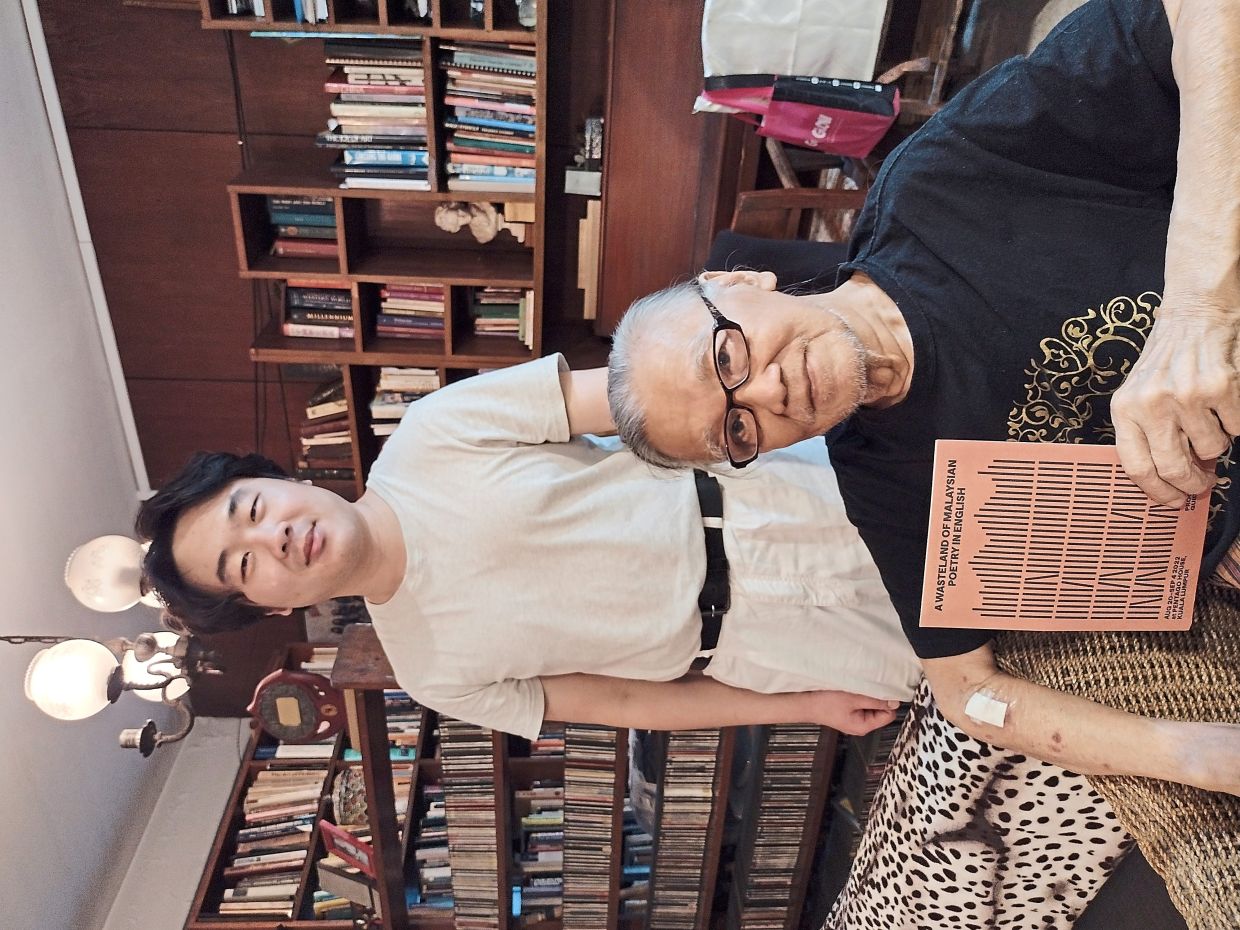 Liew (left) with the late poet Wong Phui Nam, a revered Malaysian literary pioneer who died last September aged 87. Photo: Brandon Liew
For example, earlier this month, he spent some time with writer Shirley Geok-lin Lim, who is based in the United States.
"We recorded a lot of poems from her upcoming collection that is only coming to print in January 2024. I feel very lucky to be able to share this intimate reading with the community, our 'kaki-lang' – Malaysian writers in English."
This literary-meets-archival project has grown in scale since its early days.
"The recordings are only one part of it. The archival project allows me to reach out to different writers from all generations and all walks of life, to engage in conversation with them about their context, writing practices, influences and philosophy. Quite often, we'll spend the whole day chatting and maybe an hour or so recording. This sense of community is central to the process, I'm charting not just the relation of texts to each other, but of the writers themselves," says Liew.
So what can readers expect from the A Wasteland Of Malaysian Poetry In English exhibition in George Town?
"This time, we are exhibiting alongside the George Town Literary Festival, one of the major literary events of the year, and so I expect it to be an especially exciting affair for the bookworms among us. There will be a wide range of Malaysian poetry in English to listen to in the space and a lot of newer recordings from poets who aren't usually accessible," says Liew.
Besides a running gamut of activities ranging from a live reading and open mic to open recording sessions and daily exhibition talks, Penang-based writers Wan Phing Lim and Yee Heng Yeh will be facilitating free hands-on workshops about the importance of "place" in making fiction authentic and how to write dialogue for plays.
You'll also get to listen to original, never-before-heard recordings of poetry from names such as K.S. Maniam, Lee Kok Liang, Malachi Edwin Vethamani, Omar Musa, Muhammad Haji Salleh, Wang Gungwu, Wong Phui Nam and many more.
"Many of my literary friends and authors are stopping by for the open mic sessions, so it would be a good chance to encounter a myriad of different writers and build your own writing community," says Liew.
A Wasteland Of Malaysian Poetry In English will be at Hall 1, Jetty 35, George Town, Penang till Nov 29. Entry is free, but registration is required for workshops.
Subscribe now to our Premium Plan for an ad-free and unlimited reading experience!