MUSIC: VISIONS – MUSIC AND IMAGERY OF THE BAROQUE
Venue: Pentas 2, KLPac
Date: March 24-26
Visions – Music And Imagery Of The Baroque, a classical music concert series presented by Wicked Music People and The KLPac Orchestra, is a confluence of the past and present – baroque music on period and modern instruments in unison with a rich digital tapestry crafted by award-winning creative talent Zen Lin Tan.
With operatic arias of the 17th and 18th centuries sung by veterans Chi Hoe Mak and YiLing Chaing, as well as a diverse selection of instrumental works by Henry Purcell, Michel Corrette and J.S. Bach featuring guest flautist Keiko Nakagawa, Visions reaches into history through the technology of today to present an experience that is unique and immersive.
More info here.
Sutra Foundation's 'Jaya Ram' is a masterful Odissi performance with choreography and music of the highest order. Photo: S. Magendran
DANCE: SUTRA FOUNDATION'S 'JAYA RAM'
Venue: Shantanand Auditorium, Temple of Fine Arts, Brickfields, Kuala Lumpur
Date: March 24 and 25
Jaya Ram, which was Sutra Foundation's major Odissi production in 2022, is back for an encore run at the Temple of Fine Arts this weekend. It premiered in Kuala Lumpur last year.
The production was commissioned to Guru Gajendra Kumar Panda, one of Odisha's leading dance makers and a collaborator of Sutra for the last four decades. It was conceived after several field researches undertaken together with Datuk Ramli Ibrahim, in the culture-rich region of South Odisha in India.
Jaya Ram draws its inspiration from the influences of folk genres both in music and movement, of Rama Natakam and Ram Leela, enriching the present repertoire of Odissi with the myth of Lord Rama, hero of the Ramayana.
In India, the show also opened The Konark Festival (Odisha) and was presented at DIAF (Delhi International Arts Festival) last December and the Khajuraho Dance Festival last month.
Jaya Ram is a also fitting culmination of the Malaysia-India 65th anniversary of diplomatic relations and represents a significant cultural collaboration between the two nations.
More info here.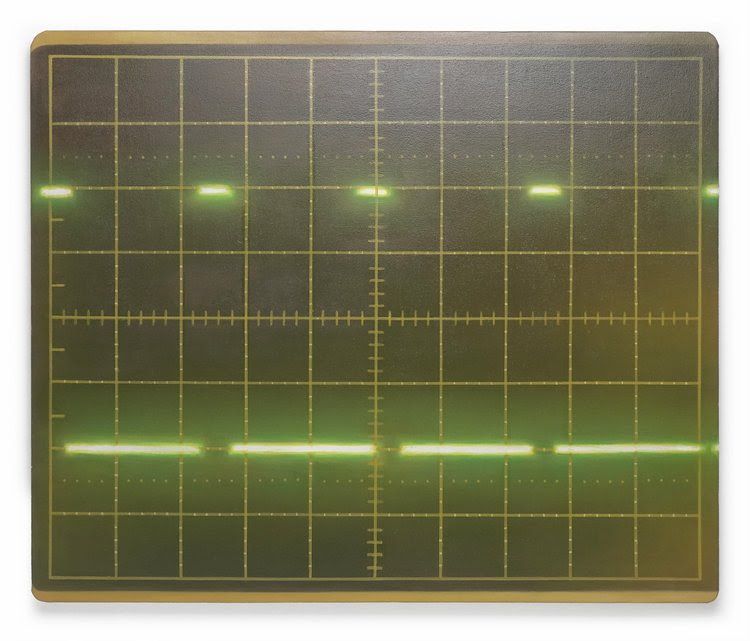 An artwork titled 'Signal From All The Noise' from Gan Siong King, which is part of his 'Pictures Of Things' solo exhibition at the Back Room KL. Photo: Gan Siong King
ART: GAN SIONG KING'S 'PICTURES OF THINGS'
Venue: The Back Room KL, Zhongshan building, KL
Date: ends April 9
The Back Room is showing Pictures Of Things, an exhibition by contemporary artist Gan Siong King of paintings of pictures of things. Consisting of both recent and older works, Pictures of Things is a curious adventure into the meaning and possibilities of painting.
The exhibition consists of several paintings of lines and grids that are renditions of images sourced from the Internet.
The images depict either optical illusions, types of graph paper, or light effects, which the artist has faithfully reproduced as a painting, down to their minute details.
By basing the paintings off images sourced from the Internet instead of a study of the objects in person, the works draw attention to the artificial and removed nature of our modern relationship to images and works of art.
Painting in the 21st-century does not exist on its own, but against a saturation of images thanks to digital media.
The exhibition is accompanied by a text by Gan, edited by Wong Hoy Cheong and titled "A Sequence of Words Describing A Group of Pictures".
More info here.
A tikar artwork by Yee I-Lann and collaborators titled 'Tukad Kad Sequence #7' (2022), which is showing at Ilham Gallery's 'lift the tikar!' exhibition. Photo: Ilham Gallery
ART: LIFT THE TIKAR!
Venue: Ilham Gallery, Kuala Lumpur
Date: ends June 18
Ilham Gallery's new exhibition entitled lift the tikar! features video works, woven sculpture and tikar mats by Sabah-born and based artist Yee I-Lann made in collaboration with weavers, film-makers, dancers, other fellow creative producers and friends. The exhibition is being held on Level 3 of Ilham Gallery.
The exhibition hopes to draw out ways in which the "tikar" in form and concept can act as a medium for thinking about art, power, language and how we shape a society.
Yee's practice as an artist has included work in photomedia, textiles, installation and video. With a particular focus on the South-East Asian region, her works draw on the aesthetics of colonialism, power, gender and shared memory.
More info here.
ART: 'IN HER EYES' GROUP SHOW
Venue: KL East And Melawati Sales Gallery, KL
Date: ends April 3
Nadia Nizamudin's 'Mahsuri' (textile, acrylic, embroidery, 2023). Photo: A.P GalleryTo coincide with International Women's Day celebrations this month, the In Her Eyes exhibition at KL East And Melawati Sales Gallery, at Sime Darby Property at KL East, is showing works from 17 female artists from diverse backgrounds.
It is presented by A.P Art Gallery in partnership with Manggis Group. The participating artists, women who are in different stages of their lives, have responded positively to the curatorial brief to share their stories through art, on life, their fears and dreams, and everything in between.The artist line-up includes Anniketyni Madian, Kam Woei Yann, Alexdrina Chong (aka Alexoid Luce), Kimberley Boudville, Elly Nor Suria, Miriam Omar and others.
Curated by Nazura Rahime (who is also the director of A.P Art Gallery) and Nurul Fathma, they embraced a more inclusive approach in their search for artists, including younger individuals and those who pursue art-making on the side.
In Her Eyes is showing at KL East And Melawati Sales Gallery in Taman Melawati, Kuala Lumpur, till April 3. Opening hours: 10am to 5pm daily.
More info here.
Subscribe now to our Premium Plan for an ad-free and unlimited reading experience!