ART EXHIBITION: ALAM BY ISA ISHAK AND NAZREEN NOR
Venue: Zhan Art I Space, Petaling Jaya
Date: ends Feb 25
Zhan Art I Space has gone rustic and rural with a duo exhibition Alam, featuring Isa Ishak and Nazreen Nor.
The show is inspired by the beautiful and vivid Malaysian village (kampung) scenes. Their love for the kampung life is translated into still-life artworks with Isa providing a more contemporary take, while Nazreen takes on a realism approach, attempting to represent the subject matter truthfully, without enhancing the subject.
The exhibition aims to let the viewers appreciate the simple things and value the miracles offered by Mother Nature. The exhibition consisted of 33 unique artworks showcasing varieties of animals, items and objects found readily in a kampung.
More info here.
Marcos Kueh's 'Woven Postcard #01: Naga Borneo' (industrial weaving with polyester, 8 colours, 2022). Photo: The Backroom KL
MARCOS KUEH: KENYALANG CIRCUS
Venue: The Back Room, Zhongshan building, Kuala Lumpur
Date: Feb 4-19
Welcome to Sarawakian textile artist and graphic designer Marcos Kueh's exhibition Kenyalang Circus, his first solo show in Malaysia. Translated as "Hornbill Circus" from Sarawak Malay, Kenyalang Circus interrogates the possibility of the authentic in a neo-liberal culture of icons, taking a satirical eye to the commercialisation of Borneo and Sarawak as "Malaysia's exotic unknown."
For Kueh, this project is personal: it traces the faultline of heritage between inherited past and internalised exotification. Having spent the past few years completing his studies at the Royal Academy of Art in The Hague, Kueh is now based in The Netherlands.
More info here.
Dani Omar's 'Come What May, I'll Embrace It II' (oil on canvas, 2022). Photo: Taksu Gallery
DANI OMAR: A SINGLE THREAD AFFAIR
Venue: Taksu Gallery, Kuala Lumpur
Date: ends Feb 16
Dani Omar's first solo exhibition comprises a series of oil and acrylic paintings.
In this show A Single Thread, visitors to Taksu Gallery will see songket textile motifs dominate the canvases in a way that is both classical and dramatic. The young artist pays homage to the single thread that brings the songket to life, while the works on the walls weave tales of personal identity, family and childhood memories.
Prized Possession was the first painting to leave Dani's studio. Still life at face value, the work is a self-portrait at heart and the miscellany of elements within the painting point towards Dani's reflections on his early surroundings, masculine-feminine dichotomies, and self-image.
More info here.
One of Yap Hong Ngee's artworks at his oil painting exhibition 'Eternal Love' at GMBB in KL. Photo: Handout
YAP HONG NGEE: 'ETERNAL LOVE'
Venue: GMBB, Jalan Robertson, KL
Date: ends Feb 12
If you want roses, this is the show to bowl you over. Veteran artist Yap Hong Ngee is adding a huge slice of romance to the festive season, leading up to Valentine's day.
His Eternal Love exhibition at GMBB has an interesting – and cute – backstory. Since 1995, Yap has been creating and painting roses, and he has kept the Valentine's theme going through the years, even during the pandemic.
Yap, who is turning 80 this year, started by painting small art pieces. He has collected 120 of his artworks for this new exhibition, which runs daily, 11am to 8pm.
More info here.
Visitors seen wandering through artist Red Hong Yi's 'Once Upon A Longtang' art installation at the National Art Gallery in KL. Photo: The Star/Azman Ghani
ART: RED HONG YI'S 'MY ALLEYWAY OF MEMORIES: ONCE UPON A LONGTANG'
Venue: National Art Gallery, KL
Date: ends March 2023
The National Art Gallery has gone all old world Shanghai and festive with multi-disciplinary artist Red Hong Yi's latest site-specific exhibition My Alleyway Of Memories: Once Upon A Longtang, which has been attracting quite a buzz.
The installation features a series of artworks "painted" with burnt Chinese calligraphy paper, and features scenes inspired by old alleyway houses – or "Longtang" houses in Shanghai.
"These houses are dear to me because my father and grandparents lived there, and I got to live there and reconnect with my roots in 2011-2013. These old houses are also quickly disappearing to make way for urban development," says Red Hong Yi about the new installation.
Free admission.
More info here.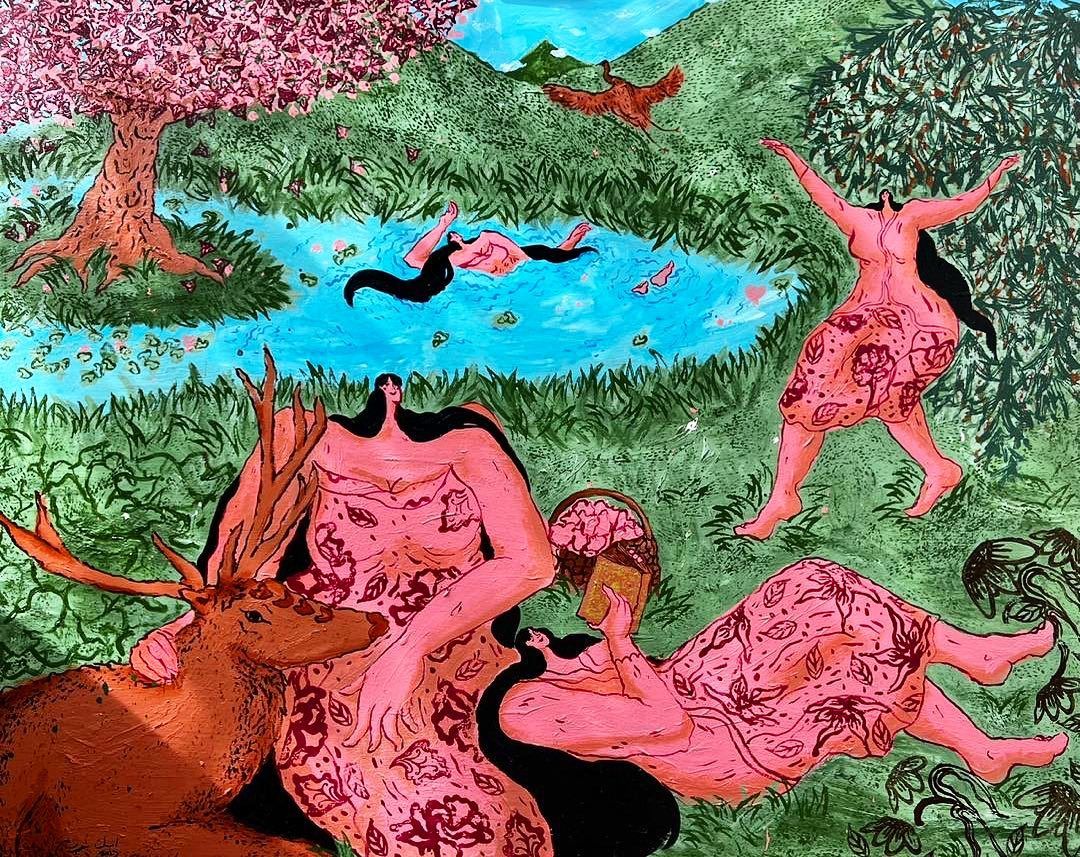 Ika Sharom's 'Taman Syurga' (acrylic and Lino ink on canvas, 2023). Photo: Galeri Puteh
ART: YOUNG, WILD AND FREE
Venue: Galeri Puteh, KL Eco City Mall
Date: ends Feb 19
Galeri Puteh, a new contemporary arts space in Bangsar, is focusing on young and emerging artists, illustrators, designers and printmakers in its new group show Young, Wild And Free.
Once you walk into the gallery, printmaker Ika Sharom's surreal "nature and kebaya-wearing ladies" new work might just stop you in your tracks, while Silas Oo Wei Sheng goes the opposite way, with an abstract piece reflecting art and emotion.
On the "rabbit" front, you can check out Danielle Lin Xuan-En, with her depictions of broken soft toys and sentimental memorabilia. Further along, Ridhwan Yusof and Ismail Alwi's latest works also suit the mood of the festive season.
For art lovers and collectors looking for new names and diverse works, there just be something for you at this show.
More info here.
Subscribe now to our Premium Plan for an ad-free and unlimited reading experience!