They say breakfast is the most important meal of the day, and while I wholeheartedly agree,
it is sometimes also the trickiest to prepare since we're usually short of time as we're rushing off to school or work, or have a list of chores to finish.
I want to share with you a super simple recipe. All you need to have is an air fryer, or an oven is fine too for those who don't have the latest trendy gadget in the kitchen.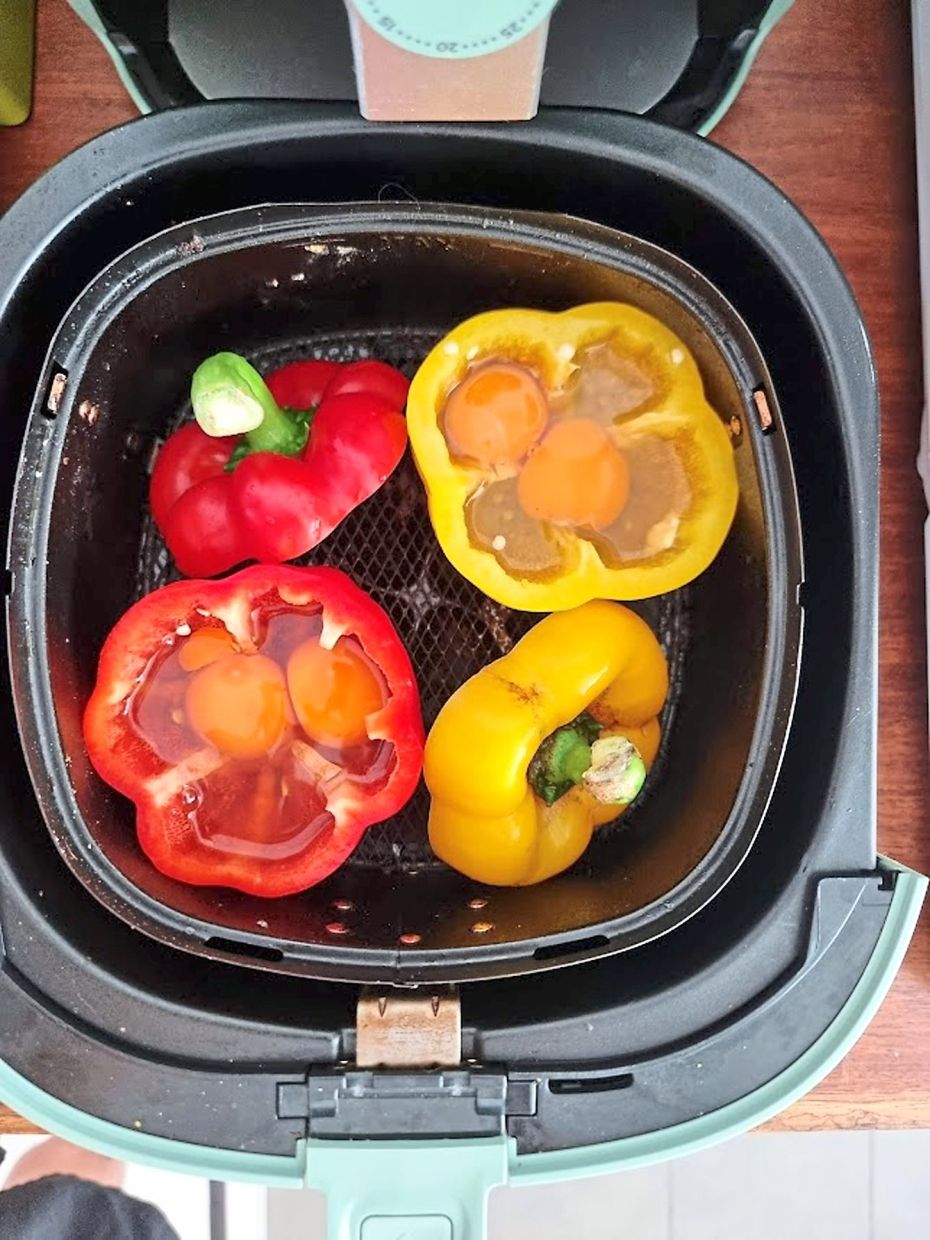 Place the capsicum in the air fryer.
I know there are various versions of this recipe. Some use a lot more ingredients than others, or go heavier on protein such as including minced meat, and include chopped vegetables, cheese and cream, and other fancy trimmings.
But I find this simple baked egg version quite enjoyable; anyone can do this without having to be an expert in the kitchen and it's easily done in a short time.
I like my egg a little wobbly!
The result is a colourful plate for breakfast that's not only super easy to prepare, but also nutritious, delicious and even gluten-free, if you have such concerns.
When served to guests, this looks really impressive as it looks professionally prepared and the bright palette is so attractive! — Contributed by Teoh Kar Yeong
Ingredients (for 2 persons)
2 capsicum
4 eggs
salt and pepper
Method
1. Cut 2cm off the top of the capsicum, and remove the core and seeds.
2. Crack 2 eggs into each capsicum.
3. Place the 2 capsicum into the air fryer, including the top part, and cook at 180°C for 12 to 15 minutes, depending on the doneness of the egg. If you prefer your egg well-cooked, then it's recommended that you leave it in for longer. Alternatively, you can bake this in a pre-heated oven for the same length of time and temperature.
4. Lightly season with salt and pepper, or a dash of soy sauce if you prefer more umami. Serve with the top back on the capsicum to complete the ensemble.
Subscribe now to our Premium Plan for an ad-free and unlimited reading experience!