Make Mexican wraps with meat, vegetables and cheese
QUESADILLA is a Mexican dish that basically consists of cheese melted in between flatbread and is commonly sold as a street food in Mexico.
It has evolved from its humble origins over the years, with the addition of meats and vegetables and is now often served at many restaurants outside of Mexico.
The dish's name combines queso (cheese in Spanish) and tortilla.
It is traditionally made of corn tortillas although it may also be made with wheat flour tortillas.
Quesadilla is basically cheese and tortillas but you may add any leftover meat and vegetables to make it a balanced meal. — Photos: LOW BOON TAT/The Star
The cheese of choice would have been a stretchy Oaxaca cheese but stringy cheeses such as mozzarella have become more commonly used.
It's a simple dish that assembles components that can be prepared ahead of time. It is an excellent way to make use of leftovers such as roast chicken and pulled meat.
It's also a way to incorporate lots of vegetables into the cheesy mix and make it a balanced meal.
My favourite vegetable to add to this dish is capsicum.
Cut into wedges and serve the quesadilla on its own or with a side of salsa, pico de gallo, quacamole and extra sour cream, if desired.
Roasting it over the stove creates a smoky flavour. Do not be overwhelmed by the black charred skin because it will be scraped off after roasting, to reveal the rich colourful flesh.
The least messy way to make the quesadilla is to fold the tortilla into half pockets and allow the cheese to melt inside.
These can be flipped over until both sides of the tortilla have become crispy, before cutting into wedges to serve.
The other way is to fill the entire tortilla and then flipping it whole without spilling, but that requires quite a bit of skill.
Alternatively, whole quesadillas may also be grilled in the oven without flipping but the results may not look as nice as a pan-toasted one.
Cut the quesadillas into wedges and serve immediately. It may be accompanied with a spicy salsa, pico de gallo, guacamole and additional sour cream, if desired.
QUESADILLA
Ingredients
300g yellow onion, sliced
100g cremini mushrooms, sliced
4 tbsp cooking oil
1 tsp salt to taste
½ tsp pepper to taste
100g red capsicum
100g green capsicum
100g yellow capsicum
300g roast chicken, deboned and shredded
300g shredded mozzarella
100g sour cream
40g coriander
8 tortilla wraps
Method
Roast capsicums over a stove on a wire rack until the skin is charred.
Allow to cool then scrape off the charred skins and give the roasted capsicum a quick rinse over running water.
Remove stems and seeds, then slice capsicum into long, thin strips. Cover and set aside.
Roast the red, green and yellow capsicums on a wire rack over the stove until charred.
Heat oil in a skillet and toss in sliced onions to sauté until wilted. Add mushrooms and sauté until soft and mushrooms start to release moisture. Season with salt and pepper to taste, remove from the pan and allow to cool.
In a mixing bowl, stir together the sautéed onions and mushrooms with the roasted capsicum, roast chicken, cheese, sour cream and coriander until combined.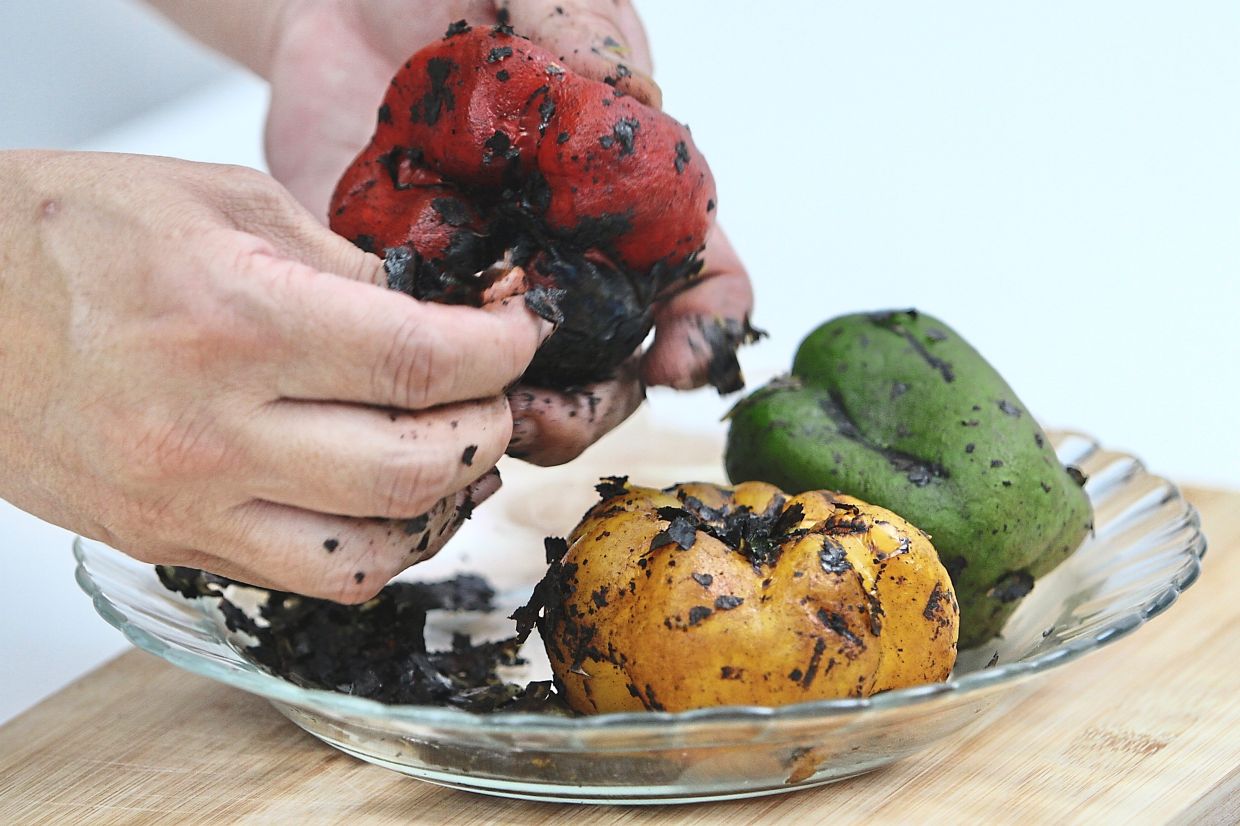 Scrape off the blackened skins and slice the roasted peppers into thin strips.
Heat a non-stick frying pan to medium intensity and place a tortilla wrap to toast until warm to the touch. Flip the wrap over and while toasting, place the filling on to one-half of the wrap.
Fold the wrap to cover the filling so that it has a half-moon shape, then flip again to toast the other side until the bread is crisp and the cheese is melted.
Cut into wedges and serve immediately while hot and crispy with a side of salsa, pico de gallo, guacamole and additional sour cream.
Subscribe now to our Premium Plan for an ad-free and unlimited reading experience!