A career in F&B can often be a rollercoaster ride, with highs and lows and ups and downs aplenty. This is something seasoned chef Sean Thu knows only too well. A culinary school graduate, Thu has worked at numerous local hotels and restaurants including the Mandarin Oriental Kuala Lumpur and Nobu Kuala Lumpur, where he served as the chef de partie.
Not long ago, he started a Mexican fast food restaurant which fizzled out and shuttered after a few years. After that experience, he ventured into culinary arts once again – this time as an educator, teaching culinary arts at the Academy of Pastry Arts Malaysia.
When the Covid-19 pandemic hit, Thu was worried about his future. So, he decided to switch trajectory once again.
"I thought I needed a career change because F&B was dying, so I actually did sales for about six months. But I couldn't take it and I knew I had to go back to the industry," he says.
After working as a culinary educator for a few years, the talented Thu is now back in the kitchen and has introduced a series of innovative meals at Kikubari.
And that is how Thu ended up landing a job as the head chef of Kikubari, the Cinnammon Group's acclaimed French-Japanese casual fine-dining eatery ensconced in DC Mall in Damansara Heights, Kuala Lumpur.
At Kikubari, where he has taken over from the redoubtable Jun Wong, Thu is hoping to make his mark by gradually making the food more accessible and innovative, without affecting the French-Japanese pedigree and lineage of the eatery. Seasonal ingredients from France and Japan remain on the menu alongside the best of local fare, but already Thu has introduced a whole stable of protein-heavy new additions to the eatery's line-up.
"The food was already really good, but I just wanted to introduce the kind of food that I am more comfortable with," he explains.
To test out Thu's culinary mettle, try the Snow Crab (RM90) which features snow crab legs, tosazu jelly, Asian pear and ikura. This is a masterclass in balance and dexterity. The crab legs are fluffy and fat with a natural sweetness, which is countenanced by the acidity from the jelly, the rich umami notes from the ikura and the sweet, fruity nuances of the thinly-sliced pear. It's a dish that is both elegant and refreshing and makes for a great opener to the rest of the meal.
The Botan Ebi Capellini (RM95) meanwhile is a dish that has been on the menu for awhile and which Thu has retained intact, because he thinks it is really good.
The cold capellini is one of the restaurant's best-selling meals.
"Basically this is a long-standing dish and one of our best-selling items, so I decided not to touch it, and have left it as it is. It is made with jungle garlic, truffle and aged shoyu topped with imported prawns from Japan and finished with olive oil and lemon juice," says Thu.
The result is a sensational meal – the capellini is a smooth, slick operator that is accentuated by the velvety softness of the prawns. The truffle and aged shoyu dressing add a note of opulence and pack a flavour punch. Suffice to say that satisfaction is definitely guaranteed!
For more vegetable-friendly terrain, try the Beni Nagomi Potato (RM50). Here, you will discover charcoal-roasted sweet potato, root vegetable chips, crispy kale and a karashi su miso dressing.
Although entirely made up of plant-based components, this is a meal that delivers satisfaction in spades, a success story that is entirely driven by the sweet natural attributes of the sweet potato, which is tenderly yielding and divine.
This is bolstered by the crispy chips and kale and the miso dressing, which counteracts the sweetness of the sweet potato with rich umami tones that take this dish to a whole new dimension.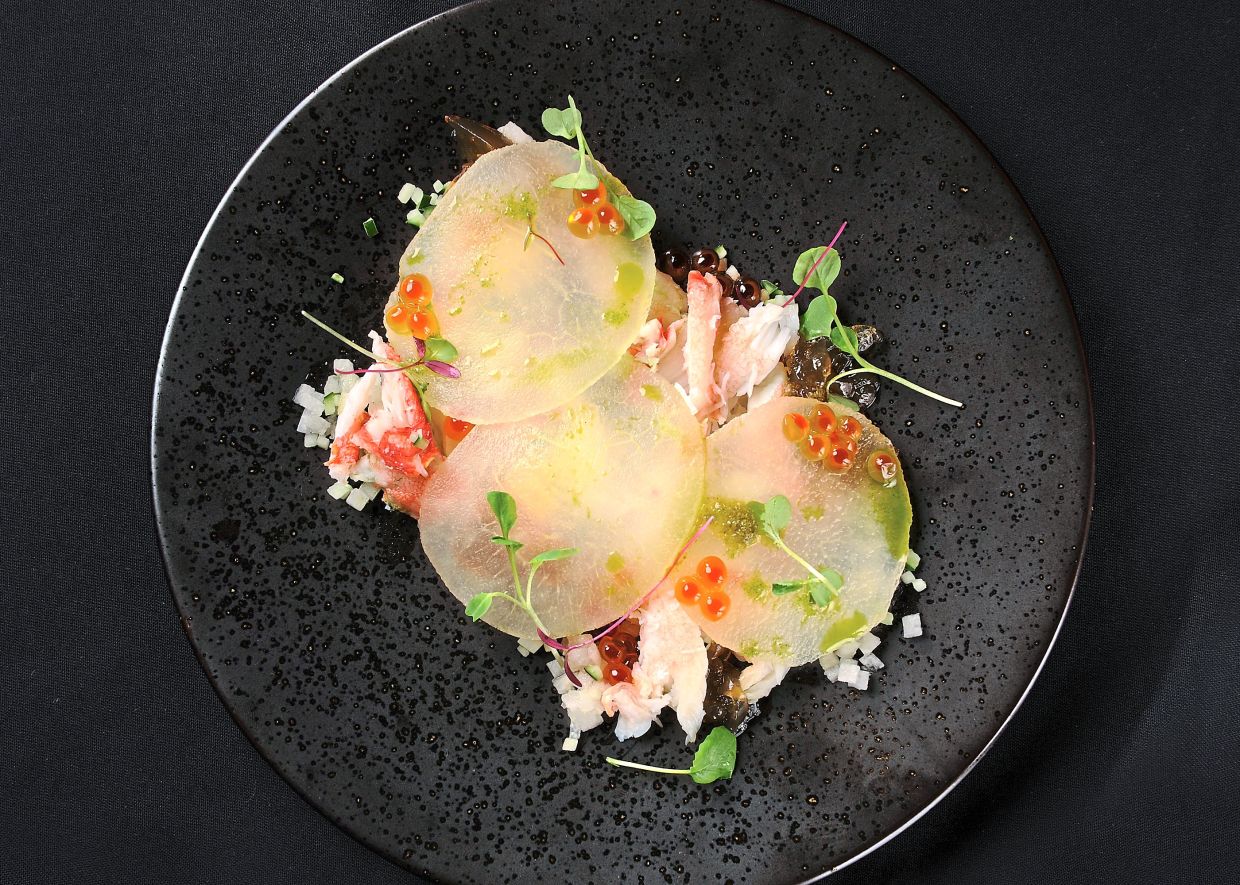 The snow crab with tozasu jelly is an invigorating dish that highlights the qualities of the crab.
For something you can really sink your teeth into, definitely try the Spicy Miso Lamb (RM150). Made up of seared Aussie shortloin, miso sambal, corn, asparagus and salsa verde, this is another example of Thu's ability to apply restrain and equilibrium to every meal, a rare skill when so many chefs are out to impress without really thinking through all the components in a dish.
Here, you will discover incredibly tender lamb, still pink in the middle with a lovely chew and bite. These carnivorous traits are rounded out by the vegetables in the mixture, which add simplicity and crunch. The salsa verde and miso sambal are wonderful co-conspirators that work together as a team to enhance the lamb's natural qualities without taking away from it.
All in all, this is a meal you will remember long after you have polished off every last morsel.
Dive into the ocean's bounty with the Suzuki Sea Bass (RM90) which boasts seabass air-flown from Japan. The fish is fresh and very good on its own so Thu doesn't do too much to it – just lightly pan-sears it till it attains a beautiful crispy skin but still retains flesh that is pillowy soft and flaky to the touch.
The Suzuki sea bass is delightful from start to finish.
The fish is perfection – very tasty and fleshy, but perhaps the true star of this constellation is the seaweed butter-based sauce. The sauce is phenomenal – buttery with a lick of salt and the strong briny, underwater notes of the seaweed permeating every drop of this creamy goodness. It's fantastic with the fish but equally fantastic on its own, so much so that you'll want a bucketful of this all to yourself.
End your meal with a bovine temptation in the form of the Braised Beef Short Rib (RM140). Here, you will discover Aussie beef short rib, mashed potatoes and yuzu kosho carrots paired together. The pliant, putty-tender beef is the show-stopper in this ensemble – rightfully so as Thu braises it for nine hours using Japanese-influenced aromatics. The mashed potatoes are also very, very good – soft and buttery and whipped as smooth as spun silk.
Moving forward, Thu is hoping to push out new tasting menus every three to six months to complement the ala carte menu he has crafted, so that diners will be able to enjoy more seasonal options. But his long-term goal encompasses a far more lofty ambition.
"My own personal goal is to help get Kikubari into the Asia's 50 Best Restaurants list, with my own style of food. That is a goal that the whole team shares as well," he says.
To order from Kikubari, call 013-362 4546.
Subscribe now to our Premium Plan for an ad-free and unlimited reading experience!