PETALING JAYA: The late Naza group chairman and chief executive officer, Tan Sri S.M. Nasimuddin S.M. Amin, might have been a newcomer in the property development business but he left his mark with his iconic RM3.5bil Platinum Park in KL City Centre (KLCC) that was launched in January.
Nasimuddin had moved quite fast to strengthen the group's property arm after his company, Ekspedisi Nikmat Sdn Bhd, bought over TTDI Development Sdn Bhd from Pengurusan Danaharta Nasional Bhd for RM262mil in 2004.
The country's real estate industry must have watched with bated breath when the Platinum Park was launched with much fanfare. This unique, high-end integrated residential and commercial development is slated to be a tourism destination and another "icon" after the Petronas Twin Towers within the KLCC.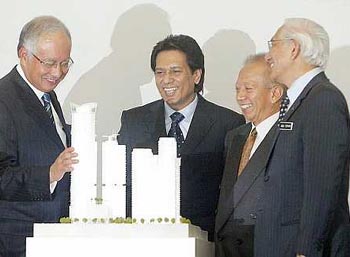 The sale of the 50-storey Grade A office tower (the tallest of seven towers in Platinum Park) to Felda for RM640.7mil capped another achievement for Nasimuddin and his property team led by Datuk Johan Ariffin, group managing director of Naza TTDI.
On the eve of the ground breaking and launching ceremony of Platinum Park, where a media preview of the project was held at the site show gallery, Nasimuddin and his directors had waited patiently for members of the press, who were caught in a traffic jam, to arrive.
Although he was his usual quiet self, he smiled broadly when he met the journalists and one could see the flicker of pride in his eyes. Little did anyone know that this was one of his last public appearances.
Through the recent name change of TTDI Development to Naza TTDI Sdn Bhd, he had set in motion the new brand image, reviving the former glory of TTDI and bringing it to another level.
Over the past few months, TTDI had launched several projects in its run-up to its proposed listing on Bursa Malaysia, expected to be one of the largest property initial public offerings for 2008.
Besides Platinum Park, it has four more new projects – TTDI Alam Impian, TTDI Kajang, the Valley in Ampang and Laman Seri Business Park in Shah Alam.
Nasimuddin's demise has shocked the real estate fraternity.
Johan said: "His vision for Naza TTDI was to be the best property development company and his vision for Platinum Park was to become a world-class destination.
"He will be very much missed by our board and senior management staff. It is an honour and privilege to work with him and our only regret is that we had so little time with him," he said.
Meanwhile, the managing director of a property development company described Nasimuddin as a "wonderful, kind hearted, hard-working and extremely humble man."
Related Stories:Business as usual for Naza Automotive industry pays tributeNaza founder Nasimuddin dies at 53, loses fight with lung cancer Nasimuddin turned his love for cars into a multi-million-ringgit empire Contemporaries mourn passing of a brilliant entrepreneur