Malaysia:
* PM leaves it to relevant authorities to deal with false claims by counsel for so-called Sulu heirs
* AG lodges police report against Sulu heirs' counsel over false claims
* PM leaves it to relevant authorities to deal with false claims by counsel for so-called Sulu heirs
* Cops: 8.6 tonnes of drugs worth RM229mil taken off the streets
* UK set to recognise Malaysian Sustainable Palm Oil certification, says DPM
* Mayors, council presidents stand chance of studying at top foreign unis for stellar performance
* Paris visit strengthened Malaysia-France relations, says Zambry
* Cops wrap-up investigation into Dr M over Malay Proclamation campaign
* Govt to ensure action against Telegram won't affect users too much, says Fahmi
* Good relationship between states and Federal Government vital for development, says Ahmad Zahid
* Health Ministry scrutinising manpower shortage issue, says Dr Zaliha
* Teen girl nabbed for faking own kidnapping to extort father
Buddhist monks walk around the Sewu temple complex during Vesak Day in Klaten, Central Java province, Indonesia. - Reuters
Singapore:
* Fines slapped on six offenders caught selling fuel illegally in Singapore
* Taiwan war would be 'devastating,' US warns while criticising China at Shangri-La Dialogue in Singapore
* Three men arrested, 22 assisting in investigations for suspected involvement in scam crimes in Singapore
* It's back to Singapore if you don't follow road rules, warn police
* Top-level defence hotline to be set up between Singapore-China
* Oil up over 2% after US debt deal and jobs data, focus turns to Opec+
Indonesia:
* New measures in Indonesia - Planning a holiday in Bali? Here are the dos and don'ts
* Walking monks on final stopovers before Borobudur temple in Indonesia
* Ukraine dismisses 'strange' Indonesian peace plan
* Indonesia proposes peace plan for Russia-Ukraine war; says conflict is no advantage for anyone
* Indonesia proposes demilitarised zone, UN referendum for Ukraine peace plan
Williams driver Alexander Albon of Thailand arrives at the circuit before the third practice session for Sunday's Spanish F1 Grand Prix, at the Barcelona Catalunya racetrack in Montmelo, Spain, Saturday, June 3, 2023. - AP
Thailand:
* Chinese man jailed 33 years for pushing pregnant wife off cliff in Thailand
* Top execs want a new Thai government in office as soon as possible
* Front runner for Thai finance minister set to tackle debt; country among highest household debt to GDP ratios in Asia
* South Korea's rising badminton star An Se-young cruises to Thailand Open final
* MasterChef UK champ Chariya brings Northern Thai cuisine to the world
Philippines:
* Philippines warns of new 'iron curtain'; any conflict at South China Sea could be devastating for Asean region
* Philippines expects more Chinese tourists by facilitating e-visa service
* US chides China over defence talks as its navy sails through Taiwan Strait and near Philippines
* Filipino American chefs make their mark
Portuguese football player Cristiano Ronaldo speaking during an event to support youth scholarships founded by philanthropist Peter Lim in Singapore on Saturday, June 3, 2023. - AFP
Vietnam:
* Vietnam Festival 2023 kicks off in Japan in grand style
* Vietnam's PM urges focus on growth with inflation under control
* Experts warn bird flu virus changing rapidly in largest ever outbreak
* Top Vietnamese climate activist held for tax evasion
Myanmar:
* Myanmar extends smoking ban to 10 more sites in archaeological zone
* UN special envoy to step down
* Myanmar drug trade picks sea route
Children play at a beach in Lhoknga, Indonesia's Aceh province. - AFP
Cambodia:
* Asean Para Games 12 flag-raising ceremony held in Phnom Penh
* Cambodian health ministry calls for boosters as Covid-19 variant affects many parts of the country
* Graduation from least developed country - Cambodia to achive the target soon
Laos:
* Laos govt still struggling with plans to combat recurring heatwaves in the country
* Renewable energy surges, driven by solar boom and high fuel prices, report finds
Brunei:
* Brunei Magistrate Court hands 14 months' jail to auto parts fraudster
* Visiting Indian external affairs minister lauds strong Brunei-India bilateral ties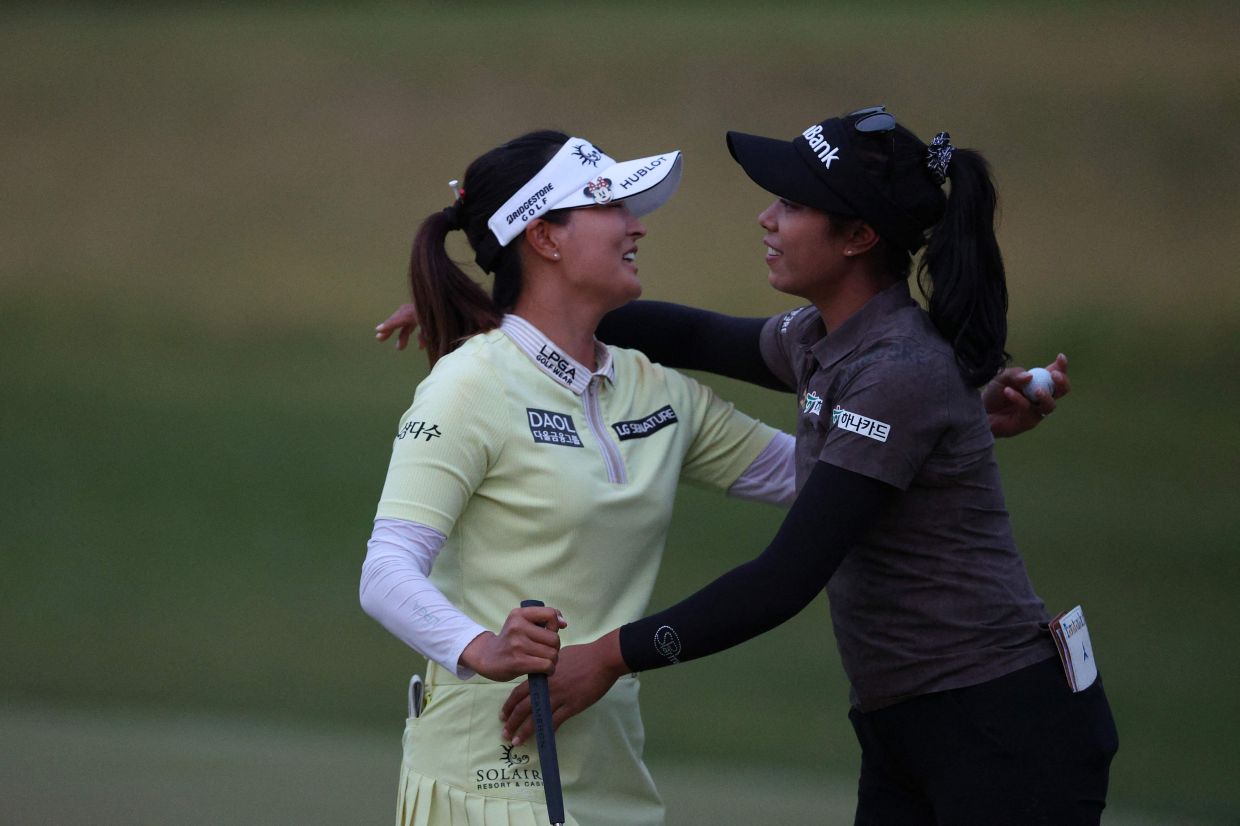 Ko Jin Young of South Korea (left) hugs Patty Tavatanakit of Thailand (R) on the ninth green during the second round of the Mizuho Americas Open at Liberty National Golf Club in Jersey City, New Jersey. - AFP
AseanPlus:
* Man stabs two women to death in Hong Kong mall, plunging his knife 25 times into one of them
* India train crash death toll nears 300, injures above 900 in one of nation's worst rail disasters (update)
* A never ending story - A look at deadly train crashes in India in recent decades
* Indian train collision death toll nears 300, another 850 injured
* One dead and two missing in Japan after heavy rain from Typhoon Mawar
* South Korea says some countries ignore N. Korea's unlawful behaviour
* US says talks with China 'essential' to curb chance of conflict
* South China Sea issue remains a concern for Malaysia, says Tok Mat
* China's Bronze Age Shang dynasty gives up more of its secrets from 3,600 years ago
* US and Taiwan sign first agreement under new trade initiative
* China's high-speed trains are overwhelmed by poop, study says
* Chinese defence minister says Beijing will 'absolutely not' renounce use of force against Taiwan
* Museum to mark Tiananmen Square crackdown to open in New York 2 years after Hong Kong version closed on national security grounds
* In crisis-hit Pakistan, rogue loan apps add to financial pain
* Hong Kong police detain two performance artists on Tiananmen anniversary eve
* India's Tata Group signs $1.6 billion EV battery plant deal
* Will you be replaced by your AI clone? Maybe one day, but not quite yet
* CPO futures expected to trade lower next week
* 10-year-old Kabuki actor's debut breaks Japanese theatre traditions
* China's hottest tourist spot - The flame-shaped neon archway in Zibo at Shandong province
* 'Tackle Asean haze effectively' - New roadmap with practical, efficient measures needed, say experts
* Chinese dissidents in New York open world's only Tiananmen museum
* Local man, three foreigners nabbed for misappropriating RM7,500 worth of diesel
Subscribe now to our Premium Plan for an ad-free and unlimited reading experience!