SHANGHAI: The latest Covid-19 waves in China have revealed more transmissible but less lethal strains of the coronavirus, but it is too early to be optimistic, public health experts have warned.
Just days after China relaxed some zero-Covid measures, infection numbers in the current outbreak hit a new high of 40,052 on Monday, with 36,304 yet to show symptoms. As of Monday, 104 cases were identified as "severe", with seven deaths recorded so far.
The waves risk burdening the health system and if China were to change its response, it should put fewer resources into mass testing and more into vaccination and public education, according to one epidemiologist.
Do you have questions about the biggest topics and trends from around the world? Get the answers with SCMP Knowledge, our new platform of curated content with explainers, FAQs, analyses and infographics brought to you by our award-winning team.
Covid-19 infections have been on the rise across China since early October, believed to be driven by new subvariants of the highly infectious but less deadly Omicron strain.
The number of severe cases, however, has been comparatively low.
As of Sunday, 111 cases were identified as "severe", with seven deaths recorded so far. All patients who died were over 80 and had comorbidities.
Professor Benjamin Cowling, head of epidemiology and biostatistics at the University of Hong Kong, said this needed to be interpreted with caution as there was usually a two-week lag between infection and more severe clinical outcomes.
"We need to be careful in interpreting the current mortality rates because it can take two to three weeks from infection to death, and we are still in the middle of the current outbreaks. There is likely to be more deaths in the coming weeks," Cowling said.
Total infections in China have surpassed the peak for the massive spring outbreak in Shanghai, driven by the Omicron variant and prompting months of lockdown.
About 600 people died of the disease out of 650,0000 infected in that March to May wave, according to a paper published in the online journal China CDC Weekly in September.
Another study, led by prominent infectious diseases expert Zhang Wenhong and released in June, found less than 0.7 per cent of the 33,816 Omicron patients surveyed in Shanghai had developed severe or critical infections.
Allocating more resources for serious cases instead of mild ones should be the way forward, the researchers said.
China's healthcare system might not be able to handle Omicron waves in case of a winter surge, Cowling warned, saying authorities might need to reconsider their containment strategy to mitigate the impact.
Authorities have held fast to a dynamic zero-Covid policy, which relies on cutting transmission chains as soon as possible with mass testing and snap lockdowns.
They say China's healthcare system cannot afford to "live with the virus" and unchecked spread given the vast population would mean an explosion in severe cases and death.
In 2021, the ratio of intensive care beds in China – the world's No 2 economy – stood at 4.53 per 100,000 people, with numbers varying greatly across provinces.
By comparison, the ratio is 33.9 per 100,000 in Germany, 28.9 in Australia and 25.8 in the United States. Meanwhile, specialist intensive care doctors only account for 0.8 per cent of the total practising doctors.
"I think China's healthcare system will struggle to cope with a large surge in infections this winter," Cowling said.
"Omicron is so contagious and case numbers could rise so quickly that even though most infections are mild there will still be a peak with probably too many severe cases for the healthcare system to manage at the same time."
And when zero-Covid becomes too difficult to maintain because it would require more stringent measures, longer lockdowns and more mass testing – on top of growing fatigue with the measures and their social and economic impact – China would have few options but to move away from the policy, Cowling said.
"If stringent measures are not sustainable, the case numbers will increase. If it becomes impossible to reduce case numbers back down to zero nationwide, even with prolonged lockdowns and repeated mass testing, there may be no alternative but to transition away from those stringent measures," he said.
Some preparations need to be made to cope with a change in response, if that indeed happens.
Mass PCR tests should be scrapped and the resources transferred elsewhere, Cowling suggested.
"Mass testing will not help much in mitigation," he said. "This is more of a containment measure, and rapid tests may be a more efficient way to allow diagnosis of mild infections."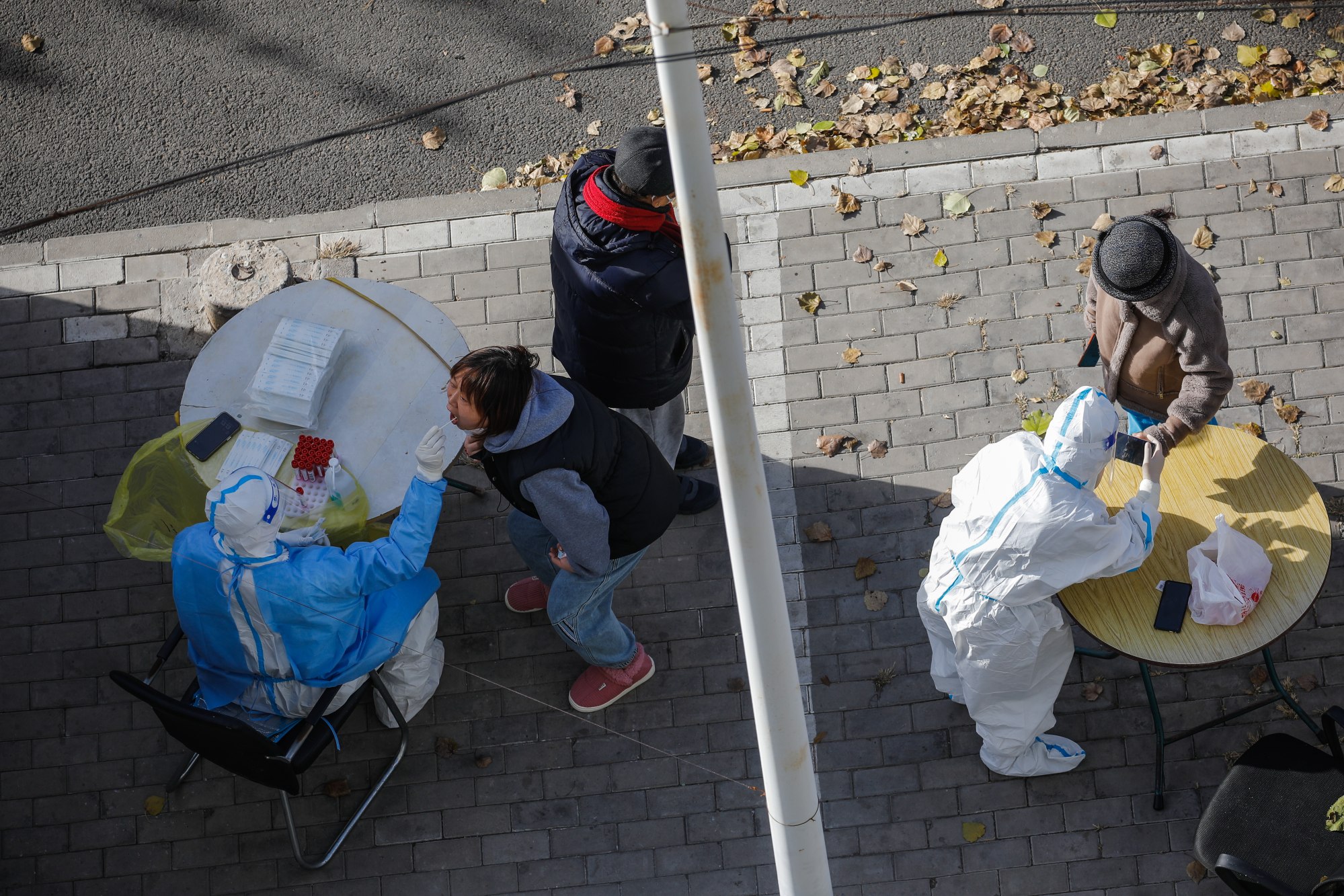 The government should also come up with policies for home quarantine of mild cases and close contacts, give up the health tracking app and relax travel restrictions, he said, as "they are not necessary once transitioning away from a zero-Covid strategy".
Experts have long pushed for boosting vaccination rates, especially for the elderly, as a significant and urgent measure to protect the most vulnerable groups and prevent China's healthcare system from collapsing once Covid-19 curbs are eased.
Only 5 per cent of the fatal cases in Shanghai earlier this year were vaccinated, the China CDC Weekly paper in September noted. "The last 10 per cent in any vaccination campaign is the most difficult to reach," it said.
By November 11, about 86 per cent of people over 60 years of age had been fully vaccinated in mainland China, with 68 per cent boosted.
For those over 80, however, the figures were 66 per cent and 40 per cent, respectively, according to the national health office.
Professor David Hui Shu-cheong from the Chinese University of Hong Kong, who advises the city government on its pandemic response, also pushed for higher vaccination rates on the mainland.
"They need to boost the population, especially high risk groups, with vaccines of other technology platforms, such as protein subunit vaccines, adenovirus vaccines or mRNA vaccines, to enhance the antibody response," Hui said.
China's mass vaccination campaign has relied mostly on locally developed inactivated shots, which use dead material from the Covid-19 virus to trigger an immune response.
"Containment policy is not a long-term solution for managing the Covid-19 pandemic," Hui said.
"[Mainland China] should adopt a heterologous vaccination approach [that is, mix and match] and not just rely on inactivated whole virus vaccines alone."
High-risk patients should be treated early with oral antiviral agents as well, Hui added.
More from South China Morning Post:
For the latest news from the South China Morning Post download our mobile app. Copyright 2022.
Subscribe now to our Premium Plan for an ad-free and unlimited reading experience!