The slump in Hong Kong stocks to more than a decade-low this week may have further to go as investors in Asia's third-largest market brace for the fallout from higher borrowing costs in the coming weeks or months.
A succession of challenges, from China's economic inertia and tech crackdown to Covid-19 border closures and local currency depreciation, have punished investors seeking to bottom-fish for values after a US$1.3 trillion rout this year. Now, the spectre of two more potential rate increases this year could make equity returns even harder to come by.
"Hong Kong stocks are facing a tougher environment this time than in 2018, as there are more headwinds like the pandemic, China's slowdown, capital outflow and burned investors from the regulatory crackdown," said Chen Hao, a strategist at KGI Securities in Shanghai. "The increase in prime rates can only exacerbate the pessimism on market outlook."
Do you have questions about the biggest topics and trends from around the world? Get the answers with SCMP Knowledge, our new platform of curated content with explainers, FAQs, analyses and infographics brought to you by our award-winning team.
The city's major commercial banks including HSBC and Bank of China (Hong Kong) raised their prime rates by 12.5 basis points effective Friday, after the monetary authority lifted its base rate to a 14-year high of 3.5 per cent on Thursday. They had refrained from reacting to the previous four HKMA increases, which were in lockstep with the Federal Reserve's moves, since March this year.
How Hong Kong homebuyers have seen their purchasing power shrink by HK$1 million since January
The last time Hong Kong's commercial banks lifted their best lending rates to customers in September 2018, the Hang Seng Index suffered an 11 per cent slump in the next month, according to Bloomberg data. All the benchmark's four industry sub-gauges tumbled by 5.8 per cent to 11 per cent.
On a three-month basis, post-hike, all but the utilities sub-gauge declined, with financials and property developers losing 8.1 per cent and 0.8 per cent, respectively, while the Hang Seng Index sank 8.2 per cent.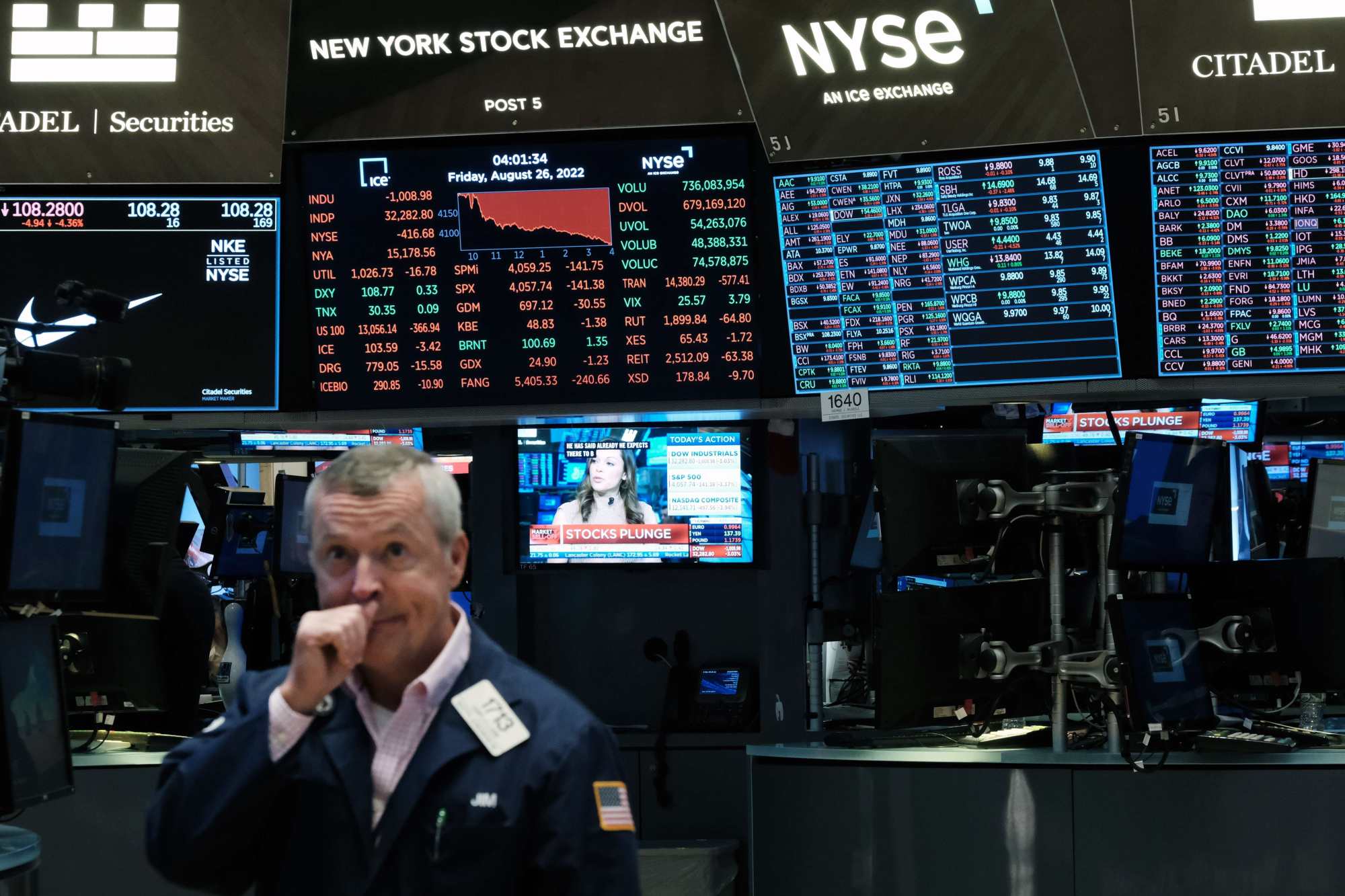 "In the shorter term, risk assets are likely to underperform as the increased risk of recession" is further priced in by investors, said David Chao, a strategist in Hong Kong at Invesco, a fund management company.
The Hang Seng Index sank 1.6 per cent on Thursday to a level not seen since December 2011, after the HKMA warned of more rate increases. The Fed, which will meet two more times this year, has pledged to "keep at it" to bring inflation down to its target of 2 per cent or slower, from 8.3 per cent reported in August.
The city's benchmark index ranks among the world's worst-performing major markets globally this year with a 22 per cent loss. The 73-member gauge is trading at a record 27 per cent discount to its book value, according to Bloomberg data.
The yuan traded past 7 per dollar this month, while the Hong Kong dollar has hugged the weaker end of its trading band for much of this year.
The technical indicators on Chinese stocks are not encouraging, according to analysts at BCA Research. The CSI 300 Index has broken through its six-year moving average technical support, while the Hang Seng Tech Index has failed to break above its 200-day moving average. The telltale signs raise the odds of new cyclical lows in these indexes, it said in a report on September 21.
"Hong Kong is now in an unfavourable position as it is struggling with the pandemic and other headwinds like China's growth concern and capital flight," said Chen at KGI Securities. "The higher rates will increase the pessimism on Hong Kong stocks."
More from South China Morning Post:
For the latest news from the South China Morning Post download our mobile app. Copyright 2022.
Subscribe now to our Premium Plan for an ad-free and unlimited reading experience!