Hong Kong's security minister has branded fugitive ex-lawmaker Nathan Law Kwun-chung a "coward" and "traitor" after he urged voters to ignore the coming Legislative Council election.
In a strongly worded statement on Tuesday night, Secretary for Security Chris Tang Ping-keung described Law as a "runaway anti-China and anti-Hong Kong element" and accused him of "spreading political lies" about the city and the country.
He also alleged the former legislator had breached the national security law by making anti-China remarks. In response, Britain-based Law said such "intimidation" could not stop him from doing what he considered "legitimate".
Do you have questions about the biggest topics and trends from around the world? Get the answers with SCMP Knowledge, our new platform of curated content with explainers, FAQs, analyses and infographics brought to you by our award-winning team.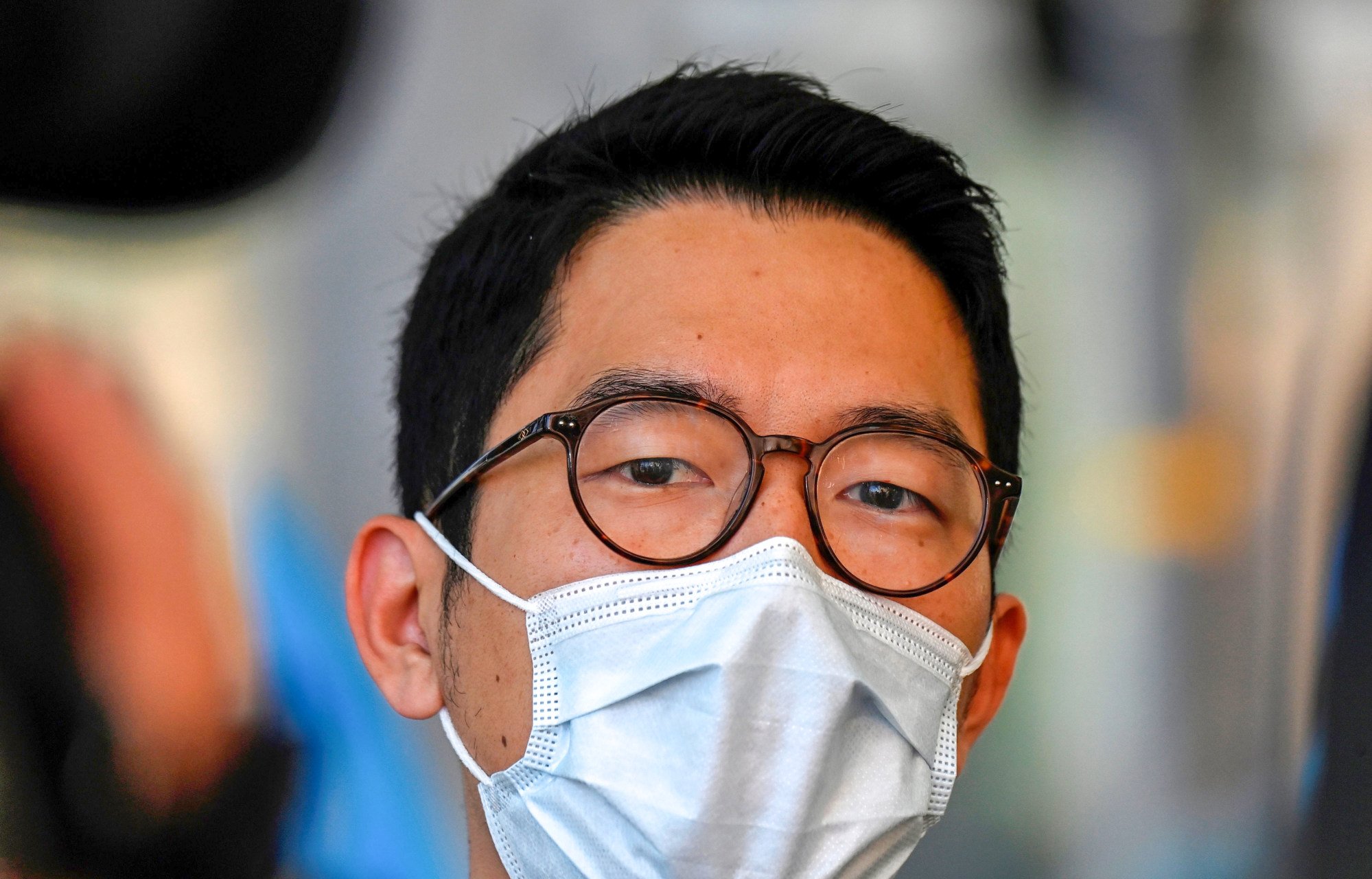 Tang called Law a "proxy" of the West for badmouthing the December 19 Legco election and making illegal calls for a boycott.
The security chief, who urged Hongkongers to go to the polls, said the government would spare no effort to bring Law to justice.
His statement was released days after Law urged Hong Kong people to "just ignore" the poll – the first for the legislature since Beijing overhauled the electoral system earlier this year, cutting the number of directly elected seats in an expanded Legco – during an interview at a conference in London.
In the interview, Law, who fled Hong Kong last year and was subsequently granted asylum by Britain, cast Chinese President Xi Jinping as an "emperor" who tolerated no dissent.
Democracy was dead in Hong Kong, Law said, but people still had spirit.
"Democracy, if you are talking about a system, it is definitely not there. But if you are talking about the spirit of the people, fighting for democracy, it is still there," he said.
Under Hong Kong's Elections (Corrupt and Illegal Conduct) Ordinance, it is an offence to incite others not to vote or cast invalid votes during an election period, whether the incitement is made at home or abroad.
Hong Kong authorities last month issued arrest warrants for fugitive ex-lawmaker Ted Hui Chi-fung and former district councillor Yau Man-chun, who took to social media to urge residents to boycott or cast blank votes as a way to protest against the election. Hui has settled in Australia while Yau is in Britain.
This week, constitutional affairs minister Erick Tsang Kwok-wai warned The Wall Street Journal after an editorial said boycotting the election or casting blank votes could be a way for Hongkongers to express their political views under Beijing's control.
Tang, meanwhile, also accused Law of "repeatedly making anti-China remarks to provoke the public to hate the central government and the Hong Kong government".
Statements by Law allegedly inciting others to split or overthrow the country were "shameful", Tang wrote, warning they could breach the national security law.
Tang also called Law "shameless and despicable", claiming he had fled Hong Kong after inciting other young people to break the law during the 2019 social unrest, but he was now enjoying the "fake nimbus crowned by his master" while others were in jail.
His statement preceded an expected appearance by Law at a democracy summit to be hosted by United States President Joe Biden later this week.
Tang said the US had plotted the summit, under the disguise of democracy, to encourage resistance against China. He said he felt extremely angry Law intended to spread slanderous remarks against the central and Hong Kong governments.
Law, former chairman of the now-disbanded pro-independence party Demosisto, fled the city ahead of the June 2020 enactment of the national security law, which bans acts of secession, subversion, terrorism and collusion with foreign forces. The law applies to people outside the city as well.
"Any form of restricting appeals to boycott the election or encourage others not to vote is utterly absurd," he said in response to Tang's statement.
"It is unimaginable why making such advocacy is illegal, given that people have the right to decide whether they want to vote or not. This intimidation cannot stop me from doing what I consider legitimate."
More from South China Morning Post:
For the latest news from the South China Morning Post download our mobile app. Copyright 2021.
Join our Telegram channel to get our Evening Alerts and breaking news highlights