A Hong Kong scientist who tried to get medical attention for a protester shot by police during the civil unrest in 2019 has been jailed for a year for taking part in an unlawful assembly.
Dr Yau Wang-tat, who obtained a PhD in applied physics at Polytechnic University earlier this year, was sentenced at the District Court on Friday, one month after admitting the charge arising from the clashes in Tsuen Wan on October 1, the 70th anniversary of the founding of the People's Republic of China.
Although a suspended jail sentence was allowed for in the present case, Deputy Judge Li Chi-ho ruled out that possibility, citing the violent nature of the protest in question and a lack of exceptional mitigating factors.
Do you have questions about the biggest topics and trends from around the world? Get the answers with SCMP Knowledge, our new platform of curated content with explainers, FAQs, analyses and infographics brought to you by our award-winning team.
Li also said an officer's use of a pistol to subdue then Form Five student Tsang Chi-kin was justified, adding the illegal demonstration was marked by intense violence and clear premeditation.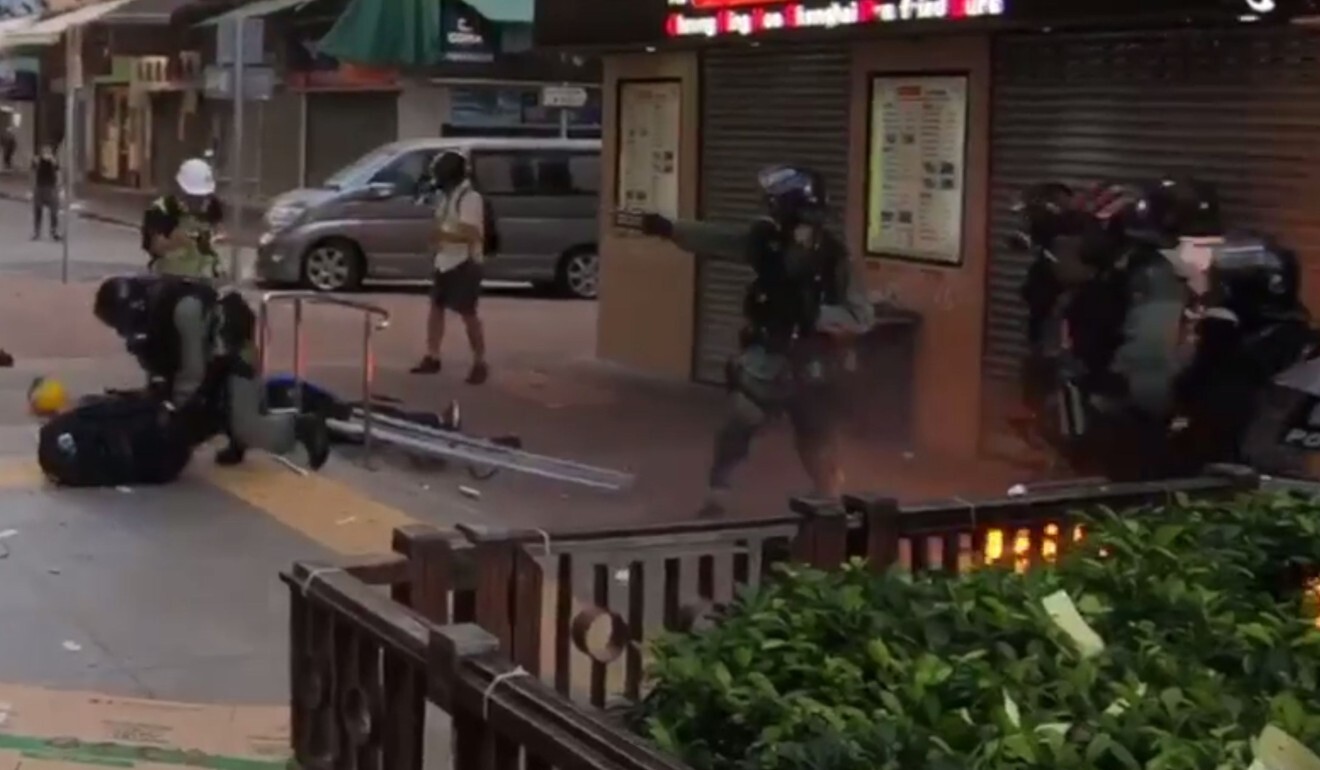 Tsang, now 20, was initially charged alongside Yau and five others with rioting, with Tsang alone facing two additional counts of assaulting a police officer.
On October 1, protesters, most of them masked, set up multiple roadblocks in Tsuen Wan and hurled petrol bombs and bricks at police.
Tsang was said to be among a group of radical protesters who "strenuously" attacked officers with hammers, pliers, rods and umbrellas near Hau Tei Square at around 4pm.
The court heard that the student was shot in the abdomen after swinging a rod at a station sergeant, who ran out of non-lethal ammunition at the time of the assault.
Yau, 28, rushed to Tsang's help but was immediately subdued by a constable. He told police he had only wished to rescue the injured protester.
He pleaded guilty last month to taking part in an unlawful assembly, punishable by five years in prison, after prosecutors agreed to drop the rioting charge, which carries a maximum jail sentence of 10 years.
The defence counsel urged the court to take into account Yau's exceptional academic achievement and commendation by his teachers and impose a suspended sentence, permitted in cases where a defendant is sentenced to a jail term of two years or shorter.
While acknowledging Yau's talent and contribution to scientific research, Li said they did not constitute reasons to suspend his sentence, adding he should have realised the consequences of flouting the law when he committed the offence.
"The present case is clearly premeditated," the judge said. "The intensity of the violence can hardly be described on paper."
The judge set a starting point of sentence of two years imprisonment and reduced it by half to reflect Yau's guilty plea, clear criminal record and minor role in the protest.
Tsang, who survived the gunshot, jumped bail in December last year and said he would "never surrender himself to face political persecution from the Beijing-controlled Hong Kong government".
Four of the other five riot suspects jointly charged with Tsang and Yau were jailed by a different judge in May for up to 56 months, with the fifth defendant absconding before the trial.
More from South China Morning Post:
For the latest news from the South China Morning Post download our mobile app. Copyright 2021.
Join our Telegram channel to get our Evening Alerts and breaking news highlights