China topped the agenda as the G7 foreign ministers met in London on Tuesday with the world's major democracies trying to reaffirm their global leadership in the face of Beijing's increasing assertiveness.
The coronavirus pandemic and its geopolitical fallout meant the event took place in a different world compared with the last such Group of 7 meeting in 2019, with China's role in that world a key concern.
Accordingly, it was the first item on Tuesday morning's agenda and – in a sign of the importance the world's leading economies attach to the issue – it was allotted two hours compared with 30 minutes for Myanmar and Syria and 90 minutes for Russia.
Do you have questions about the biggest topics and trends from around the world? Get the answers with SCMP Knowledge, our new platform of curated content with explainers, FAQs, analyses and infographics brought to you by our award-winning team.
Few fireworks were expected at an event that has struggled even to make headlines in the local British media, but observers said they expected the G7 would try to counter the impression that the West was declining while authoritarian states grew in power and influence.
"There seems to be a realisation that the 'China rising, and the West kind of falling apart' narrative needs to be countered somehow. And that's the reason why you have China so prominently on the agenda and why these countries have been invited to form part of the meeting," said Anna Rosenberg, head of Europe and UK at Signum Global Advisors, referring to the guests at the meeting.
These non-G7 invitees included Australia, India, South Korea and the Association of Southeast Asian Nations – a roster that suggested Indo-Pacific issues were at the heart of the event.
The European Union's top diplomat, Josep Borrell, and South Africa's foreign minister also joined the event's host, British Foreign Secretary Dominic Raab, and his counterparts from Canada, France, Germany, Italy, Japan and the United States.
The meeting is a curtain raiser for the G7 leaders' summit in Cornwall in June, billed by Noah Barkin, an analyst at Rhodium Group, as "the first real test of transatlantic unity on China".
At a joint press conference on Monday, Raab and US Secretary of State Antony Blinken confirmed that London and Washington were singing from the same hymn sheet.
"It's fair to say that we see eye-to-eye on the need to stand up for our values, holding Beijing to the commitments that they have made, whether it's in relation to Hong Kong under the Joint Declaration [on returning the city to Chinese rule] or wider commitments, whilst also at the same time finding constructive ways to work with China in a sensible and positive manner where that's possible," Raab said following a bilateral meeting with Blinken.
Britain's ties with China have frayed in recent months over Hong Kong and a recent vote by parliament that China's actions in Xinjiang amounted to genocide.
In March, Britain joined the US, EU and Canada in imposing coordinated sanctions on Chinese officials accused of human rights abuses in Xinjiang, and the UK is generally seen to be moving towards Washington's more hardline position, albeit not as quickly as the White House would like.
Charles Parton, a former British foreign service officer in China, said the "atmosphere has changed dramatically" towards China among the public, press and parliament, but there was a lag with regard to official government policy.
"If the government's intention is a position of strategic ambiguity, I am afraid that just won't wash at all with the US, or the Chinese Communist Party. Britain is going to have to come up with a firm strategy and the momentum is one that moves further away from the golden era [of relations with China]," Parton said.
Blinken denied that the G7 was ganging up on Beijing, despite the summit's clear focus on the Indo-Pacific region – viewed by China as its backyard.
"It is not our purpose to try to contain China or to hold China down," Blinken said on Monday. "What we're trying to do is to uphold the international rule-based order that our countries have invested so much in over so many decades."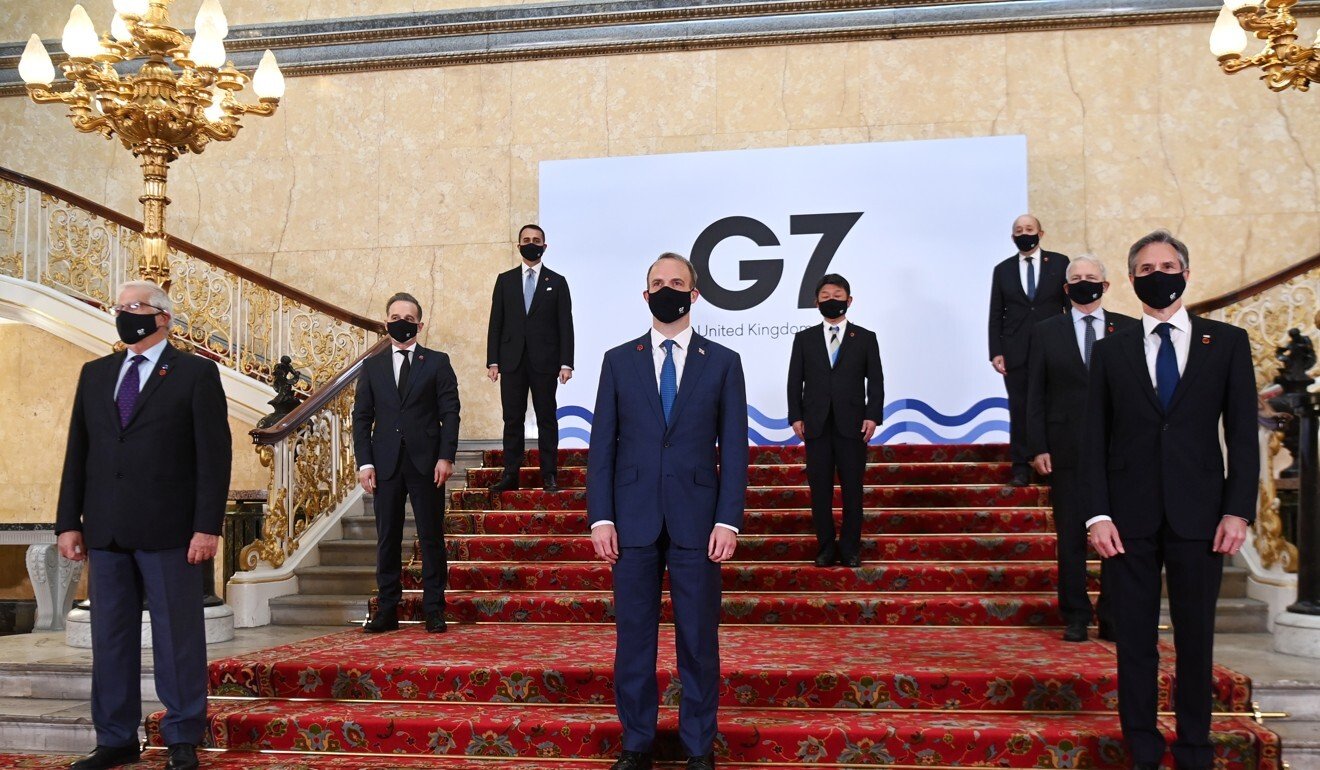 According to a statement from the EU, Blinken also met Borrell on the sidelines of the meeting to discuss relations with China.
The morning China session was followed by discussions on Myanmar, Libya and Syria, then post-lunch sessions on Russia, Ukraine and Belarus, Afghanistan and a working dinner on the Indo-Pacific.
Since leaving the EU, Britain has been keen to step up its engagement in the region and has said it wants to join the Comprehensive and Progressive Agreement for Trans-Pacific Partnership – a trade deal that does not include China.
Brussels also unveiled its first ever official Indo-Pacific position paper last month. The document covers trade, human rights, freedom of navigation and infrastructure and even though it only mentions China directly once, it was widely seen as being aimed at Beijing.
A senior EU official said the strategy would operate in parallel with new industry policy to be unveiled on Wednesday and the bloc's view that China should be viewed as a competitor, a rival, and a partner.
"We cannot just complain about what the Chinese are doing, we need to also be able to compete with their system, which is not easy," said the official.
Speaking before the event, Germany's Foreign Minister Heiko Mass said that it was "high time" for the G7 to "counter authoritarian states trying to play us off against each other and breaching the rules is becoming the norm".
"Those who want to reshape the global order to reflect very different values have not waited for us."
Japan's Foreign Minister Toshimitsu Motegi toured Eastern European capitals ahead of the summit, including Slovenia, Bosnia-Herzegovina and Poland, where he also met his counterparts from the Czech Republic, Slovakia and Hungary – all countries that have been courted by China in the past.
Japan was the only G7 nation to not sanction Chinese officials over Xinjiang in March, but has been lobbied extensively by the new Biden administration to support its stance on security and economic issues.
On Monday Motegi also held talks with Raab, who said they had discussed "trade, security cooperation and shared values as a force for good in the Indo-Pacific region and the world".
More from South China Morning Post:
For the latest news from the South China Morning Post download our mobile app. Copyright 2021.