A visiting US emissary told Taiwan's leader Tsai Ing-wen that the Joe Biden administration was "a reliable and trusted friend" that would support the self-ruled island, which is facing growing military threats from Beijing.
Chris Dodd, a former US senator, is visiting Taipei as part of an unofficial delegation sent by President Biden. Without mentioning Beijing, which sees Taiwan as part of its territory, Dodd told Tsai they had been sent to reaffirm the US commitment to deepen the security partnership with the democratic island and cooperation in other areas.
"There are many ways which the US can be helpful as well," Dodd told Tsai during a meeting at her office on Thursday. "You will find the Biden administration, Madam President, to be a reliable and trusted friend, and I am confident this administration will help you expand your international space and support your investment in self-defence."
Do you have questions about the biggest topics and trends from around the world? Get the answers with SCMP Knowledge, our new platform of curated content with explainers, FAQs, analyses and infographics brought to you by our award-winning team.
Dodd pointed to the State Department announcement of new guidelines last week that he said "explicitly and enthusiastically encourages US government officials to interact with their Taiwan counterparts and conduct reciprocal visits as well".
Tsai welcomed the move as well as the US signing a coastguard cooperation agreement with Taiwan last month, which she said were signs of deepening and rock-solid relations between Taipei and Washington.
She also thanked the Biden administration for "its repeated reiteration of the importance of maintaining cross-strait peace and stability", saying the People's Liberation Army's increasing military activities near Taiwan had altered the status quo in the Indo-Pacific region and threatened regional peace.
"We are very willing to work with like-minded countries, including the United States, to jointly safeguard the peace and stability of the Indo-Pacific and deter adventurous manoeuvres and provocations," Tsai said.
The unofficial US delegation – which includes former deputy secretaries of state Richard Armitage and James Steinberg – arrived in Taiwan on Wednesday for the three-day visit and is the first sent to the island by Biden since he took office in January. Climate envoy John Kerry meanwhile arrived in Shanghai the same day, his visit the first by a US official to mainland China since Biden became president. Kerry is expected to discuss issues relating to climate change cooperation during his four-day trip.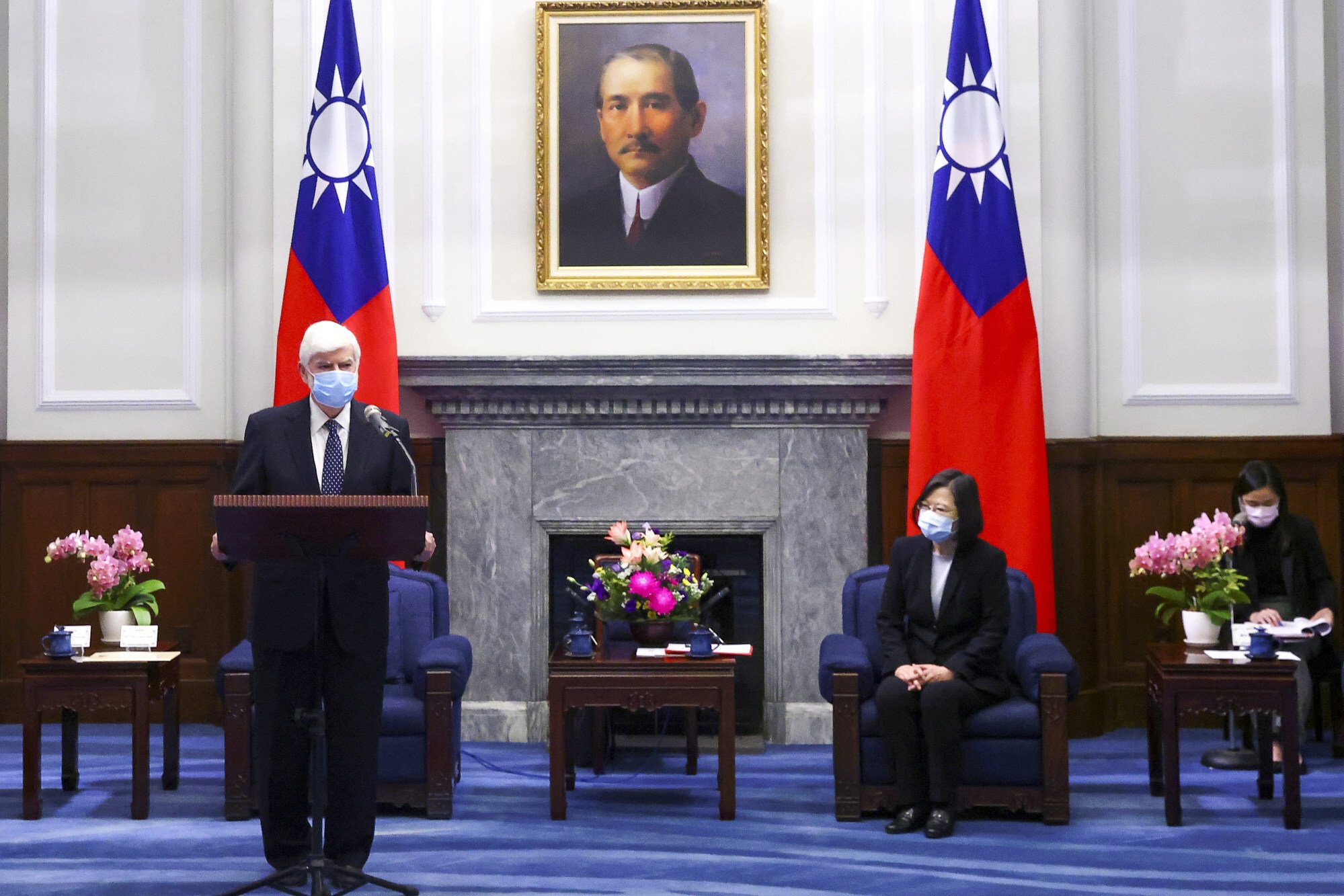 The Taipei visit comes at a time of heightened tensions between Washington and Beijing over Taiwan. On Monday, Beijing sent 25 warplanes into the island's air defence identification zone (ADIZ), prompting a warning from the US.
Beijing on Wednesday protested over the US move to send the delegation to Taiwan, saying it would only encourage pro-independence forces on the island and stoke tensions in the Taiwan Strait.
Monday's incursion was the latest, and biggest, by the PLA as it ramps up pressure on the Tsai government, and it also began five days of live-fire drills off Taiwan's southwest coast on Thursday.
Taiwanese Defence Minister Chiu Kuo-cheng on Thursday told reporters the military would pay close attention to the PLA's live-fire drills.
"There is some psychological impact, but there's no need to be worried about it," he said. "Everyone should have confidence in the armed forces."
Beijing has previously sent warplanes into Taiwan's ADIZ – some of them crossing the median line of the Taiwan Strait, the unofficial airspace boundary between the island and mainland China – to protest against what it sees as provocative actions, including official contact between Taipei and Washington, and the US supplying arms to Taiwan.
The US has committed to supply the island with arms to defend itself under the Taiwan Relations Act, enacted to maintain substantive ties with Taipei after Washington switched diplomatic recognition to Beijing in 1979.
More from South China Morning Post:
For the latest news from the South China Morning Post download our mobile app. Copyright 2021.