RINGLET: A nightmare has repeated itself for a few families here whose homes were swamped by a huge mudslide on Wednesday night.
Forced to leave their Bertam Valley homes a year ago during the Oct 23 floods, they had been making do at temporary accommodations.
But yesterday, it all went wrong once again.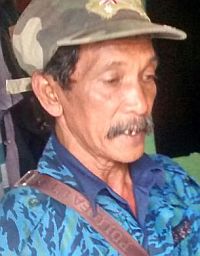 Retired policeman Jamil Abdullah (pic), 56, was at home when the floods hit his house, forcing his family to flee uphill.
"I thought it wasn't going to be so strong. Then I had to take my children and run! This has been the second time in a year!" he said, pointing to a 2013 newspaper clipping showing the devastation done to his Bertam Valley house.
K. Segar, 25, another former Bertam Valley resident, said flood waters reached up to his chest on Wednesday night.
"I had to break our door open and get my parents up here," he told The Star at the Ringlet public hall where displaced residents were taking shelter.
Shaken by the floods, his mother Margaret Roslin, 49, remembered the house she left a year ago downriver.
"My house is still there," she said, adding that the river had overflowed three other times in the past year, though it was only ankle-deep.
She also claimed that they were only supposed to stay in the government-provided housing for six months but had been left waiting.
Jamil's wife Suriyani Salim, 47, said their pleas for permanent homes fell on deaf ears.
"We have asked for it many times and said many things to many people. These are all just empty promises," she said.
Ringlet resident and fellow 2013 refugee Nor Hashimah, 21, said this year's flood destroyed all her family's possessions.
"Last year, we could save some things, but this year, I could only run with the clothes I'm wearing now and my handbag. All our belongings were destroyed," she said at the Ringlet public hall.
Nor Hashimah said the floods led her family to believe their house brought them bad luck.
"I think we should move out. I hope someone gives us somewhere else to stay in," she said.
Contractor Baker Maimun, 58, was unaffected by last year's floods but was not spared this year.
He said heavy rains usually saw the Ringlet river overflowing into nearby houses.
"No matter how many times they widen the river or deepen it, there are always floods," he said, watching as workers hosed mud out of his compound.
Four people were killed and more than 100 houses were damaged when mud and floods swamped Bertam Valley after water was released from the Sultan Abu Bakar hydroelectric dam on Oct 23 last year.
Related stories:
Two Indonesian farmhands believed buried in mudslide
Senior citizen hangs on to door panel for dear life before being rescued
Cops: Mudslide not caused by release of dam water
Palanivel: Money needed to deepen Ringlet River and strengthen embankment
Did you find this article insightful?
% readers found this article insightful