CHRISTMAS is one of the most joyous times of the year. Most notably because of all the beautiful decorations being put up in local malls around the country.
In anticipation of this magical time of year, Gurney Plaza in Penang has transformed its premier lifestyle mall in George Town into a snowy, winter wonderland for its patrons.
Themed "To Wish Upon a Star", the heart of the mall has been converted into something straight out of a Christmas fairy tale with its playful decor, which features a dazzling star-filled sky, loads of Christmas trees and even a 10m-tall biscuit house that is home to a number of Christmas bunnies.
Among this dreamland also lies three mighty Nutcrackers and two deer that can be found keeping the bunnies company.
There will also be a host of Christmas-themed events through the month of December located at the centre atrium, such as a Christmas tea party, snowfall experience, musical performances and visits from Santa Claus and Frosty the Snowman.
The bunnies will be hosting the Christmas tea party to celebrate the special season with shoppers
The bunnies will be hosting the Christmas tea party to celebrate the special season with shoppers. The event will feature a special tea party table for children aged four to 12, where they can enjoy the fun-filled workshops and even receive a high tea goodie bag to go.
The Christmas tea party will take place at the centre atrium on Dec 10 from (2pm-4pm) and e-tickets can be claimed via the CapitaStar app for 800 STAR$.
You can collect CapitaStar points by shopping at any CapitaLand Malls in Malaysia and retain your receipts – with a minimum spend of RM30 per receipt – to earn STAR$.
All you'd have to do is simply take a picture of each receipt and upload it via the app, with RM1 equalling to 1 STAR$.
Shoppers also have the opportunity to enjoy snowfall at the mall, with the "Let It Snow, Let It Snow, Let It Snow! Snow Experience" taking place every weekend in December at 6pm at the centre atrium.
Santa Claus will be coming down every weekend to meet and greet shoppers at noon, with Frosty the Snowman making appearances every Sunday at 3pm.
There will also be a number of special musical performances by students of Alyssa Musique and the Daniel Goh Music Academy on Dec 11 (4pm) and The Wonders from Dec 24 to 26 (6pm).
Shoppers can also take part in many fun and interactive activities and competitions throughout the month such as the "Wish Upon a Star Shop and Win" contest (Dec 2 to 26).
Gurney Plaza has brought back the contest for shoppers this Christmas, with shoppers who spend more than RM350 in a single receipt being instantly entitled entry to the contest.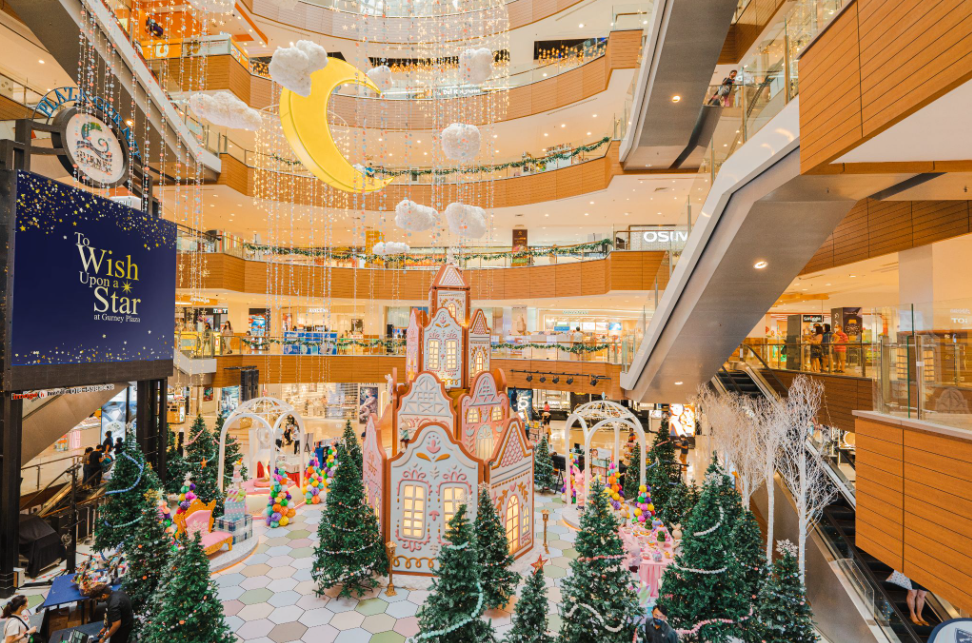 Gurney Plaza has transformed its premier lifestyle mall in George Town into a snowy, winter wonderland.
All one has to do is scan your receipts on the CapitaStar app and be among the weekly winners, who stand a chance to win attractive prizes from esteemed brands such as Karl Lagerfeld, Ascott Gurney Penang, Itsu, Kiehl's, Mothercare, New Era and Havaianas.
The mall has also brought back the Grand Lucky Draw, in conjunction with Gurney Plaza's 21st anniversary, which will run till Jan 2 next year.
Shoppers can stand a chance to win a trip for two to Japan and other amazing prizes such as Apple Airpods Pro, a Tom Ford exclusive gift set and a Karl Lagerfeld monogram trolley.
One simply has to convert 21 STAR$ via the CapitaStar app to be entitled to one lucky draw entry.
There is also plenty more to keep shoppers happy this Christmas, with a host of Christmas redemptions available by using STAR$ on the CapitaStar app to redeem special items at the Gurney Plaza information counter.
Counting down to the New Year, there will also be multiple events and redemptions available such as the Come One, Come All Carnival and the Greatest Show New Year Countdown.
For more information, visit https://www.capitaland.com/my/malls/gurney-plaza/en/events.html.
Subscribe now to our Premium Plan for an ad-free and unlimited reading experience!