RHB partners IJM Land to provide a safety net for homebuyers with its SWITCH Scheme.
WHILE the desire to own their dream home is paramount in the hearts of most Malaysians, challenging economic situations and financial obligations have resulted in most postponing this goal.
Even with various incentives from the home ownership campaigns and package deals, it is not easy to own a home. Building your dream home from scratch can be tedious and require great commitment, from finding the right location to setting your budget and searching for home inspiration or designs.
In response, IJM Land has taken many initiatives in rolling out a robust collection of incentives, savings and perks alongside various campaigns tailored to fit different homebuyers.
Novel solutions to an old conundrum
IJM Land has formed a strategic partnership with RHB Bank Berhad to present a buy back scheme for homebuyers and homeowners. This scheme marks its entrance as the first-ever innovative financial solution in the property industry – SWITCH.
The partnership is bound to make the SWITCH scheme a success, allowing homeowners to return their property to the developer in the event of involuntary unemployment during the coverage period, from the date of the sale and purchase agreement and up to a 12-month period from the date of CCC (certificate of completion and compliance).
IJM Land's strategic partnership with RHB presents a buy back scheme for homebuyers and homeowners.
Savvy @ Riana Dutamas KL is a freehold serviced residence with built-up size ranging from 67sqm (722sqft) to 114sqm (1,232sqft). Conveniently located near KL city and close to public amenities, the starting price is RM540,000 and it is expected to be completed by 2024.
Duta Perintis, meanwhile is a low-density apartment that measures about 79sqm (850sqft) with three bedrooms and two bathrooms alongside two designated car park bays. Selling at an affordable price from RM310,000, Duta Perintis is a haven for nature lovers and families.
"IJM Land has always been devoted to the aspiration of Malaysians who yearn to own a home. We are working diligently towards ensuring their dreams become a reality, and together with RHB as our partner, this entails the creation of value-added packages, one-of a-kind campaigns, benefits and incentives that will make home ownership easier and less burdensome for all," said IJM Corporation Berhad chief financial officer Datuk Edward Chong.
RHB Banking Group community banking managing director Jeffrey Ng Eow Oo added: "We are proud to be working closely with established property development partners such as IJM Land to enable customers to buy their dream home. SWITCH helps address some key challenges faced by aspiring new homeowners, including the possibility of involuntary unemployment. This allows them to step confidently ahead towards owning their own homes."
Your home, your way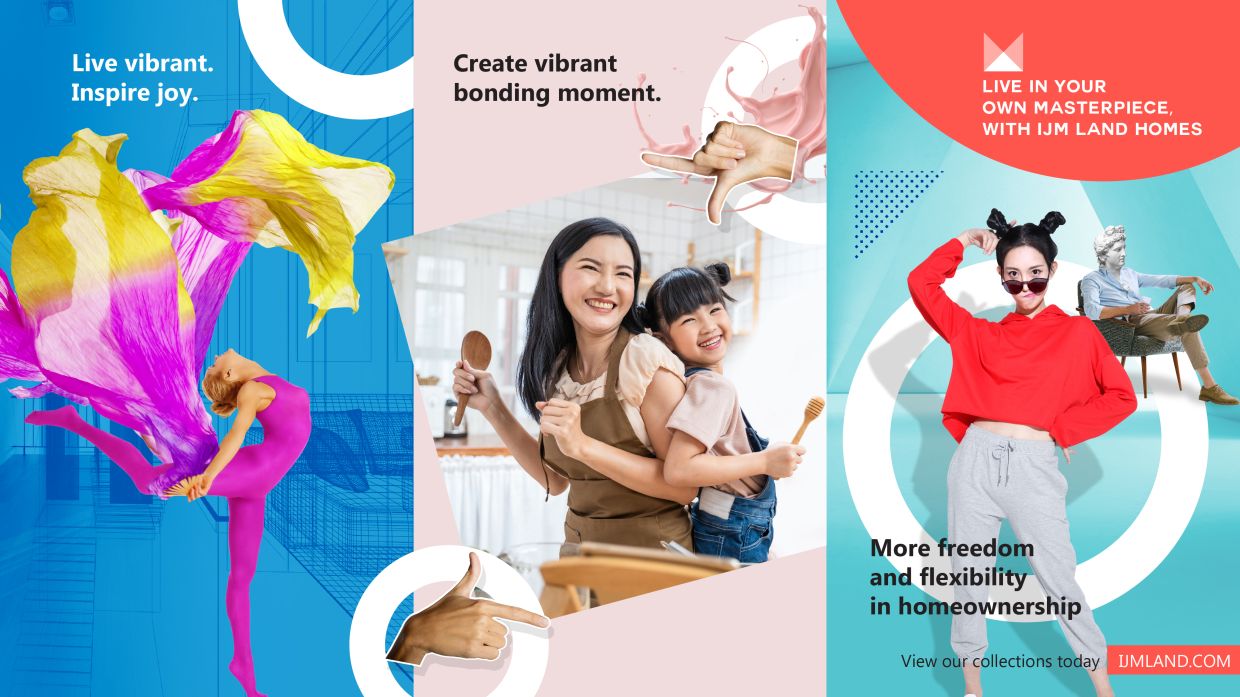 Living Masterpiece offers homeseekers attractive deals and customised easy ownership plans.
Running in conjunction with the SWITCH scheme is the group's first annual campaign, Living Masterpiece. Under this, IJM Land offers homeseekers attractive deals and customised easy ownership plans.
Imagine a home layout that can be shaped according to your needs and desires. You can get creative and go wild transforming your home into a "living masterpiece". IJM Land is offering complimentary interior design concepts (selected properties) for home ideas and inspiration.
The Living Masterpiece campaign recognises that every individual has a unique personality best expressed through his home, so it is time to make your very own indelible statement in your work-of-art dream home.
Homebuyers will also benefit from customisable easy ownership schemes, great savings and incentives ranging from low deposit, free loan legal fee, free stamp duty on MoT, and free furnishing packages (applicable to selected properties, terms and conditions apply).
This campaign will cover projects under construction and ready-to-move-in homes in Northern, Central, Seremban, Southern and East Malaysia regions from RM310,000. The Living Masterpiece campaign will run from July 1 to Dec 31.
When dream homes become reality
Homebuyers can pick their ideal home from a curated list of choice properties across the state.
Choose from towering projects within the convenience of the city, or picturesque houses poised at the waterfront. Nature lovers will be delighted with the ample developments raised upon natural themes and greeneries.
From Klang Valley, Seremban, Penang and Johor to Kuching and Sandakan, all these homes are designed with flexibility and practical designs to suit the post-pandemic lifestyle.
Master developer and town maker IJM Land inspires residents to live a vibrant lifestyle and create cherished moments together.
Speaking of benefits, existing IJM Land customers can also participate in the Priority Programme, whereby they are entitled to rewards of 1% (silver), 1.25% (gold), and platinum (1.5%) on new property purchases.
These, and many other considerations from the holistic package, are bound to make homeownership an easy and seamless experience for all.
For more information, log on here.
Subscribe now to our Premium Plan for an ad-free and unlimited reading experience!