KUALA LUMPUR: Maybank have been dealt a big blow to their campaign in the knockout stage of the Malaysia Hockey League (MHL).
The Tigers have to reshuffle their entire midfield department because of injuries to three key players.
They lost the services of Nor Ikram Sulaiman three weeks ago because of a knee injury and he was joined on the casualty list by Reduan Nasir and Sunil Prasad.
Coach S. Velappan said: "Reduan injured his knee in the (Division One) match against Tenaga Nasional last week and will undergo surgery next week. Sunil suffered a spinal injury in the same match and he has been advised to take a complete rest."
Former champions Maybank, who finished fourth in Division One, are up against Nur Insafi in the quarter-finals. The first-leg match will be play on Dec 10 at the USM Hockey Stadium in Penang. The return match will be held at the Seremban II Hockey Stadium on Dec 13.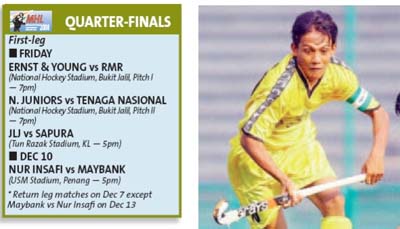 Velappan said that with a weakened midfield, their task to get past the quarter-finals would be much tougher.
"I have to reshuffle my the entire midfield and this will definitely put us at a disadvantage in the two-leg quarter-final tie,'' he said.
Velappan added that he would opt for B. Namasivayam, Mohd Razali Mohd Zulkipli and Hairul Nizam Rani to take over the duties in midfield.
"I hope that these three players can rise to the occasion as I have only 16 players to choose from for the knockout stage of the MHL," he said.
"The pressure will definitely be on us to get the better of Nur Insafi, who are powered by seven Indians and two Bangladeshis."
In the league, Maybank won the first match against Nur Insafi 5-2 but in the second round match they were beaten by a similar margin.
Velappan added that their quarter-final matches against Nur Insafi, who finished fifth in the six-team Division One, were scheduled for Dec 5 and 7 but their opponents' requested for a postponement.
"All the seven Indian players in the team have to return home to play in a domestic tournament from Dec 5-7 and we agreed with their request to play the matches later,'' he said.