NATIONAL coach Rexy Mainaky is concerned over the future of the men's doubles department.
He feels that some of the current players in the set-up are arrogant and living in their past glory. He fears that this will result in the downfall of these players.
And when Rexy spoke about shuttler Koo Kien Keat a day ago, he said that he was actually referring to the men's doubles department as a whole.
Is arrogance a common trait among the cream of the crop of Malaysian athletes? Or is it just a one-off matter between a coach and his players as far as badminton is concerned.
The Malaysian sports fraternity had mixed response on this but they were careful with what they had to say – after all it is a delicate matter.
RAZIF SIDEK (former doubles star and national chief coach): Players do not like to be controlled, especially those who have won titles. They should be treated like adults. It is something that the coach should know.
And when a player is down, he needs motivation and support from the people around them more than anything. As a player, I was caught in such a situation. I wanted to stay out but the association wanted me inside the training camp.
The players' convenience should be looked into as long as they produce results. There must be reasons behind their arrogance. Are the training sessions creative enough to help the players stay focused?
When I was the coach, Cheah Soon Kit and Yap Kim Hock were under my care. I treated them like adults. If we are compassionate and understanding, players will give their best in training.
Why is it that players always end up being blamed for failures in major events? Shouldn't the coaches share the blame too? After all, it is an effort by the whole team and not a single person.
DATUK SIEH KOK CHI (Olympic Council of Malaysia secretary): As a coach, Rexy is the closest to the players and he knows best. I sympathise with him.
He is like a father trying to get his wayward child back on the right path. I wish Rexy had made this known earlier, two or three months before the Beijing Olympics. We could have done something to help.
But what has happened is common. After all, sport is human-based. It is about feelings and temperaments. One cannot get too emotional though.
It is important for a coach to convey his message to his player.
It is more of immaturity and playfulness rather than arrogance. Parental care and advice are important to counter peer pressure.
The coach cannot be too ambitious than the players themselves. The players themselves need to be honest. Maybe, it is time for some soul-searching.
MOHD ARIFFIN GHANI (National Sports Council's elite programme director): I deal with athletes a lot. Arrogance is acceptable as long as it is not directed towards their coaches or officials. It should be aimed at their opponents.
Sometimes, being arrogant helps when the athletes are on court. An athlete should be very proud of himself and his achievements and not feel small.
Look at Nicol David. She is all sweet and nice but when she is on court, she is someone else altogether.
I was at the Beijing Olympics and had the opportunity to chat with tennis stars (Novak) Djokovic and (Jelena) Jankovic.
They were very forthcoming when I asked them about their training programmes. They were quite relaxed and friendly. But on court, these Serbians are different persons altogether. They can be arrogant.
DATUK NAIM MOHD (deputy president of Malaysian National Cycling Federation): We try to provide guidance and counselling when we deal with the athletes. Usually, we will know when success gets to their heads.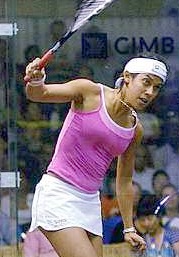 But having said that, we should allow for some flexibility. Good athletes, who perform well, should be given a chance to show off. At the same time, they must be consistent in their performances. I think, as a number one, the athlete deserves to be arrogant. We can tolerate that.
Prominence and popularity come with success. There will be a lot of fan mails and if they cannot handle this, it can affect their concentration.
As a sport official, we do get worried when our athletes get the recognition for their successes. There is a tendency for them to change. We need to know the way to address them at this stage.
So far, Nicol David (world number one squash player) has acted responsibly despite all the successes. We hope that others will emulate her.
My final thought on this is that it is better that the coach and player have their matters sorted out behind closed doors for a start.
A. ARIVALAGAN (chief coach of the national karate team): Without prejudice, I have to say that arrogance, be it inside or outside of the arena, spells disaster for any athlete.
Intelligence and how an athlete carries himself outside of court are often neglected and most athletes fail to realise that it is another important part of achieving greatness in sport.
A world and Olympic champion like Rexy can clearly distinguish between a champion's character and of being arrogant.
An athlete has to be clever in determining the priorities that can lead to their desired goals.
In a sport like karate, achieving success is near impossible if these qualities are neglected. Coming from a sport that evolves purely around discipline, hierarchy, respect and obedience, I am certainly against this negative personality trait.
All of the above elements are regarded as the key contributing factors to our success as far as Malaysian karate is concerned.
Each day without fail, I try to instil these qualities in my athletes. And as a result, karate is now cruising through and achieving success in a sport that was once dominated by the Europeans.