Baby Cat has seen the glories of medieval cathedrals, castles and churches of Europe but not once has she ever set foot upon a beach. We have travelled with her since she was a baby, and realised that all we really wanted was to continue building up a treasure chest of happy childhood memories of our precious little one.
As a parent, I want my children to be happy because happiness breeds confidence. In creating milestones in the scrapbook of memories of their childhood – running freely, building sandcastles, chasing seagulls and feeling the waves splashing against their little feet. After all, we don't remember details. We remember the feelings, the happiness and the joy of being with a family and doing simple things together to feel loved.
This dawned on me during a short staycation at the Berjaya Times Square Hotel Kuala Lumpur when I saw how fascinated she was with a new environment. The unfamiliar people, colourful surroundings, permission to jump on our plush bed, watch TV and eat food outside her usual menu was an incredible adventure for her.
Ever since I had explained to her that it was a family trip she pleaded to go again. "Baby wants to go family trip, Mommy!". Her words tugged my heart so I assured her we would indeed do so.
So with my in-laws and both babies, we took off to the ever magical tropical paradise of Langkawi. Even as the plane was descending, offering an exhilarating aerial view of a vast expanse of land and sea, Baby Cat excitedly pointed out the trees, rivers, boats and clouds below us.
Arriving on the island, we headed to Berjaya Langkawi Resort. It was a natural choice for us because it has everything a holiday resort should have at a reasonable cost.
Lush greenery greeted us as we drove into the resort and it immediately sent me into a relaxing mode. Cocooned in rainforests along the pristine Burau Bay on the western end of the island, it is just steps away from azure waters with a gorgeous beachfront.
As we have little ones with us, we opted for a forest chalet facing the sea. The large and luxurious family chalet with connecting rooms is located at the edge of the rainforest with stunning views of the bay. The quiet sanctuary assured us of a relaxing getaway.
Resting in our chalet, gentle sea breezes blew away our worries and anxieties while the rhythmic sound of waves lulled us to sleep. These dreamy serene features are sorely missing in our city life.
Every morning, we rode the buggies to the Beach Brasserie to pacify our growling tummies. A number of tables and lounge chairs were positioned to face the beach and sea front. The sight and sound of rolling waves coupled with the occasional boat passing by in the distance was so enchanting that we had all our meals there. The sumptuous meals did not burn a hole in our wallet as the holiday package included a generous credit for us to spend on meals in the resort.
Baby Cat loved to go through every item in the menu. The wide breakfast spread included local and continental foods. Her favourite items were nasi lemak, cheese, sausages and fresh fruit juices.
Back in our chalet, we sipped coffee on the balcony overlooking the sea and watched birds flew in and settle on the ledge. Feeding them soon became the little girl's new pastime.
The highlight was of course the beach! Baby Cat enjoyed building sandcastles on the soft sand with Daddy and Grandma. Seeing waves for the first time, she was initially anxious and clung tightly to Daddy. As the waves swept tenderly against her legs, her anxiety subsided and before long she took her first dip in the sea. But she preferred to play with the waves in the security of her Daddy's arms.
Five month-old Miss Hair was too young to sit or crawl on the beach, so I carried her around to show her objects from the sea, pointing out sea shells, fish and baby crabs. She shrieked, flapped her chubby hands and kicked her legs in excitement.
The children had so much fun that it zapped all their energy. Every day after lunch they took their afternoon naps voluntarily, snoring away noisily for hours, quite a difference from my daily attempts to get them to sleep.
After an afternoon siesta, every evening we feasted on fresh oysters, fish, king prawns and lobsters.
Langkawi has several interesting sightseeing activities to offer. We had initially planned to hire a car to visit Mount Chin Chang, take the cable car up, walk on the iconic Skybridge suspended above the forests and explore the 3D Art Museum, Pulau Payar Marine Park, Langkawi Underwater World and Oriental Village.
But we were deeply enchanted by the charm of this beautiful resort that nothing enticed us to venture outside. The idyllic days spent lazing in our chalet, gazing tranquilly at the sea, waves and forest, watching birds, playing sand and chasing small crabs on the beach with the children while sipping cold coconut water were heavenly.
Our five-day magical sojourn at Berjaya Langkawi Resort is by far the most relaxing family retreat we've ever had.
During the entire journey home, a tanned and excited Baby Cat kept asking for the next family trip by repeating these words "family together, family trip, family hug, kiss Mommy and Daddy". Even with her limited baby vocabulary, she had already begun to associate these priceless moments as happiness and family.
As I look back at the many photographs taken during our holiday, my heart is full of joy. There's just something about seeing the pure happiness on my child's face that fills me with a profound sense of relief in knowing, despite my constant worries about being a mom for the first time, that I must be doing something right here.
> Chermaine Poo is a chartered accountant turned actress, TV host, emcee and columnist. Now she juggles between motherhood and running her classic car restoration workshop, Restoration Performance Design. And because she doesn't sleep, she writes this columns and a blog on www.chermainepoo.com. Follow her on Facebook.com/ChermainePoo, and Instagram.com/ChermainePoo or drop her an email at info@chermainepoo.com
Subscribe now to our Premium Plan for an ad-free and unlimited reading experience!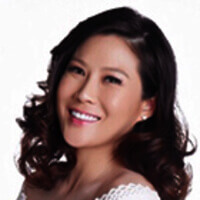 Chermaine Poo is a chartered accountant turned actress, TV host, emcee and columnist. Now she juggles between motherhood and running her classic car restoration workshop, Restoration Performance Design. And because she doesn't sleep, she writes this columns and a blog on www.chermainepoo.com.