Malaysia celebrated 60 years of independence six days ago. Being a multi-racial nation, many languages are spoken here.
Every Malaysian can speak Bahasa Malaysia ("BM") as it is the national language but not everyone can communicate in English and Mandarin. Only one community is able to communicate in all three languages.
But the scenario is gradually changing as more children of other communities are enrolled in schools that teach the two additional languages alongside BM.
The importance of these two languages in international trade cannot be over-emphasised.
The fact is the world has become a global village where only a few international languages including English and Mandarin are accepted for communication.
Now there is Shila Amzah, a pretty tudung-clad Malay singer-songwriter who sang songs in each of these three languages in the Asian Wave Chinese reality singing talent show and emerged the winner.
Her ability to belt out Hokkien tunes has gained her a large fan base in China, Hong Kong and Taiwan.
A profitable export to lucrative markets, I would say.
When I was a young girl, my parents encouraged me to learn Mandarin. So I attended
classes held in school on Saturdays but dropped out after a few lessons.
How did a Malay girl successfully learn Mandarin yet a Chinese girl fails?
To begin with, I didn't think Mandarin was cool. Then I lost interest quickly alongside half the class.
The teacher in her high pitch voice squealed Mandarin in rapid gunfire speed and forced us to memorise countless strange-looking Chinese characters each class.
We were lost all the time and were not allowed to ask questions in other languages aside from Mandarin. If the teacher had a better teaching method, it may have cultivated our interests.
My wise grandfather sent my dad to a private Chinese pre-school before enrolling him in an English medium primary school.
Even when my dad was young, he foresaw the importance of the Chinese language and learned it himself by reading Chinese comics, signboards with English translations, watching movies with Chinese and English subtitles and singing Mandarin and Cantonese pop songs.
Both my parents speak Mandarin fluently, can read Chinese newspapers and quote famous Confucian sayings.
He told me that China would be the world's powerhouse and those who did not speak the language would lose out. Young and stubborn then, I ignored his advice to my detriment.
Missed opportunities
Fast forward to adulthood, I missed many opportunities because I did not speak my mother tongue well.
In my heyday as an actress and TV host, I was offered leading roles in Chinese movies and dramas but I had to turn them down due to my language handicap.
Even acting in Chinese commercials proved to be Herculean as I struggled to translate the scripts into hanyu pinyin and then deliver the lines with the right expressions and actions.
Memorising a "foreign" language was a hurdle and great effort was needed to give a good performance.
Surprisingly, I picked up Japanese language quite easily after learning it over a few months.
I decided to venture into the Malay movies as I am proficient in BM and host events in English, BM and Japanese languages.
Unwilling to give up, I hired a reputable and experienced Mandarin tutor. She taught me to read and write Putonhua which uses simplified Chinese characters.
She had an interesting way to help me memorise the characters and I made good progress.
But as my schedules became tighter I had to cancel lessons often and soon stopped the
class. Now that I have children, I must ensure they learn this important language.
Bilingual PlayClub
At one and half years old Baby CAT joins Bilingual PlayClub at Julia Gabriel Centre.
In this class there are two sets of teachers – English and Mandarin. The hour and a half class is conducted in both languages in all activities – singing, reading stories, art and craft and playtime.
Research has shown that young children are able to learn languages easily and learning two or more languages improves the functionality of their brains to become better thinkers.
So we are on the right track.
The children are taught an alphabet, colour, shape or object that is related to the theme for that semester.
For example, the alphabet "F" and blue colour are taught to refer to fish in the ocean.
The Mandarin teacher reinforces the concept in Mandarin.
As it is an accompanied class, Baby Cat attends the class with me and this makes her feel secure.
The PlayClub environment promotes learning English and Mandarin through interactions with fun and laughter thrown in.
Both of us love the class. My participation in the class with Baby CAT has helped me learn numerous Chinese words and speak better Mandarin now.
I appreciate this method of teaching a difficult language like Mandarin where the children are assimilated into the language without being forced to learn it.
My grandfather drummed a simple advice into my dad – learn a word everyday and soon you will master the language.
My dad is still trying to convince me.
Had I heeded his advice I would have become a Chinese scholar by now and probably make waves like Shila.
Well, it is never too late to learn as I am doing so now with my children. I have no doubt they will fare better than me.
Chermaine Poo is a chartered accountant turned actress, TV host, emcee and columnist. Now she juggles between motherhood and running her classic car restoration workshop, Restoration Performance Design. And because she doesn't sleep, she writes this column and a blog on www.chermainepoo.com. Follow her on Facebook.com/ChermainePoo, and Instagram.com/ChermainePoo or drop her an email at info@chermainepoo.com
Join our Telegram channel to get our Evening Alerts and breaking news highlights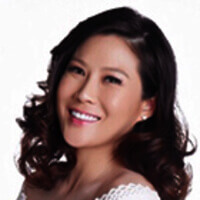 Chermaine Poo is a chartered accountant turned actress, TV host, emcee and columnist. Now she juggles between motherhood and running her classic car restoration workshop, Restoration Performance Design. And because she doesn't sleep, she writes this columns and a blog on www.chermainepoo.com.