MALAYSIA has four seasons — hot, very hot, hazy and wet.
The rainy season at the end of the year brings floods to certain states and parts of the country.
During the hot and very hot seasons, everything dries up and everywhere is dusty. Air pollution worsens as evidenced by the facial cotton turning black when one cleanses the face.
The hazy season starts in early September and people have been known to scramble to buy medical face masks, no thanks to the smog caused by illegal slash and burn practices in Indonesia.
The Air Pollution Index reading on a clear day is below 50, while air quality is regarded as moderate for readings between 51 and 100.
The haze over the last few years, however, saw hazardous readings of above 300.
The six ever-present pollutants in the air are ground level ozone, carbon monoxide, particulate matter, sulfur dioxide, lead and nitrogen oxide.
Air quality in cities tends to be poor due to large numbers of vehicles spewing exhaust smoke.
Other sources of air pollution are from combustion of cooking gas and due to smoke emanating from power plants, oil refineries, metal processing facilities and open burning.
INDOOR POLLUTANTS
I used to think that my family was safe since we spend so little time out of home. But studies have discovered that indoor air is two to five times more polluted than the air outside. Indoor pollutants include tobacco smoke, emission from cooking, mycotoxins produced by certain fungi, plasticisers and pesticides.
All the while I thought air-borne pollutants were just irritants that caused respiratory problems like wheezing and asthma. I was wrong.
After much research on long-term exposure to air-borne pollutants, I have come to realise that they can lead to many diseases which I never thought could be associated with air pollution. And that children are more at risk than adults.
Studies reveal that millions of children in polluted cities are showing signs of respiratory and cardiovascular diseases and brain defects as well as Alzheimer's and Parkinson's disease.
The World Health Organisation assures that by breathing cleaner air we can reduce the risk of stroke, heart disease, lung cancer and respiratory diseases.
I have two very young children and the new knowledge I obtained was so compelling that it spurred me to search for a good air purifier.
BLUEAIR REMOVES PARTICULATE MATTER
The Blueair air purifier appeals to me as it utilises patented Swedish technology that makes use of electrostatic and mechanical filtration to remove all airborne pollutants.
It can filter the air in the room five times in an hour and has a sensor that monitors the level of pollution and controls the speed of filtration.
Living in an environment with lots of plants, we have to close our doors and windows at all times to deter mosquitoes from entering our home. To circulate and cleanse the stagnant indoor air, the air purifier is set on automatic mode. It runs on its own and when odour or pollution is detected. For example, when a door opens, the unit automatically turns to high speed to clean the polluted air.
According to certain medical literature, the most damaging pollutant is particulate matter that is inhaled and gets lodged in the lungs.
A few days after installing the Blueair, however, I was relieved of my sinus and blocked nose issues and have slept soundly since.
It also clears smoke and smells, like when my husband roasted a whole lamb or when the interior of the house was being repainted.
Health and wellness have given me good reasons to invest in purifying the air in my home for my family, especially my two little cuties.
Living in a city, purifying indoor air is no longer a luxury but a necessity.
> The views expressed are entirely the writer's own.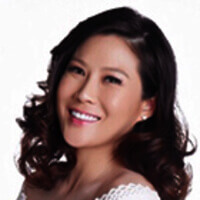 Chermaine Poo is a chartered accountant turned actress, TV host, emcee and columnist. Now she juggles between motherhood and running her classic car restoration workshop, Restoration Performance Design. And because she doesn't sleep, she writes this columns and a blog on www.chermainepoo.com.