Christmas came early for a group of children from Shanghai on Tuesday when they met Hong Kong billionaire Li Ka-shing at an airport in Japan while en route to a dance competition and he offered to pay for their trip … and buy them each a gift.
The 45 youngsters and their teachers from the Little Pigeon Dancing Group in the east China metropolis were passing through New Chitose Airport in Hokkaido, the northernmost of Japan's main islands, when the serendipitous meeting happened, according to social media posts.
"The children bumped into Mr Li Ka-shing at the airport, who looked very pleased and volunteered to take pictures with the children," Zhang Zhuo wrote on Weibo – China's Twitter-like platform – on Thursday, adding that she was the mother of one of the dancers.
"Today a staff member from the Li Ka Shing Foundation contacted the dance group and offered to sponsor the trip to Japan," she said. "The children shot a video to wish him good health," she said.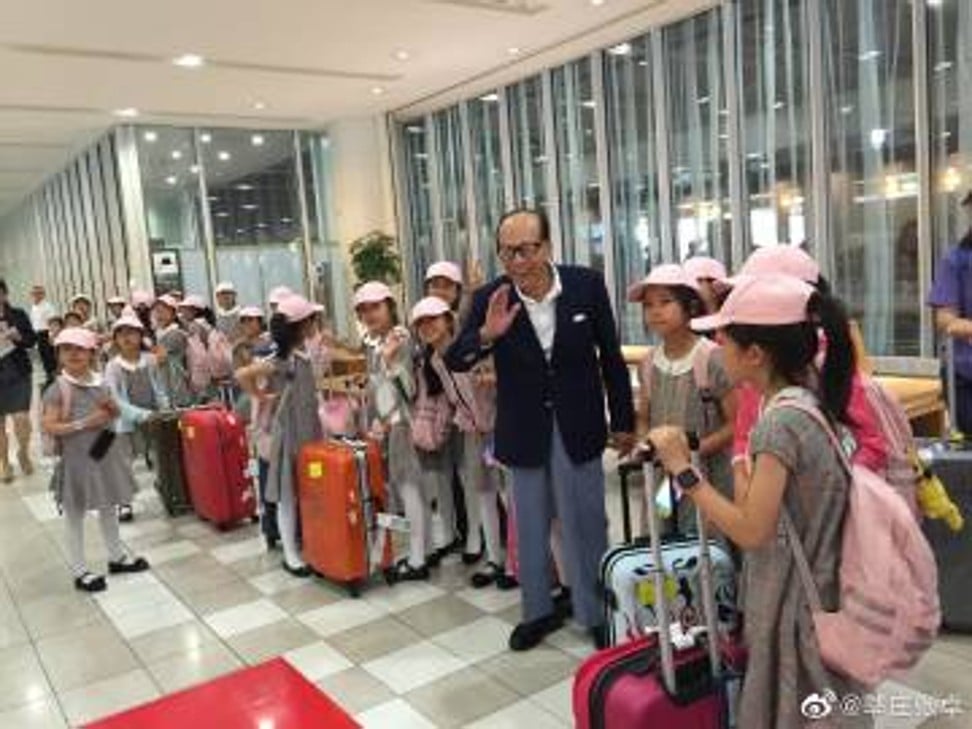 One of the dance teachers wrote on Weibo that Li was "so pleased after seeing the children at the airport that he decided to sponsor for the trip".
"So rich and generous, charitable and loving," she said.
It was not clear exactly how much Li donated, but based on a post by another of the teachers, the cost of the trip was 18,840 yuan (US$2,700) per child, so it would appear to have been in excess of US$120,000.
As part of the offer, the foundation said also that the children should treat themselves to a gift.
Zhang said her daughter treated herself to an eraser, as it was something she wanted to buy before the trip.
"It is not about how expensive the gift is. It's happiness that counts. We must know to be grateful and moderate," she wrote.
Born in 1928 near Shantou in south China's Guangdong province, Li moved to Hong Kong as a child. According to the latest Forbes list he is richest person in Hong Kong and 28th richest in the world, with a personal fortune of US$31.7 billion.
In 1981 he helped to establish Shantou University and since then the Li Ka Shing Foundation has donated more than 10 billion yuan to support its development.
Last month, the university announced that starting this autumn, for the next four years all new intakes will have the entire cost of their university education paid for by the foundation – a donation of about 100 million yuan a year.
More from South China Morning Post:
For the latest news from the South China Morning Post download our mobile app. Copyright 2019.
Did you find this article insightful?
% readers found this article insightful