A Chinese man has been arrested in northeast Thailand on suspicion of trying to murder his pregnant wife by pushing her off a cliff, the local authorities have confirmed.
The woman, named Wang Nan, and the baby she was carrying both survived the 34-metre (110ft) fall in Pha Taem National Park and was recovering in Sappasit Prasong Hospital, a staff member confirmed.
The incident was initially treated as an accident but Wang, who is three months pregnant, waited until her husband was away from her bedside before telling police it was deliberate.
The husband, Yu Xiaodong, was detained on Tuesday after a court in Ubon Ratchathani province approved his arrest.
The couple, from Jiangsu province, had been living in Bangkok since 2016 and ran an import-export business, local police chief Charnchai Innara told The Nation newspaper.
The couple had gone to the park on June 9 to watch the sunrise and Yu later told police he had lost contact with his wife.
She hit a thick layer of trees and bushes after falling and then struck a rock. She suffered multiple broken bones, but appears to have escaped further serious injuries.
Charnchai said one line of inquiry was heavy debts Yu had incurred.
His wife comes from a well-to-do family and holds all the couple's assets in her name, but officers believe that she had upset her husband by only agreeing to pay off half his debts.
Police have further accused Yu of threatening to kill his wife if she talked to police following the incident.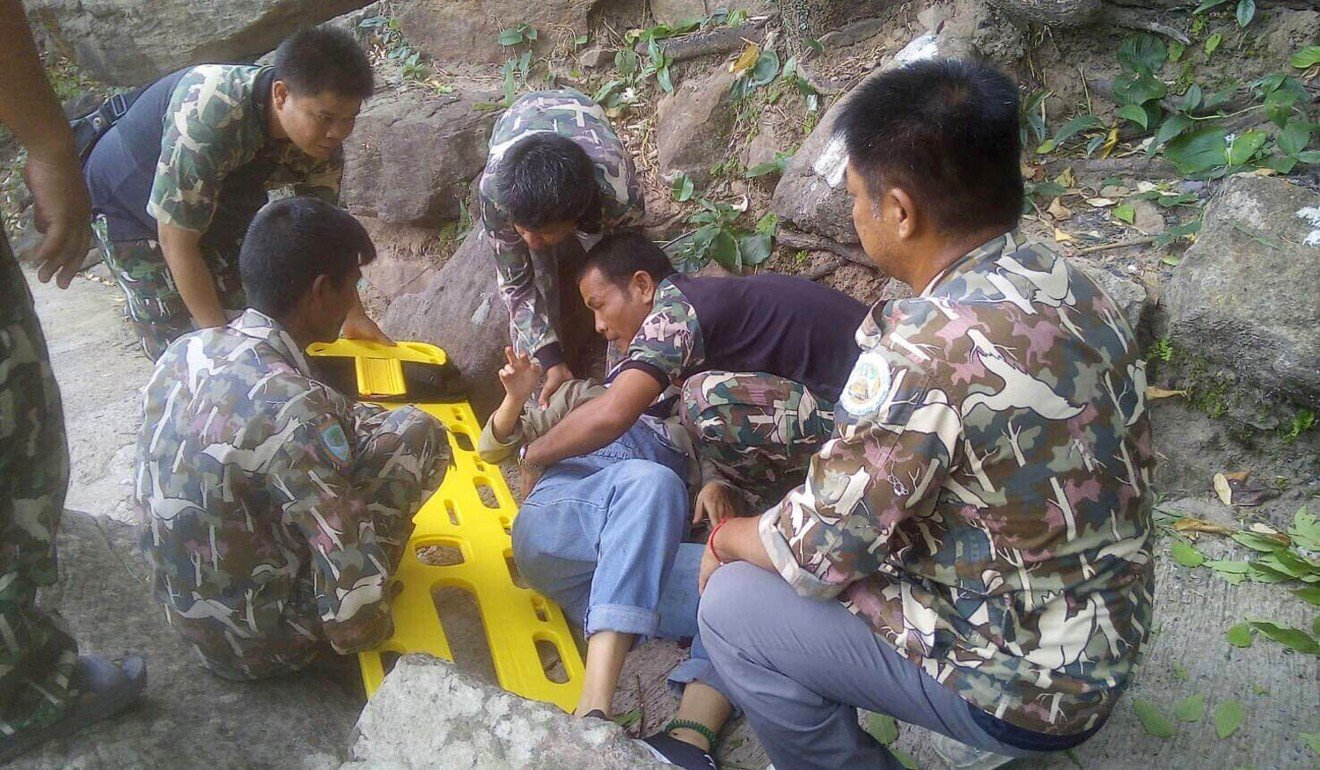 Wang gave an interview to the Bangkok-based news outline Thai Headlines, which published details of the incident on the Chinese social media network Weibo this week.
She said Yu had asked her to stay near a viewing platform while other tourists were leaving the site, saying there was an 3,000-year-old cave painting nearby that they should see.
They did not find the painting, but Wang said they moved closer to the edge of the cliff before her husband turned her around, grabbed her by the waist and kissed her before she suddenly felt pressure on her back that pushed her over the edge.
She said that she remained conscious after the fall and spent 20 minutes shouting for help before rescuers arrived on the scene.
When she was reunited with her husband, she accused him of pushing her over, but he replied: "What are you talking about? Where have you been?"
Next month another Chinese citizen will go on trial in the Thai resort of Phuket accused of murdering his wife to cash in on her life insurance policies.
The Beijing News reported that the unnamed Tianjin resident is accused of taking out 18 separate policies, worth 30 million yuan (US$4.3 million) in total, before killing her during a holiday on the island.
No date has yet been set for Yu to appear in court.
For the latest news from the South China Morning Post download our mobile app. Copyright 2019.