A man who claims he accidentally bought a live pig, a peacock and a giant salamander while drunk on Singles' Day – China's annual internet shopping frenzy – has gone viral on Chinese social media.
The WeChat post from the unidentified man was shared on Weibo by the user Puzhexu on Monday, and gained nearly 10,000 likes and comments, as well as more than 14,000 reposts on the platform.
"In the early hours of yesterday morning, when I was drunk, I clicked on Taobao and started shopping … All along I thought I had only bought two sets of clothes," the man wrote.
"I suddenly remembered to look up the delivery date of my clothes, and realised I had also bought a pig and a peacock."
Another, later post, from the man claims he also accidentally bought a live giant salamander on JD.com, another Chinese e-commerce platform similar to Taobao.
Singles' Day is an annual shopping festival, similar to Black Friday in the US, created by e-commerce giant Alibaba 10 years ago as a counter to Valentine's Day. It is also called Double 11 since it falls on November 11.
Taobao is owned by Alibaba, which owns the South China Morning Post.
Numerous brands launch online promotions for Singles' Day, urging singletons to splash the cash on consumer products. This year's event racked up a whopping US$30.8 billion in sales, beating out last year's record of US$25.3 billion.
The man also shared screenshots of his sales transactions, which showed that he bought a "live Thailand micropig" for 278 yuan (US$40), a "live blue peacock" for 390 yuan, and a "live wild salamander weighing between 1.4kg to 1.6kg" for 288 yuan.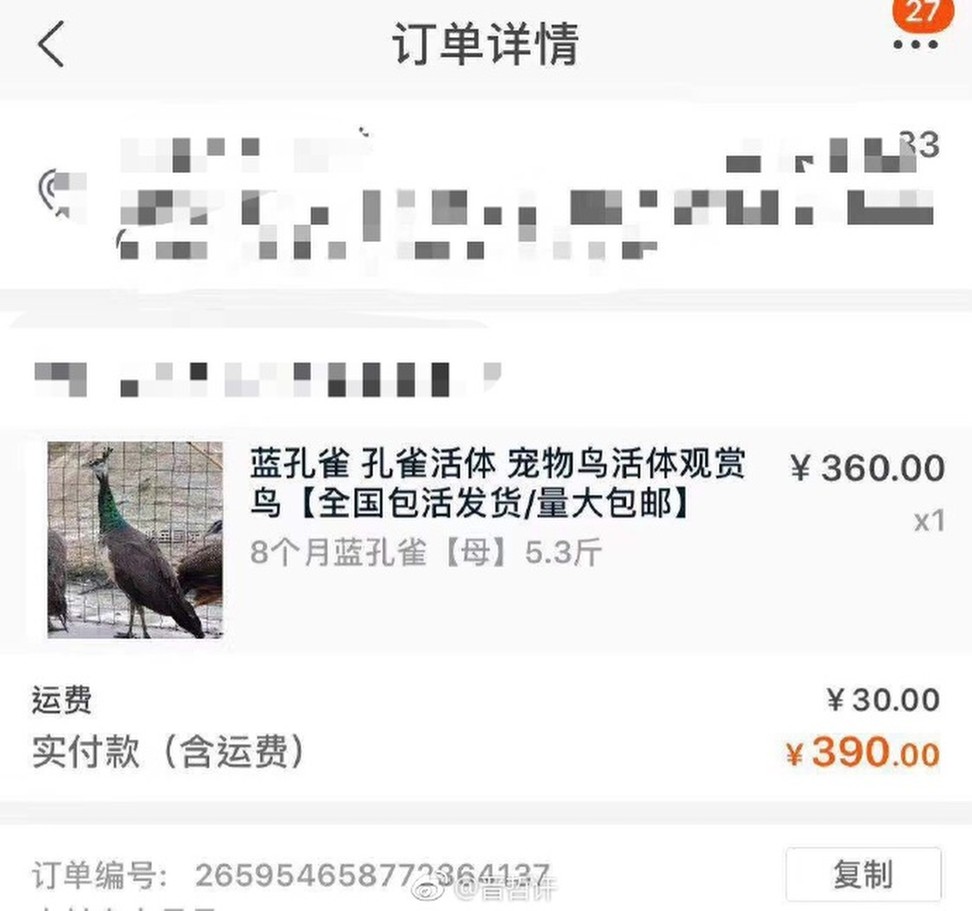 The listings are still available on the Taobao and JD.com sites, where a number of animal traders are active in selling domestic pets and exotic animals, many of which are endangered species that are banned by law from being traded. However, it is legal to deliver live animals by courier services in China.
Back in May, police in the eastern province of Jiangsu, busted an illegal wildlife smuggling ring after coming across a local livestreamer who became famous for filming her pet macaque bought off the internet for 11,000 yuan. Macaques are a protected species in China.
Other incidents involving wild animals bought online in recent months have ended with the death of the buyer.
A 21-year-old woman from Shaanxi, northwest China, died in hospital in July after falling into a coma for several days as a result of a bite from a highly venomous snake she ordered.
The snake was a many-banded krait, which is also on China's list of protected rare and endangered species.
For the latest news from the South China Morning Post download our mobile app. Copyright 2018.
Did you find this article insightful?