A woman claiming she found a sanitary pad in her restaurant meal has seen her story come under scrutiny after it emerged she made the same complaint in a different eatery the following night.
The woman, surnamed Ni, demanded a million yuan (US$145,600) from hotpot chain Haidilao after pulling a paper object that she described as a sanitary towel out of her pot on Friday night.
The manager of the outlet in Shenzhen, which borders Hong Kong, told her the paper was probably the wrapping from the meat.
But Ni dismissed the suggestion, posting footage of the object next to the restaurant's wrapping paper online saying "you can see this is a sanitary pad", and demanded compensation.
She returned to the branch the next day for further discussions with the management. Southern Metropolis Daily reported that at some point in her discussions with the restaurant she and her companion had become so enraged that they started busting up furniture, prompting the Haidilao staff to call the police.
Police arrived and determined that Ni should pay for the damaged restaurant property. They also collected surveillance footage to review as part of their ongoing investigation into the incident.
The story, which has gone viral on Chinese social media, comes less than a week after the popular mainland hotpot chain launched its initial public offering of nearly US$1 billion in Hong Kong.
The chain eventually agreed to give the woman an 800 yuan refund and that might well have been an end to the matter, until things boiled over when a second restaurant boss contacted police to say the woman had made a similar complaint on Saturday night.
The manager of Chongqing Impression, another Shenzhen hotpot outlet, said Ni had also told restaurant staff that there was a sanitary towel in her meal and once again asked for compensation, local media reported.
When contacted by reporters, Ni insisted she had visited the second establishment because she wanted to check hotpot conditions in the city.
"I don't need compensation," she told a Southern Metropolis Daily reporter. "I just want to expose these unsanitary conditions."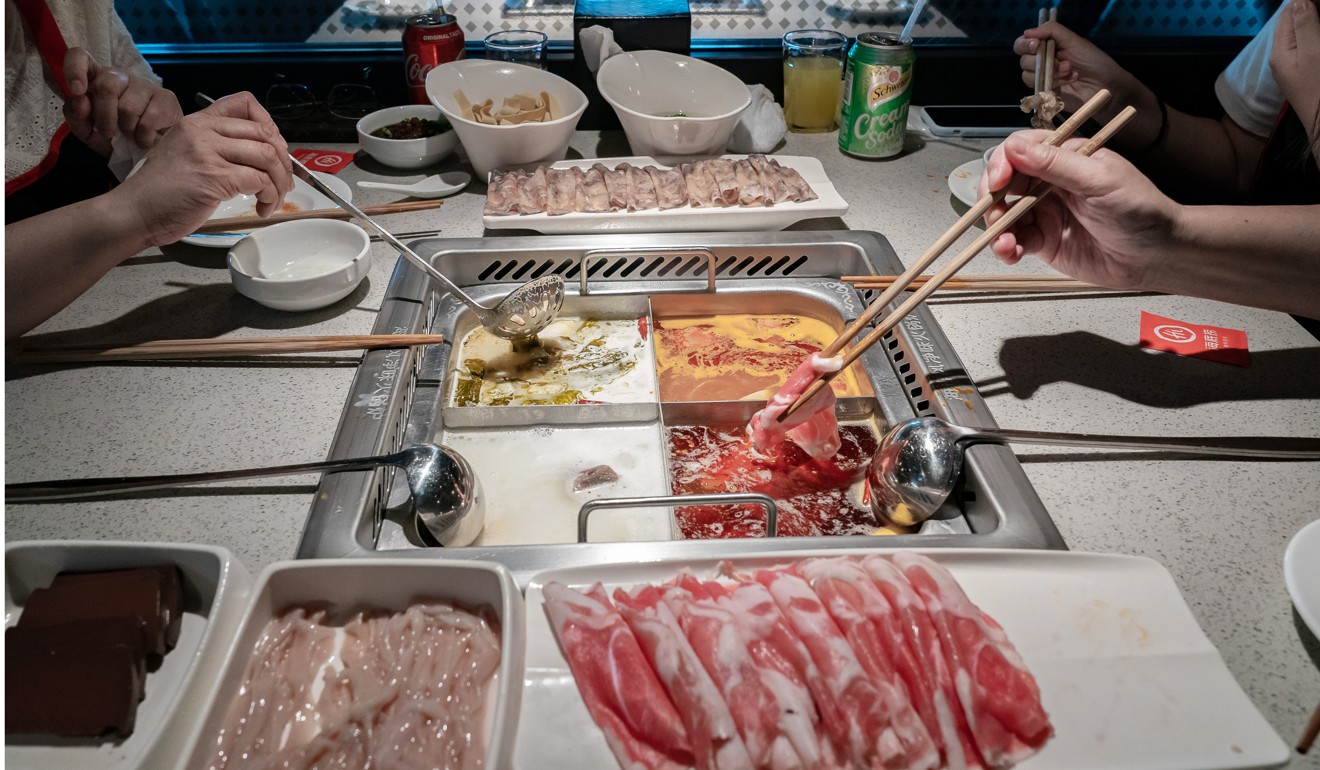 There have been a string of Chinese hotpot controversies in recent years.
In one recent case in the southwestern province of Yunnan, a woman made two separate compensation claims to Haidilao after claiming that she had found cockroaches in her meal in two different outlets eight months apart.
She had demanded a million yuan in the first incident, raising it to 3 million in the second, but both claims were rejected.
However, in a number of cases, restaurants have been caught violating food safety rules.
Last month another publicly traded Chinese hotpot giant, Xiabu Xiabu, faced public outrage and tumbling share prices after a pregnant woman found a rat in her hotpot in a restaurant branch in Shandong province.
Restaurant staff compounded the outrage by offering to pay for the woman to have an abortion, according to local media reports.
Haidilao also found itself at the centre of extensive controversy last year after reports emerged that kitchens in two Beijing locations had been infested by rats, while used plates and cutlery were being washed together with brooms and dirty cloths.
The company responded by launching live video streams from the kitchens of around 25 outlets in Beijing, allowing customers to check up on conditions while they dine.
Unlike Xiabu Xiabu, which was already publicly traded at the time of the rat incident, Haidilao weathered that incident without damaging its stock market prospects.
But the company – which has more than 300 restaurants in China, Japan, South Korea, Singapore and the US – is sensitive to the risk of future hygiene scandals as it looks to continue expanding internationally.
Reuters reported that as well as funding its expansion, the near-US$1 billion IPO is intended to help it improve food safety standards by installing new technology in its kitchens.
For the latest news from the South China Morning Post download our mobile app. Copyright 2018.
Join our Telegram channel to get our Evening Alerts and breaking news highlights